In one of the few DC Comics releases this week, we go back to one of the greatest superhero cartoons ever made.
Batman: The Adventures Continue 1
Written by Alan Burnett and Paul Dini
Pencils and Inks by Ty Templeton
Colors by Monica Kubina
Batman saves the day once again.
With no new print comics coming out this week, a new digital-first series that brings new Bat-villains into the style of the early-1990s cartoon is probably the publisher's biggest release. As a kid when the Batman Animated Series aired originally, the new digital first comic feels like going home again.
Batman: The Animated Series had some of my favorite tales of the Dark Knight Detective and his rogues gallery. In fact, The cartoon set the tone for many of the villains over the last two decades plus. Two-Face, Mr. Freeze and Ra's al Ghul probably featured in their most iconic tales over the course of the series.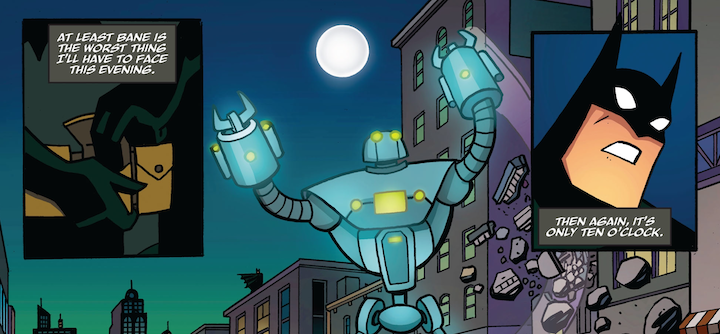 Giving some new villains a chance at that same storytelling is a welcome addition, though first we need to re-establish the world in which we're visiting.
First up, Batman faces a giant robot stealing from Wayne Industries as Bruce Wayne gets to joust a bit with rival billionaire industrialist Lex Luthor. Could those two things possibly have anything to do with one another? Comic books can be a crazy thing, sometimes.