Tom King's miniseries about the New God and his wife is probably one of the best stories of the 2010s.
Mister Miracle (collected edition)
Written by Tom King
Art by Mitch Gerads
I am definitely late to the party on Tom King's and Mitch Gerad's 12-issue series about Mister Miracle, but I decided to pick up the digital collected edition during the DC Comics sale at Comixology this past week.
While I have balked at some of King's work on Batman and the HEROES IN CRISIS debacle, his writing on Mister Miracle was nothing short of amazing. The maxiseries focuses on Scott Free's recovery from a crisis of faith where he slit his wrists in an attempt to prove himself as the greatest escape artist ever. But the suicide attempt is the least of Mister Miracle's worries, as he and his wife are drafted into a renewed war between New Genesis and Apokolips. It's a war that New Genesis is losing badly, and it costs them both their leader, Highfather, and his successor, Orion.
The loss of leadership elevates Scott Free – the son of Highfather who was sent to be raised in Apokolips by Darkseid – to the roll of Highfather himself. The new position forces Free into the role of army general, which he needs to balance with his new role as a father.
As a relatively new father myself, I could feel the exhaustion Scott and Barda experienced while raising their kid while trying to win a war. Everything about the new parents felt so organic and real, as they went through a lot of the same things my wife and I went through since our daughter was born three years ago. It made everything about the story more relatable, even if I couldn't imagine having to do battle against a demigod.
But the lengths that Scott Free would go to end the war and save his family are nothing short of what any father would do, I think.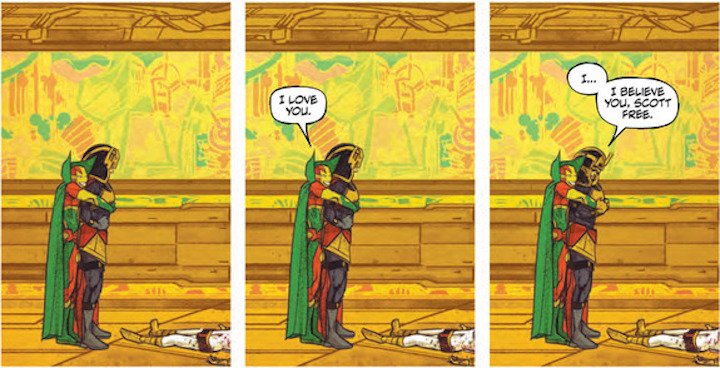 The Mister Miracle series proves once again that King is a master writer when he can breathe life into a character that doesn't get that much attention. I'm not sure anyone has given Scott Free or Big Barda as much life as King has since they were created by Jack Kirby.
Gerads' art, also, was phenomenal. It switched between comforting and off-putting, as Scott Free was forced to question the very nature of reality after he slit his wrists. Every panel was so great, and the little touches – like Scott Free's ever-changing superhero T-shirts – were amazing.
The story all culminates in a final confrontation between the leaders of New Genesis and Apokolips, and once again it's the little things that make the battle so great. King culminates everything that had come before into that scene. Reading it in a collected edition made it clear that the story was all coming into view, and I think it helped binging multiple issues at a time instead of waiting a month or more in between issues.
I hope King continues to tell more stories like this one with DC, much like his current maxiseries, STRANGE ADVENTURES, featuring Adam Strange. I prefer his writing with these characters so much more than when he writes Batman or other high profile members of the DC Universe.