As we wrap up our comic book reading for the year, it's time to take a look at some of the things that I thought were the highlights of 2018. Since the first week of January, I bought the first issue of close to three dozen different ongoing or limited series. I whittled that down to a list of 15 new comic book series or miniseries that I really enjoyed this year.
My faves will be split up over three posts over the next 10 days, but here is the first batch, featuring a new VERTIGO series along with several old properties getting some new life.
Plastic Man
DC Comics
6-Issue Miniseries
Debuted: June 2018
Plastic Man had a pretty good year, getting some recognition during last year's DARK NIGHTS: METAL event. The appearance there led to a spot on THE TERRIFICS, along with this solo miniseries. Written by Gail Simone with art from Adriana Melo and Kelly Fitzpatrick, the 6-issue series took a look at how Eel O'Brien went from a low-level skel to a do-gooder with the power of malleability. PLASTIC MAN was as funny as it was touching, as O'Brien learned how to care about the people around him. For a character without a lot of mainstream exposure in recent years, this is a great introduction to Plastic Man and I imagine it will be required reading for fans of the character.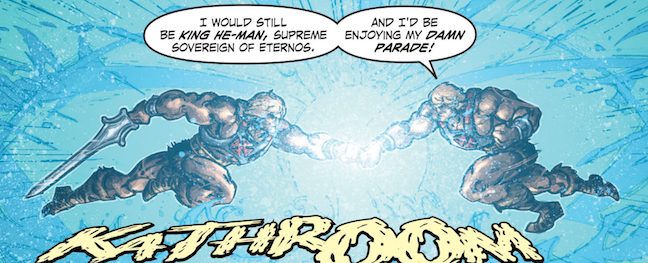 Injustice vs. Masters of the Universe
DC Comics
6-Issue Miniseries
Debuted: July 2018
After the MASTERS OF THE UNIVERSE finished their run as a series at DC Comics, I figured the property would go off to another publisher for another shot, but instead the characters have spent the last few years appearing in crossover miniseries, notably with the DC Universe and the THUNDERCATS. The latest venture pits them against the nightmare that is the world of INJUSTICE, where an unstable Superman has taken over the world after the Joker killed Lois Lane and his unborn child. The stakes get raised when Darkseid tries to take over Eternia while He-Man is on Earth, and the biggest winner in this Tim Seeley/Freddie Williams III production are the fans.

Scarlet
Jinxworld/DC Comics
5-issue Miniseries
Debuted: August 2018
Brian Michael Bendis has been making a pretty big impression since coming to DC Comics. Outside of his work on SUPERMAN and ACTION COMICS, Bendis also brought his Jinxworld line of comics to the publisher, including this book, which is a continuation of the SCARLET story that began in 2010, about a woman who watched her boyfriend get killed by police and decided that she didn't want to accept the world as it was. The new series by Bendis and Alex Maleev takes us to the aftermath of Scarlet's revolution in Portland, Oregon, and has been just as engaging as the original 10 issues. I just wish the miniseries wasn't ending next month.

Dick Tracy: Dead Or Alive
IDW
4-Issue Miniseries
Debuted: September 2018
The square-jawed detective in the yellow trench coat and fedora is a fun character with a lot of weirdo villains, and it's amazing that he's gone so long with a series of his own. IDW finally brought him out of mothballs this year with a miniseries from Mike and Lee Allred, and the first half of that series has been a lot of fun. Putting Dick Tracy in a city with a corrupt police force that he's taken upon himself to clean up highlights the morals and integrity of the character, created by Chester Gould in 1931. If this miniseries is any indication, I'm hoping IDW decides to keep going with more DICK TRACY specials.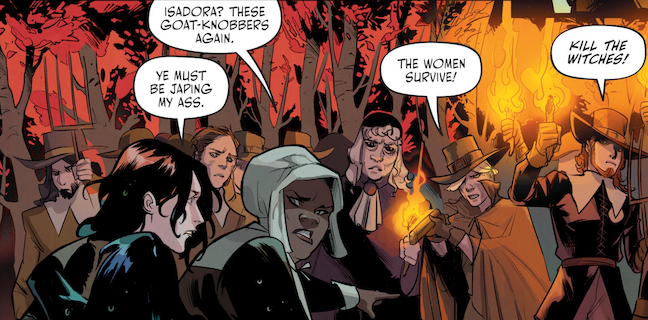 Hex Wives
Vertigo/DC Comics
Ongoing Series
Debuted: October 2018
As VERTIGO continues to regroup, this new series by writer Ben Blacker and artist Mirka Andolfo has been a worthy addition to the brand. A war between witches and witch hunters fought over centuries ends in a surprising twist: the witch hunters have utilized magic to turn all the witches into their wives. But the witch Isadora is starting to think that something is wrong. Given how violent the war between the two factions had been, I can only imagine the upcoming marital spat is going to be pretty harsh, and I'm excited to see where the series goes in the new year.
What are your favorite new series this year? Let us know in the comments, and be sure to check back for part 2 and 3, which will feature more magic, more heroes and even some villains!