The Caped Crusader's worst fear comes back to Gotham and things are not going to end well for anyone. 
The Batman Who Laughs 1 
Written by Scott Snyder 
Pencils and Inks by Jock 
Colors by David Baron 
I'm never sure what I'm going to get when I pick up a new Scott Snyder book. Sometimes I think it's enthralling and sometimes I just can't seem to get into it. Yeah, I got a little bored with the month-to-month wait of Snyder's DARK NIGHTS: METAL miniseries – but reading the collected edition made the story much more palatable. So, I'm up to speed on the main threat in this new Snyder miniseries, and from my first glance, this is going to be so much better. 
The threats Batman faced from the Dark Multiverse in METAL were twisted creations of the worst fears from Bruce Wayne's mind. And the worst of them was the Batman Who Laughs, a man who has all the skills of our Batman with the Joker's lack of… well, anything, really. 
There are a lot of comic books featuring the Dark Knight out there, and all of them seem to have a different version of the hero. Each writer has a different relationship with him and how he sees the world. Snyder has been attached to Bruce Wayne for a long time now, and he's built a wild world around him that's in full effect.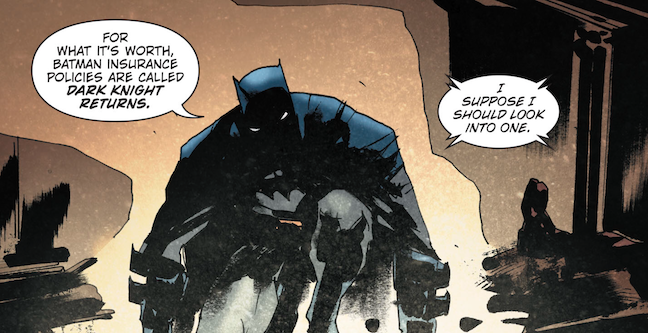 He's even making jokes! At least, I hope it's a joke that Gotham banks offers Batman insurance policies. 
With the Batman Who Laughs on the prowl, and the Joker shooting himself in the heart – IN THE BATCAVE! – to release a toxin to put our Batman on the same level, things are going to get a little crazy. This issue was a beautiful appetizer to what is going to happen. I have a feeling this is going to be a pretty fun rid.