The comedian celebrates his 65th birthday today! 
Larry Miller has done a little bit of everything since he first broke into the business. From guest spots on TV shows and supporting roles in movies to stage shows and podcasts, Miller is a talented actor who pretty much always enhances every project in which he's taken part. 
Most people probably remember Miller from his guest spot on SEINFELD, where he played the doorman in Mr. Pitt's building when Elaine was housesitting. It's a standout episode of the series, mainly because of the great interactions between Miller and his real-life best buddy Jerry Seinfeld. Miller was, apparently, in consideration for the role of George. I'm sure it would have been great, but SEINFELD would have been a completely different show.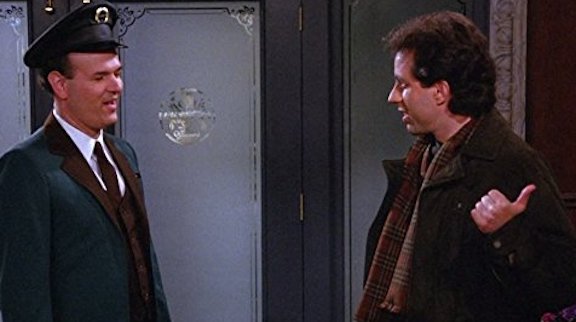 I got to interview Miller a few years ago, in advance of a stage show he was doing in Queens. In the midst of our conversation about his one-man show and how it came about, we got to talking about my favorite Larry Miller role – as Kat and Bianca's father in the late-90s teen comedy, 10 THINGS I HATE ABOUT YOU. Miller just seemed to be channeling my father throughout that whole film, and it's the main reason why I love it so much. I'm looking forward to watching it again this week as part of the MOVIES AT RANDOM series! 
Miller was so great in the role that he was the only person to portray the same character in the film and the short-lived 10 THINGS I HATE ABOUT YOU television series. 
Do you have a favorite Larry Miller role? Talk about it here!