One of the best medical TV shows of all time debuted this week in 2001. 
Despite spending most of its existence on the cancellation bubble, the medical comedy SCRUBS was consistently one of the best half-hour sitcoms on television. The show, created by Bill Lawrence, followed the careers of doctors at Sacred Heart teaching hospital. It featured an amazing ensemble cast that included Zach Braff and Donald Faison as best friends J.D. and Turk; Sarah Chalke as J.D.'s on-again-off-again girlfriend, Elliot; and the always-fantastic John C. McGinley as J.D.'s mentor Dr. Cox. 
While the regular cast always delivered great performances, toeing the line between slapstick comedy and heart-wrenching drama, one of the show's biggest strengths was the great guest stars that came in for various episodes. Some of the series' best episodes were enhanced by the wildly talented actors who came in for a few episodes. 
There were a lot of great guest spots over nine seasons on NBC and ABC, but these are five of my favorites: 
Tom Cavanagh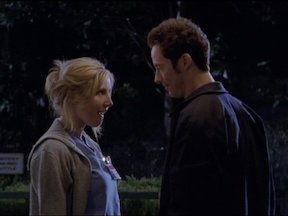 Currently, he's one of the best parts of the CW's superhero hit THE FLASH, but one of my Cavanagh performances is the recurring role he had on SCRUBS as J.D.'s older brother Dan. He wasn't exactly the best big brother, as J.D. was frequently disappointed in how Dan couldn't quite live up to potential. And he hooked up with Elliot, which I can only imagine would be weird once she and J.D. eventually got together. 
But Cavanagh portrayed Dan Dorian as a goof, but there was so much depth to the character in the six episodes in which he appeared that Cavanagh made you forget how much of a screw-up Dan actually was. Especially great was the episode "My Brother, Where Art Though?", when Dan confronted Dr. Cox about how cynical J.D. was becoming. 
Heather Graham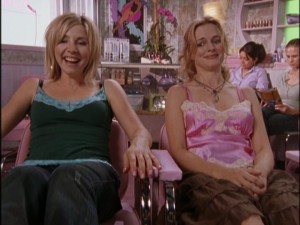 As new hospital shrink Dr. Molly Clock, Heather Graham played a pivotal role in the show's fourth season. Elliot befriended Molly after J.D. convinced her to break up with her boyfriend and then decided he didn't want to be with her. Elliot and Molly developed a symbiotic relationship, as Elliot looked to her for advice, even though Molly clearly made terrible personal decisions. And of course, because she was a female guest star on the show, Molly eventually became a romantic target for J.D. 
Heather Graham could have easily been a series regular on SCRUBS. She worked so well with the whole ensemble, getting fun scenes and storylines with everyone, including Dr. Kelso, Dr. Cox and the Todd. Graham was featured in nine episodes of the show's fourth season, but it would have been great if she had more time with the cast. 
Brendan Fraser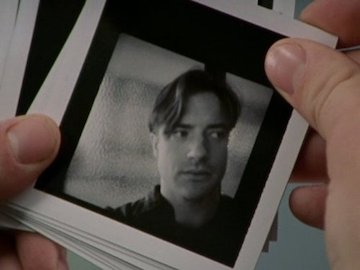 It's amazing that Fraser only appeared in three episodes of the series, because his SCRUBS story is basically the emotional backbone for Dr. Cox's relationship with J.D. and his ex-wife Jordan. 
Fraser debuted at the end of the show's first season as Jordan's brother – and Dr. Cox's best friend – Ben, a goofy guy who carried a camera with him wherever he went. If SCRUBS hadn't already proven itself a different brand of sitcom, the revelation that Ben had leukemia and the effect the diagnosis had on Dr. Cox cemented that. 
Ben returned in the middle of the third season, supposedly cured of the cancer. But because SCRUBS is more of a true-to-life show than most, his character doesn't get the happy ending we were all hoping for. All three of Fraser's episodes bounce from hilarious to heartbreaking, but his final episode, "My Screwup," requires a few boxes of tissues to get through. 
Mandy Moore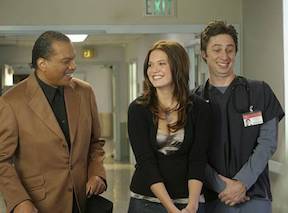 I have a pretty big crush on mid-2000s Mandy Moore, and her two episodes of SCRUBS in the show's fifth season is a big reason why. Sure, she was great as Hilary Faye in SAVED!, but she's on a completely different level here. Moore guest starred as Julie, a girl who gets set up with J.D. 
Everyone agrees that Julie is perfect for J.D. She's sweet, caring, kind of klutzy and maybe a little too innocent. Of course this means that J.D. is going to screw it up somehow, so his friends do whatever they can to prevent that from happening.  Moore makes the most out of her two-episode stint, showing she has the chops for the mix of comedy and drama that SCRUBS perfected over the years.
Michael J. Fox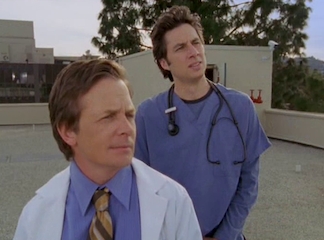 You can't do a list of SCRUBS guest stars without including the former MARTY MCFLY. As Dr. Kevin Casey, a former med school classmate of Dr. Cox, Michael J. Fox was the kind of doctor everyone looked up to and went to for advice. Casey, though, had his own issues, including a nearly-crippling case of OCD and an inability to poop on the toilet the Janitor had put on the roof of Sacred Heart. 
It's truly amazing how this show managed to balance poignancy and absurdity so well.
Fox's two-episode arc is probably one of the series' most iconic. It's tough to beat a toilet on the roof. After all, it means "God is watching." 
Who are your favorite SCRUBS guest stars? Let us know in the comments!