Writer Tom King moves to DC's Black Label for a murder mystery featuring one of the company's favorite space-faring heroes.
Strange Adventures 1
Written by Tom King
Art by Mitch Gerads and Evan Shaner
I've had an up-and-down fandom for Tom King. I loved his Omega Men limited series. It was completely different than everything DC Comics was publishing at the time and had me excited for his work on Batman. But his run on Batman was so hot and cold that there were entire arcs I skipped in the lead-up to the WEDDING that wasn't between Batman and Catwoman.
And the less said about HEROES IN CRISIS the better.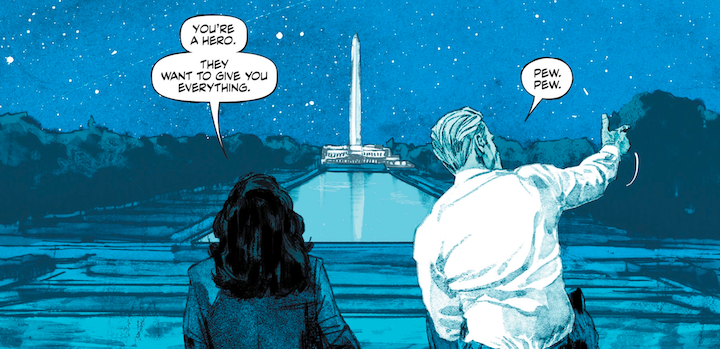 But the flaws in his Batman run, I think, had more to do with stretching the story out to fill 85 issues and saving the big points for benchmark issues rather than keeping it tight. Plus, there's only so many ways to affect one of comics' premiere characters. Marry off Bruce Wayne? They'd sooner kill Alfred!
A limited series for DC's mature readers line, featuring a much lower-profile character, gives King more freedom to tell a nuanced, compelling story. So, I have high hopes for this new limited series starring space-faring adventurer Adam Strange. The first issue is an amazing introduction to the story, which brings Adam Strange and his wife back to Earth, where he is celebrated as a war hero for helping his adopted planet Rann win a war against an invading force.
But celebrity has its price, and while on a tour to promote his book chronicling his time on Rann, an off-kilter individual accuses Strange of war crimes. And then, that same man winds up dead via a laser blaster to the head, and Strange is the media's main suspect.
King stuffs an amazing amount of social commentary about the world's perception of war heroes and the role of the media in building celebrities up before they tear them down. The art work from Mitch Gerads and Evan Shaner is so expressive, showing Strange's growing weariness with each panel.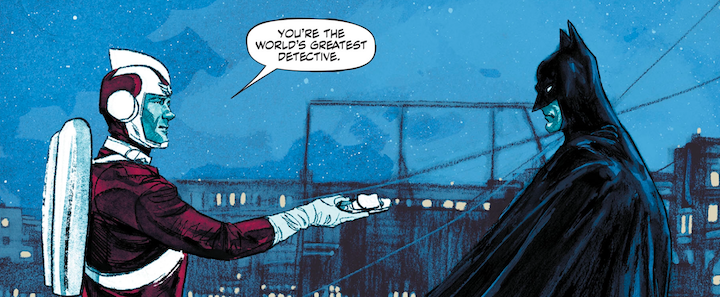 With increasing pressure on him from the media, Strange turns to the one man he knows can prove his innocence. Who wouldn't turn to Batman to have them prove that their right? But Batman continues to be a bit of an ass to his friends and tells Strange he can't do it. He does offer to find someone to help, though, as the issue ends with Adam Strange meeting with Mr. Terrific.
Strange and Terrific is a pretty good way to describe this first issue, actually.
Hopefully, this doesn't end with Strange's wife, Alanna, being the one to have killed the crazy guy, but from the first issue, I can see where the story could lead that way. But we're set off for what seems to be a really compelling journey for Adam Strange. We're clearly in for a great ride here, and if the first issue is any indication, this could be a new modern classic.