Scheduled for an official launch on Saturday, the DC Universe streaming app went live on Thursday, giving fans a taste of its first offerings. 
DC Universe was announced earlier this year to much fanfare, with the promise of original programming in addition to other curated content, including movies and TV shows starring DC Comics characters, along with a select collection of comic books. While flipping through what was available now, pre-launch, it's an impressive list, but there are some pretty glaring omissions. 
The biggest surprise was a lack of Batman content. When the company did its reveal a few weeks back, they touted that the 1990s Batman movies and the Christian Bale Batman films of the last decade would all be available at launch. The day before, none of those films are there. However, I expect the films to be there tomorrow, in celebration of BATMAN DAY (Editor's note: They are there now).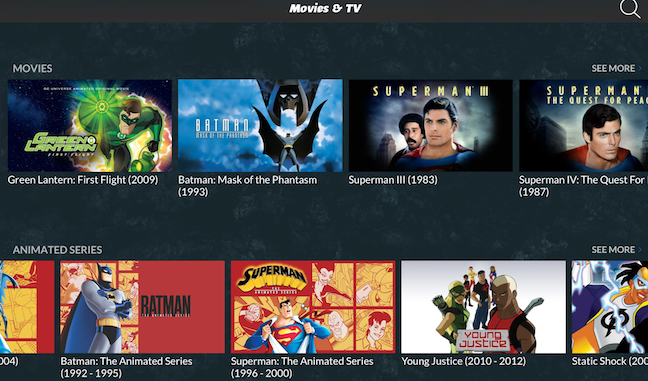 In fact, the movie section is probably the most disappointing part of the service in its infancy. While it has a good chunk of the DC Animated films from the last decade or so, it's nowhere near complete. And the only live-action films available to watch right now, it seems, are the Christopher Reeve Superman movies. Hopefully, Warner Bros. can clear up the rights to other films – including the more recent films – to make the section more complete. 
I'm much more excited about the TV series on offer, though. While the ARROWVERSE family of shows are staying on Netflix for now, there's a ton of other content available for DC UNIVERSE, including a good amount of Superman content. I spent a lot of time today watching the old George Reeves ADVENTURES OF SUPERMAN series. I used to watch these with my dad growing up, and 60-plus years later, the episodes are still a lot of fun. 
There are also some fun surprises in the Movies & TV section, including the 1979 LEGENDS OF THE SUPERHEROES special, a two-part comedy special and roast of Batman featuring a number of DC Comics characters. DC UNIVERSE also includes a number of documentary specials and DC Nation shorts that originally aired on Cartoon Network. 
The animated series included on the service, though, will probably make a lot of people happy. The Timm/Dini animated universe is all there, in addition to the old SUPER FRIENDS cartoon, Batman: Brave and the Bold, STATIC SHOCK and others. The 2003 TEEN TITANS series is a great addition, and will be a nice contrast to the dark TITANS series set to debut next month.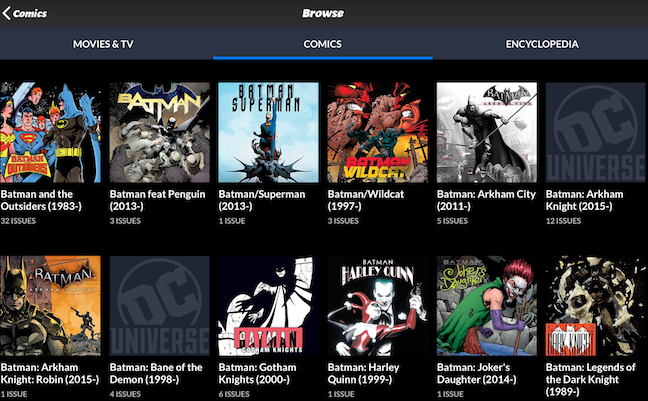 The comics section is probably going to be a source of consternation for many who were hoping for a complete archive of 80 years of DC Comics history. The comic book archives on DC UNIVERSE is nowhere near complete, but they never promised that it would be. But there are a lot of available comics at launch, giving readers a taste of some of the publisher's diverse offerings. 
Anyone looking for full runs of comics will probably be disappointed. All 1,000-plus issues of Action Comics are not on offer (they only seem to have about 20 or so) and big event miniseries generally only have a handful of issues available to read. A lot of 1990s stuff is nowhere to be found. No Kyle Rayner Green Lantern or the post-Death of Superman Superboy or Steel series. Peter David's Supergirl and Young Justice are also nowhere to be found, much to my disappointment. 
Another glaring omission are comics from DC Comics' Vertigo imprint. That means no SANDMAN or FABLES or TRANSMETROPOLITAN are available to read. Maybe they'll debut in advance of the new SWAMP THING series. 
What concerns me most is the disclaimer at the top of the Comics section: 
"Can't find the books you're looking for? The full DC Comics digital library will be available for purchase in October." 
Considering how much I've already spent on digital comics – both new and old – through Comixology over the last few years, I'm not too keen on having to buy comics on another service for which I have to pay an annual fee. Hopefully, they continue to add titles to the list of what can be read as part of the subscription and don't just leave things to be purchased. But with a couple thousand comics available right now, I think I'll have enough to read for a while. 
So is DC UNIVERSE worth it? It's still too early to tell for sure. There's a lot of potential here, and I'm certainly not disappointed with my decision to preorder the service. We'll have to check back in a few months from now for a more informed decision.