Who climbed the ladder to make themselves famous? It's WWE Money In The Bank!
The ninth annual MONEY IN THE BANK WWE Network special comes to us live from the same arena where the only Money in the Bank event anyone remembers emanated – the All-State Arena in north Chicagoland. Can AJ Styles overcome the challenge of Shinsuke Nakamura? Will Ronda Rousey win a world championship in her first-ever one-on-one encounter? Has the Chicago crowd finally gotten over native son C.M. Punk leaving in 2014?
At least one of those answers is a clear and easy no. I'll let you decide which is which.
Watching Money in the Bank the morning after the event happened, I was shocked and appalled to see that it ran more than 4 hours for 10 announced matches. I didn't bother with the preshow, which saw SmackDown! Live Tag Team Champions Harper and Rowen defeating Gallows and Anderson. I only have so much time on my hands. I may not even get to finish with this recap!
Daniel Bryan vs. Big Cass – There's something about Big Cass that just doesn't land with me. He's a big dude with a pretty good look. He's improved a lot in the ring – the pairing with Daniel Bryan probably helps that. And he's gotten better doing promos – helped by that goofus Enzo Amore getting fired. But I can't take him seriously. Maybe it's the goofy facial expressions. He kicked off the show with a rematch against Daniel Bryan and Bryan managed to get a passable, if not enjoyable, match out of the big man from Glendale, Queens. Of course, the match also earned the first of a handful of C.M. PUNK chants, so maybe the Chicago crowd didn't appreciate it as much as I did.
Sami Zayn vs. Bobby Lashley – First SmackDown! Live has a David vs. Goliath match to start the show, and it's immediately followed by the Raw version, though David here is a weaselly heel. And Lashley wrestled the whole match with a headband on. Does he do that regularly? It's a little impressive that it didn't fall off at all. Goliath wins here, as Lashley pinned Zayn.
Intercontinental Title Match: Seth Rollins (c) vs. Elias – In addition to the Intercontinental Title, this match determines Williamsburg, Brooklyn's second favorite wrestler. Obviously, Braun Strowman is number one with that beard of his. Rollins "injures" his knee doing one of his flips, but still manages to not be grounded for the rest of the match, only sporadically remembering to sell the pain. He continues to have some of the worst ring psychology in the company. Despite the trick knee, though, the match was surprisingly good, hitting a fast pace and giving both guys a chance to shine. I legit thought the title would Walk With Elias at a couple of different points in the match. But in the end, Rollins got one of the deadliest of roll-ups, pulling at Elias' pants as he did it, for the win.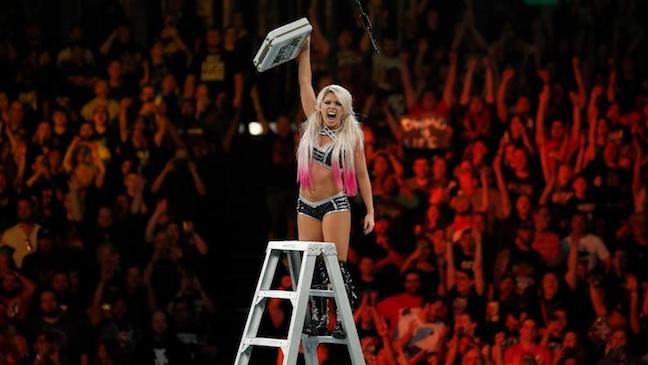 Women's Money in the Bank Ladder Match: Becky Lynch vs. Charlotte Flair vs. Natalya vs. Alexa Bliss vs. Sasha Banks vs. Ember Moon vs. Naomi vs. Lana – Last year's MONEY IN THE BANK show was historic for the first-ever women's briefcase ladder match, won surprisingly by Carmella. This year it's just the latest, with six former WWE women's champions (seven, if you count Ember Moon's NXT title) in the match looking for an instant opportunity to be champion. And there are probably six viable candidates for the briefcase in the match. Charlotte doesn't need it and Lana shouldn't be anywhere near title matches. But it's former Raw Women's Champion Bliss who manages to grab the briefcase at the top of the ladder, outsmarting the other women to get a future opportunity to screw over one of the company's champions. ~SPOILER~ She doesn't wait that long to do her thing.
Roman Reigns vs. Jinder Mahal – If they were looking for a way to make me care LESS about a Roman Reigns match, putting him in a program with former WWE Champion Mahal is definitely the way to go. And they gave this match 15 MINUTES! Just let Reigns squash the guy! He doesn't need to have a competitive match with Mahal, especially not one where Mahal is countering Superman Punches and spears. Squash matches aren't bad things, even on Network Specials. And if you want Reigns to be strong, let him be strong and wipe a lesser talent like Mahal out.
SmackDown! Live Women's Championship Match: Carmella (c) vs. Asuka – Speaking of matches that shouldn't have been so competitive, there's no reason for Carmella to have any moments of dominance over Asuka. I know the Empress of Tomorrow lost to Charlotte at WRESTLEMANIA, ending her undefeated streak, but that doesn't mean she should lose that aura. Carmella is a chickenshit heel in the same vein as the Honky Tonk Man. I loved the ending, with James Ellworth coming in dressed as an Asuka fan as a distraction so Carmella could get the win, but they could have gotten to the point a little faster.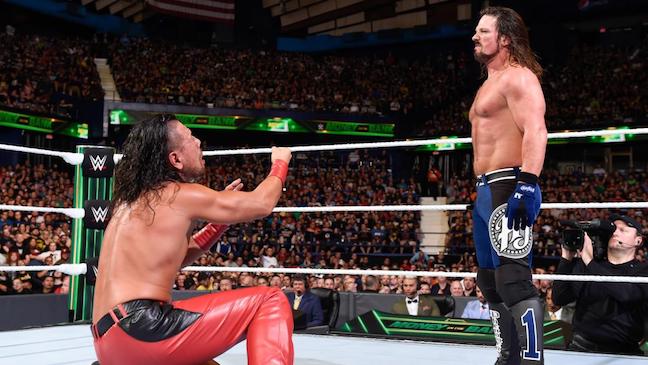 WWE World Title Last Man Standing Match: A.J. Styles vs. Shinsuke Nakamura – Now, here are two guys who deserve to get a lot of time on a pay-per-view. The feud has been a bit wonky, with matches ending on low blows and double countouts, necessitating some sort of special stipulation. I'm not a fan of the Last Man Standing stip, though, as it grinds the match momentum to a halt as the referee tries to count to 10. Styles and Nakamura almost pulled off making me a fan of the match, though. That's how good those guys are. Nakamura gave Styles a beating in this match, as the announcers praised the champion's resilience in coming back from the brink. Styles eventually gave the challenger a taste of his own medicine with a low blow and then a Phenomenal Forearm through a table to keep Nakamura down for a 10-count and retain the belt. Good stuff all around.
Raw Women's Championship: Nia Jax (c) vs. Ronda Rousey – In Rousey's first singles match in the company, she's challenged by the champion, with the story of Jax trying to wipe out the former UFC star before she gets her ring legs and becomes a true threat. Jax dominated the match, taking advantage of Rousey's inexperience, until the challenger got fired up and started tossing Jax around the ring. She was pretty close to getting Jax to submit when Alexa Bliss charged the ring and attacked both women with her newly-won briefcase. Rousey was laid out in a heap at ringside while Jax took shot after shot in the arm that Rousey had been working on. And then Bliss cashed in that contract…
Raw Women's Championship Money In The Bank Cash-In: Nia Jax (c) vs. Alexa Bliss – A Snap DDT and a Twisted Bliss gives Bliss the title back again, not to mention two VERY pissed off challengers.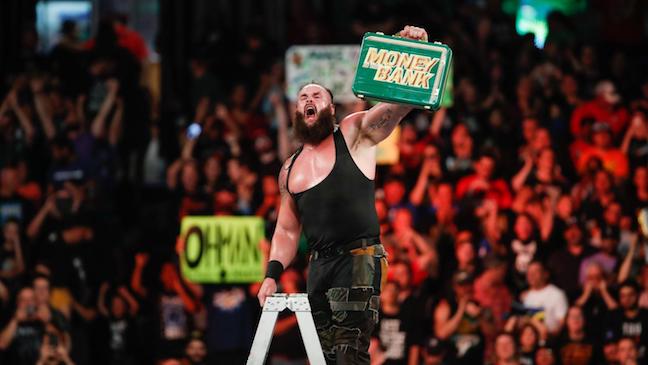 Men's Money In The Bank Ladder Match: Kevin Owens vs. Kofi Kingston vs. Braun Strowman vs. Bobby Roode vs. The Miz vs. Samoa Joe vs. Finn Bálor vs. Rusev – I didn't think anyone other than Strowman would win this match, even though the briefcase would have been better suited to someone like Roode or Bálor or Rusev instead of a guy who's already seen as a threat to someone's title. Of course, WWE Universal Champion Brock Lesnar has to show up for someone to cash in on him. Fun match as I was watching it, but there was very little that was memorable. I imagine Strowman will be Universal Champion by the end of the summer… end of the year at the latest.
FINAL THOUGHTS – I should just start copying and pasting "Nothing special, nothing terrible – a typical modern-day WWE show" for these things.
We're off until July for EXTREME RULES.