Raw and SmackDown! Live are back together again on the WWE Network as we deal with the fallout from WrestleMania with WWE Backlash!
These brand splits never seem to last that long, huh? Once again, the rosters of the two WWE brands are smooshed back together for these Network specials. Looking at the card for tonight, it looks like that may have been a mistake – just my opinion, of course – when you consider the talent that hasn't been announced for the show tonight. No WWE Universal Champion Brock Lesnar (which, yes, had nothing to do with the brands, he just has a sweetheart of a deal). No Sasha Banks. No Bobby Roode. No Rusev. No Bludgeon Brothers or Bray Wyatt and Matt Hardy or any established tag teams at all.
It's an odd strategy for the first real big event since WRESTLEMANIA 34. Will they pull off another acceptable show?
Backlash 2018 is coming to you live from the state of my birth, New Jersey, at the Prudential Center in Newark. I am roughly 15 miles away at showtime, down in the Financial District. Now that we've established all that, let's check in with the show.
For those who care, Ruby Riott beat Bayley on the preshow when the Riott Squad distracted Bayley, who was already distracted by her BFF Sasha Banks not offering to help. Can we fast forward to the Bayley-Banks feud yet? Or are they going to drag this out til SummerSlam?
Intercontinental Title Match: Seth Rollins (c) vs. The Miz – The Miz has moved over to SmackDown! Live from Raw, so this is now a cross-brand match for the title. Rollins, of course, won the title at WrestleMania in the Triple Threat, and Finn Bálor is the odd man out from that match here. The Miz continues to be one of the best heels the company has and I can't imagine why they took the Intercontinental Title off of him in favor of Rollins. Rollins is also a great talent, but he doesn't need a secondary title. It feels like he's slumming it with the IC belt. The Jersey crowd was really into this, especially when Rollins hit his knee on the corner post and Miz followed up with a figure four, leading to a Rollins reversal. Minutes later, though, it was Rollins never hurt himself, except for a couple times when his knee "gave out" on some flip reversals. Selective selling is all the rage, right? Great back-and-forth between the two, leading to a curb stomp from Rollins off a Skull-Crushing Finale reversal to retain the belt. At least he remembered to sell the knee after the match…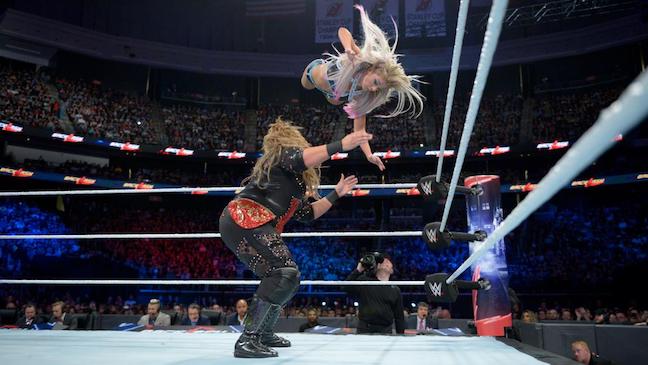 Raw Women's Title Match: Nia Jax (c) vs. Alexa Bliss – The much-larger Jax squashed Bliss for the title at WrestleMania, so the story of the rematch is the challenger trying to capitalize on tossing Jax out of the ring and dazing her in an attempt to retain her title. But Jax's size advantage is too much and she ends up tossing Bliss around and hitting a Samoan drop for the win. Jax then gets the chance to preach some anti-bullying "Be A Star" language.
U.S. Title Match: Jeff Hardy (c) vs. Randy Orton – What a weird pairing. Hardy won the title during the Superstar Shakeup on Raw after champion Jinder Mahal got drafted to Raw. Former champion Orton – who lost the title to Mahal at WrestleMania – is looking for his second U.S. Title reign, and yes, he's slumming it here, too. The crowd is a lot less hot for this than the opening IC Title match, as Orton and Hardy work a more methodical match, even with Hardy's spots. It's such a jarring change from the last two matches, these relics from bygone eras trying to work a toned-down main event style match with all the laying around. The ending goes from Hardy laying in pain to Hardy hitting a Twist of Fate and a Swanton bomb for the win. I had no investment in this one.
Elias comes out to waste valuable time, claims Springsteen regrets being born in New Jersey and threatens to sing before getting interrupted by The New Day. They offer to jam-out with Elias. Between this and the U.S. Title match, I'm growing bored with this show. And here comes Aiden English and Rusev. And then No Way Jose, and Titus and Breezango. Couldn't they just book a battle royal in advance to get all these guys on the card? And Bobby Roode finally shows up, hits Elias with a DDT and the dance party heads up the ramp. I'm starting to regret recapping this show.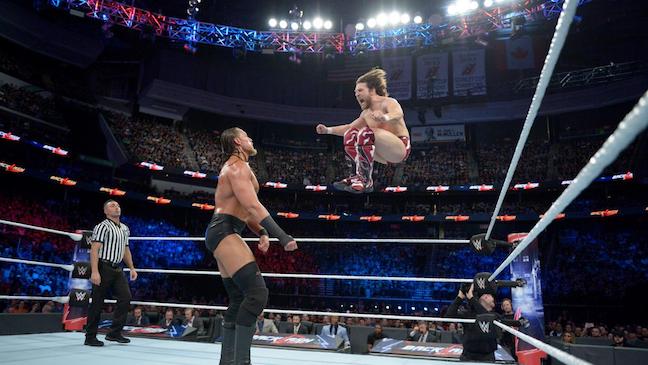 Big Cass vs. Daniel Bryan – Bryan comes back to the ring and after finishing his issues with Kevin Owens and Sam Zayn, he gets put in a program with Big Cass? The very large, very tan Cass fighting the very short, very pale Bryan is, at least, a unique visual, but Cass still has a ways to go before he looks like he can hang with a guy like Bryan in the ring. Cass controlled most of the match after an opening flurry from Bryan. And then Bryan managed to drop the 7-footer and put him in the YES! Lock for a quick submission win. Cass gets his heat back with a post-match attack and I really hope this feud doesn't continue. Put Bryan in the ring with someone he can mesh with better.
SmackDown! Live Women's Title Match: Carmella (c) vs. Charlotte Flair – This feels like a mismatch. Carmella used her Money in the Bank briefcase to take the title off Flair after the former champ was beat down. The crowd was not into a good chunk of this match, especially after the extended chinlock spot with the shrill Staten Islander screeching as she tried to wear Charlotte down. Carmella wrestles like a "lady wrestler" from the 1980s, and Flair is not yet adept at her father's skill of carrying a broomstick to a 3-star match. She tried, but Carmella was in control for way too much of the match. Carmella gets a deadly roll-up win after Charlotte tweaks her knee on a moonsault attempt and no one in Newark cares. One of the worst women on the roster manages to keep the women's title.
WWE Title No Disqualification Match: AJ Styles (c) vs. Shinsuke Nakamura – This isn't the main event?!? It's the only World Title match on the card! This company is ridiculous. This is a rematch from WrestleMania, where AJ retained the title over the Royal Rumble winner, only to get it below the belt after the match. Nakamura's weird mannerisms work so much better as a heel, though I still don't really get the appeal of the guy. Regardless, he can go in the ring, just like the champ, and they have a fun match until the low blows come into play and the ref has to call for a no contest, because getting hit with a low blow really hurts. I guess there will be more of this to come.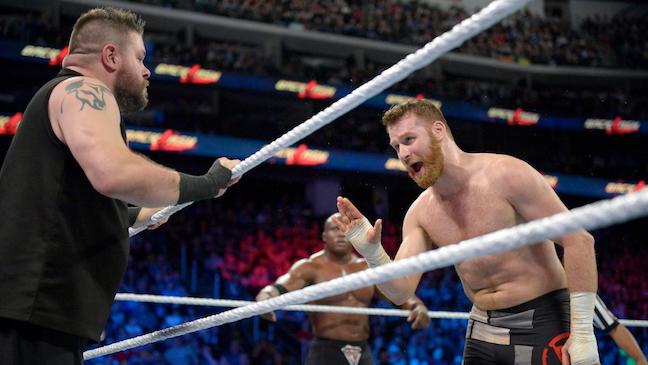 Kevin Owens and Sami Zayn vs. Braun Strowman and Bobby Lashley – My Network decided to screw around here and all I got was the end. Some miscommunication between the good pals leads to Kevin Owens getting wrecked for a win for Strowman and Lashley. And then they kept beating Owens and Zayn up.
Roman Reigns vs. Samoa Joe – I can't believe this is the main event. Reigns lost to Brock Lesnar at WrestleMania and then again in Saudi Arabia and with the Universal Champ not here (along with no John Cena), he gets the main event slot in a grudge match. I guess I was wrong last month, the Roman Reigns experiment continues. Joe goes right after "The Big Dog" and controls the early part of the match after putting Reigns through an announce table. Everything Joe does in the ring looks brutal, I love it. Lead announcer Michael Cole noted during the match that Joe brings out the best in Reigns, and I think he's right. Much like his chemistry with Lesnar, Reigns can cut loose a bit with Joe and structure a match where the two guys beat the hell out of each other. Reigns spends the match getting picked apart by Joe, nearly getting knocked unconscious by the Coquina Clutch submission. He wakes up, though, and manages a desperation spear to get a win in a fun match.
Final Thoughts – Nothing special here, really, and nothing I would tell anyone to go out of their way to see. Some fun matches but some of these matches have already been done better and others will likely be done better at the next PPV. I would've rather have seen guys like Bobby Roode, Finn Bálor, Cesaro and Sheamus, The Usos and some of the other talent that were left off this show. Hopefully we get to see some of them next time around.