The biggest – and longest – show of the year is live from the Superdome in New Orleans! It's WrestleMania 34! 
This show is going to take forever, so let's forego the pleasantries and get to the card, which features 10 matches, 8 of which are title matches. The other two feature the general managers and commissioners of Raw and SmackDown! Live. This company has A LOT of titles. 
The two-hour pre-show featured three matches: Matt Hardy woke to win the Andre Roussimouff Memorial BAttle Royal (ARMBAR); Cedrick Alexander won the Cruiserweight Title with a win over Mustafa Ali; and Naomi won the Fabulous Moolah WrestleMania Women's Battle Royal.
Once again, for a primer on everything going on at WrestleMania 34, check out the post over at NJNONCONFORMIST.
Intercontinental Title Triple Threat Match: The Miz (c) vs. Seth Rollins vs. Finn Bálor – We got a fast-paced title defense from The Miz to start the show off against two of the best workers in the company. I'm a little surprised they went with this match to open the show, but it was a good enough match to get the crowd going at the official start of what promises to be a long evening. All three men are former world champions, but Rollins is the only one who feels like he's slumming it. Bálor and Rollins go crazy with high spots while the Miz tries to take advantage of mistakes to retain his title, to no avail. Rollins gets another WrestleMania title win. Definitely a fun opener.
John Cena, by the way, is in the crowd in the front row, as he has no scheduled match for the evening. I'm sure they aren't foreshadowing anything with having him front and center. Nah.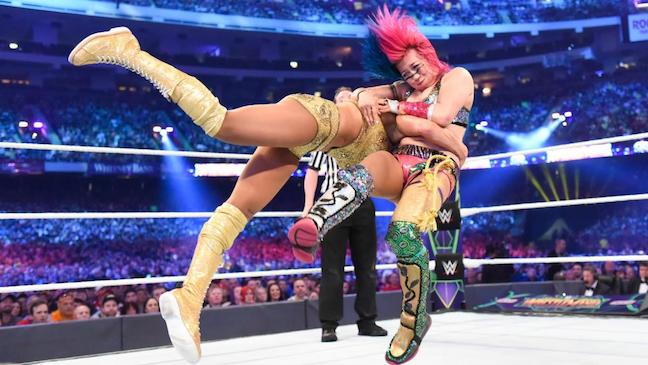 SmackDown! Live Women's Title Match: Charlotte Flair (c) vs. Asuka – Flair gets the first super entrance of the night, as Roman Centurions bring her down to the ring to her dad, Ric Flair's, music. The presentation so far this year has been top notch. Asuka has been undefeated for, like, her entire time in the company. This is really the biggest test Asuka has had since getting called up to see if she can go at the highest level, and Flair is a great opponent for her. Flair powering out of an armbar finisher after Asuka caught her at the tail end of a moonsault was a great spot, as Asuka pushed the psychology of injuring Flair's shoulder. Despite Flair's dominance over the women's division on both Raw and SmackDown! Live, I think it was a given going in to this match that Asuka was continuing her insane undefeated streak, so when she tapped to Flair's Figure 8 leglock, it shocked the crowd almost as much as when Undertaker lost to Lesnar at WrestleMania XXX. Two great matches to kick off the show.
Before Flair and Asuka have cleared the ring area, a referee tells Cena something at ringside and the former champ jumps over the guardrail and runs up the aisle and past Flair to the back. Security was clearly sleeping on the job if they're letting a fan run backstage like that.
U.S. Championship Fatal Four-Way: Randy Orton (c) vs. Rusev vs. Jinder Mahal vs. Bobby Roode – Orton won the title from Roode at FASTLANE. And again, we have a legendary former world champion slumming it with a secondary title because WWE doesn't know what else to do with them. Rusev, of course, gets a great intro for Rusev Day from Aiden English (and the announcers had to force a Lin-Manuel Miranda reference in so I can use that as a tag) and continues to be misused since he isn't in the WWE Title picture. I still don't know why Mahal continues to get title matches. It's ridiculous how over Rusev has become, and the crowd seemed really excited as he was getting an advantage in the match, but Mahal's lackey distracted the Bulgarian Brute and Mahal gets the win and the title. A third surprise win in a row, but this was easily the worst match so far. Not that it was bad, but it didn't live up to the quality of the previous two matches.
Seriously, I can't believe Mahal won a major title match at WrestleMania.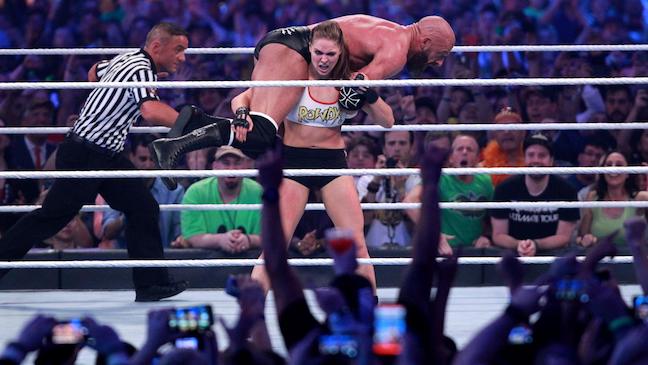 Triple H and Stephanie McMahon vs. Kurt Angle and Ronda Rousey – The payoff (kind of) to an in-ring segment at WrestleMania 31, former UFC champion Rousey makes her WrestleMania debut alongside the Olympic Gold Medalist. Triple H and Stephanie, of course, get our second super entrance in this first of two matches featuring general managers who were told they shouldn't ever wrestle again due to neck problems. Despite her dominance in UFC, I don't think Rousey ever walked out to a crowd the size of the Superdome, and she looked a little overwhelmed. The Authority's strategy was to keep Angle in the ring, and they teased the heat segment just long enough so that the crowd erupted when Angle tagged Rousey in.  She even got to beat up on Triple H! Of course, things broke down enough to give The Authority the advantage in the match, but it delayed the ending of the match – McMahon tapping out to Rousey's armbar – just enough to make it feel earned. The match was a little long, but the action never really died down and it stayed fun.
SmackDown! Live Tag Team Title Triple Threat Match: The Usos (c) vs. The New Day vs. The Bludgeon Brothers – Super entrance number three for the New Day, with giant stacks of pancakes and people dressed as pancakes accompanying them down the ring. After Harper and Rowan destroyed New Day and The Usos at the end of the title match at Fastlane, they continued their dominance at the start of this triple threat until the Usos realize the power of the superkick to slow the momentum of the Bludgeon Brothers. Despite a valiant effort from the two smaller teams, this is essential an extended squash (with superkicks) as Harper and Rowan destroy the other two teams to win the titles.
And out comes John Cena, without a match. He spent the last few weeks challenging The Undertaker to a match with The Deadman not bothering to give an answer. A second referee comes down to seemingly give Cena some bad news and, just as he goes to leave, the lights go out and Elias shows up with his guitar. Wow, that's… not what anyone wanted. The WWE Universe is not walking with Elias here at all.
After Cena beats Elias up and heads to the back, we get a light show with Undertaker's gear in the ring disappearing after a lightning strike and then the gong hits and the Deadman shows up on the stage. After seemingly retiring at LAST YEAR's WrestleMania, I guess we're getting a special added attraction.
John Cena vs. The Undertaker – The Deadman spends the first couple of minutes hitting all of his greatest hits, including whiffing on a big boot and missing Cena's head by about a foot and a half. Undertaker dodders around the ring like a grandfather with dementia, but he still manages to hit a chokeslam and a Tombstone piledriver and a surprisingly quick win over WWE's franchise player as Michael Cole pronounces, "The Undertaker is back and better than ever!" Cena didn't get any offense in. Still worlds better than his match with Roman Reigns last year, and at least Undertaker doesn't bother to pretend to retire again at the end of the match, but it probably won't get into the list of Undertaker's TOP TEN WrestleMania matches.
Fittingly, we segue into the video package for the WWE Hall of Fame. Someone should give the kid who won the Warrior Award a TV show. He's got star written all over him.
We still have five (announced) matches left and I'm 1,300 words in. So much for Quick Hits.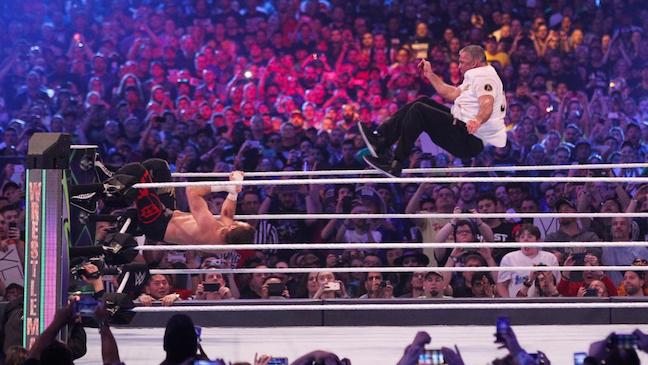 Shane McMahon and Daniel Bryan vs. Kevin Owens and Sami Zayn – Our second match featuring a general manager who was told he should never wrestle again, as Daniel Bryan makes his WrestleMania return after almost three years. Zayn and Owens were fired from SmackDown! Live for assaulting McMahon and Bryan and to get their jobs back, they need to… beat up their bosses. Only in professional wrestling. The heels take Bryan out early, and Owens and Zayn beat up on McMahon while EMTs check on Bryan at ringside. I smell a swerve. Two wrestlers in their primes beating up a 48-year-old executive who's recovering from diverticulitis, something that put Brock Lesnar down for a while, doesn't make for the best match, even if McMahon is crazy enough to hit a coast to coast dropkick from the top rope. Daniel Bryan finally gets in the match and has the Superdome crowd going nuts using, from what I could tell, a somewhat safer style than the one that nearly paralyzed him. Bryan hits Zayn with a running knee and puts him in the YES! Lock submission hold to get the win for his team. Huh. So… Owens and Zayn are still fired? That's… huh… Moving on, I guess.
Raw Women's Title Match: Alexa Bliss (c) vs. Nia Jax – Of the three matches on the main card featuring women, this was basically an afterthought. Even the build was cookie-cutter. Mean girl Alexa Bliss makes fun of the bigger Nia Jax. Jax wants revenge. You'd think Bliss' second, Mickie James, who was called "Piggie James" by Layla and Michelle McCool, would be a little more sensitive. Anyway, I just gave this angle more thought than WWE did. Jax starts things off by destroying James on the outside. Without James, Our Miss Bliss didn't seem to have much of a chance against Jax, who towered over her. The champion avoids being the victim of the card's third squash match by outthinking Jax, but her frustration at not being able to put Jax away got the better of her. In the end, Bliss wasn't saved by the bell and they needed a spatula to get her off the mat after Jax hit her with a Samoan drop from the second rope to get the win and the title.
WWE Title Match: AJ Styles (c) vs. Shinsuke Nakamura – This should've been the main event. I may not be the biggest Nakamura fan, but I am much more hyped for this match than I am the Universal Title Match. The Royal Rumble winner gets a live performance of his entrance to play him down with Nita Strauss playing lead guitar. I have no idea who that is. The challenger is announced as "The Artist Known As Shinsuke Nakamura"? Oh come on… Styles and Nakamura had a fun 20 -minute match that saw Styles retain his title, but Nakamura wasn't as gracious as Asuka when she lost earlier, attacking the champ and laying him out with a Kingshasa running knee outside the ring. Most likely? This feud must continue.
Raw Tag Team Title Match: Cesaro and Sheamus (c) vs. Braun Strowman and ?? – Strowman picks a child named Nicholas from the audience to be his mystery partner. The Monster Among Men manhandles The Bar and, even though the kid got a hot tag to get in the match, he tagged right back out and Strowman got the win. The show may have gone off the rails here.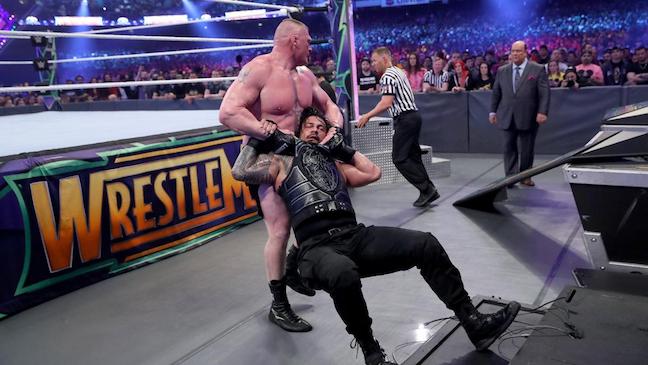 Universal Title Match: Brock Lesnar (c) vs. Roman Reigns – This can't be worse than last year's main event, right? This is Reigns' FOURTH STRAIGHT WrestleMania main event. That's insane to think about. Reigns made this match about taking out the part-time player in Lesnar and stripping him of the title he's held since last WrestleMania. Much like their WrestleMania 31 match (before Seth Rollins cashed in the Money in the Bank briefcase), Reigns and Lesnar just beat the hell out of each other. When most of the show features high-flying spots, a match where two men are just hitting each other with all the power moves they have is a nice change of pace. Reigns couldn't take Lesnar down with spears. Lesnar couldn't pin Reigns after multiple F5s. The fourth F5, through the German announce table, gave Reigns an opportunity for a little nap. Busted open by Lesnar's elbow to the head, Reigns went a little crazy, but Lesnar caught him for ANOTHER F5 and pinned Reigns to retain the title in ANOTHER shocking finish. I guess Brock signed an extension on his contract…
Is the Reigns experiment over now? It has to be, right? Or will these two headline next year's WrestleMania at MetLife Stadium in New Jersey? Man, I hope not. We'll clearly have to tune in to Raw and SmackDown! Live to find out where this all goes!
Compared to the last two years, this was a pretty good show. It didn't feel like it dragged at all and had enough surprises to keep things interesting.