Will the four Justice League teams made up of heroes and villains be enough to stop the Omega Titans from destroying Earth after they failed to save Colu?
Justice League: No Justice 4
Written by Scott Snyder, James Tynion IV and Joshua Williamson 
Pencils and Inks by Francis Manapul
Colors by Francis Manapul and Hi-Fi 
OF COURSE the combined forces of good and evil brought together by Brainiac are able to overcome the odds and defeat the Omega Titans. That was never a question. They have a whole line of Justice League books to kick off out of this weekly miniseries! The main point was always going to be how they did it.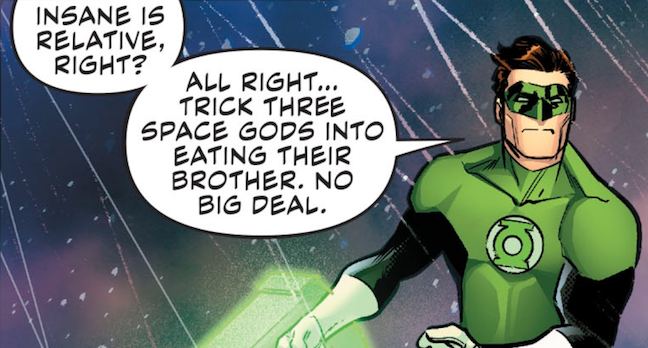 Yeah… they trick three of the Omega Titans into destroying the other by sending a cosmic seed deep into the "space giant." Oh, and the entirety of the DC Multiverse is dying after the heroes punched a hole in the source wall during Dark Nights: Metal. The fourth issue of the weekly series drops THAT bon mot on us to kick off the book and then runs away screaming from it when Green Arrow calls Green Lantern away from his post at the wall – trying to stem the tide of the wall's power bleeding out – to come save Earth.
I think Scott Snyder has officially hit full Grant Morrison at this point. Cosmic cannibalism was not something I was expecting to see in a comic book this year. Though, after what Snyder did in Metal, maybe I shouldn't be surprised.
Of course, the biggest point of NO JUSTICE is to set up the new line of Justice League books kicking off this summer. Because DC Comics doesn't have enough blockbuster books taking all our money in the next few weeks and months. NO JUSTICE was the appetizer. And maybe the soup course. This will clearly be something that will be dealt with eventually, though how, where and when are all still up in the air.
The closure we get from knowing the Omega Titans ate one of their own and were then too full to destroy Earth is fleeting, as the final pages of NO JUSTICE sets up new stories and paths for out heroes. Batman drafts Black Lightning into service to lead a new team of Outsiders. Martian Manhunter gives Green Arrow "the key to destroying the Justice League should the need arise." And of course the new JUSTICE LEAGUE, JUSTICE LEAGUE DARK and JUSTICE LEAGUE ODYSSEY.
I'm exhausted just thinking about it. And my bank account weeps.