As we approach WrestleMania 34 this coming Sunday, we're taking a look at the big event's best moments from the last 33 years. Today's installment looks at the best World Title matches!
Sometimes, months of planning goes into WrestleMania World Title matches, sometimes it's just a matter of weeks. But they are always one of the most important matches on the card. The World Title match is usually the main event and the result very often sets the tone of the company for months to come.
There have been many different World Title-level championships in WWE over the years: the WWE Title, the World Heavyweight Title, the Universal Championship. All of these were under consideration for inclusion on this list.
** NOTE – The lists being published this week were compiled from the larger list of WrestleMania match rankings done for Scott's Blog of Doom and Place To Be Nation. Check out those sites for more great WrestleMania content. All rankings are, of course, just my opinion and are not meant to be a definitive list**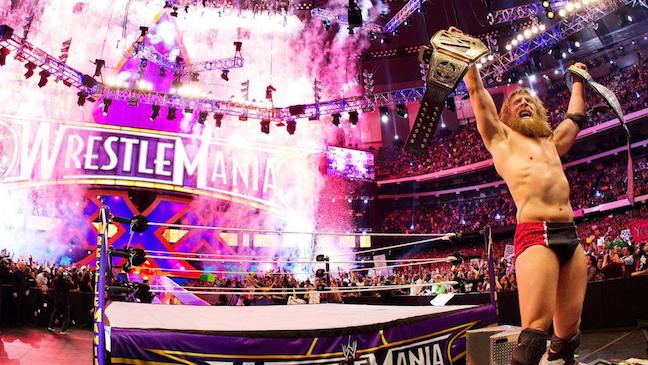 10. Randy Orton vs. Batista vs. Daniel Bryan – WWE Title Triple Threat match (WrestleMania XXX)
In yesterday's LIST, I went over how Daniel Bryan won his way into the WrestleMania XXX main event. In his second match of the evening, Bryan went up against Orton – who beat him for the WWE Title at SummerSlam – and Batista – who won the Royal Rumble. Against two former students of Triple H, and with an injured shoulder, the deck was stacked against Bryan. The energy from the crowd, who were ravenous to chant YES! at the end of the evening with a victorious Bryan, helped the match immensely. And when Bryan finally caught Batista in the YES! Lock and got the man now known as Drax to tap out, the Superdome erupted. A classic WrestleMania moment, indeed.
9. John Cena vs. Shawn Michaels – WWE Title (WrestleMania 23)
Few would argue that John Cena is WWE's best current big game player, but since his first WrestleMania appearance in 2004, he's had very few great WrestleMania matches. Leave it to Mr. WrestleMania, Shawn Michaels, to elevate his game. Leading up to their WrestleMania match in 2007, Michaels and Cena were thrown together and ended up winning the tag team titles, putting them in the position of "partners who hate each other," but the match didn't need that added bit of tension. Cena seemed unbeatable, but Michaels took him to the limit before tapping to The Champ's STFU submission hold. Two of WWE's franchise players put on a clinic to close out one of the bigger WrestleManias in history.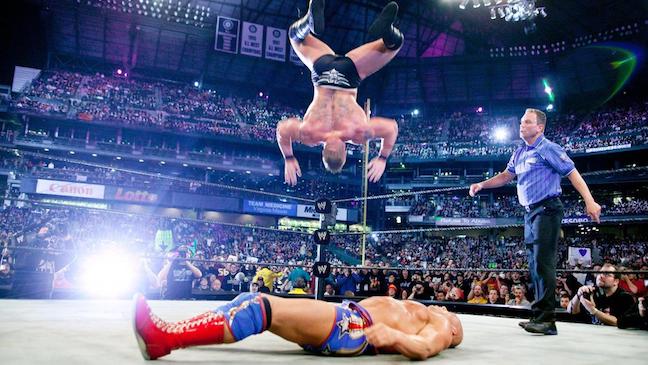 8. Kurt Angle vs. Brock Lesnar – WWE Title Match (WrestleMania XIX)
When Lesnar won the 2003 Royal Rumble to earn a shot at the WWE Title, it set up what I hoped would be one of the greatest matches of all time between two amateur wrestling champions who became monsters of sports entertainment. Lesnar, still in his first full year in WWE, was a phenomenal athlete and pitting him against the best wrestler in the company gave me chills to think about. And the match delivered – mostly. It would likely be higher if not for Lesnar's horrifying botch on his Shooting Star Press toward the end of the match. It was a scary image.
7. Eddy Guerrero vs. Kurt Angle – WWE Title Match (WrestleMania XX)
Guerrero coming in to the 2004 edition of WrestleMania as WWE Champion was surreal, and being placed in a match with a machine like Angle had me thinking his reign would end after only about a month. They had a great match that was enhanced greatly by the finish – Guerrero untying his boot to lessen the pressure from the attack on his ankle, causing Angle to pull it off when Angle used his Ankle Lock submission hold, leading to a roll-up victory to allow Guerrero to retain his title. Guerrero may have been outmatched by his opponent, but he used his brains to out-maneuver the wrestling machine.
6. Hulk Hogan vs. Andre the Giant – WWF Title Match – WrestleMania III
No, this match isn't a technical masterpiece like most of the other matches on this list, but it is certainly contains the most iconic moments. The 7-foot-5 Andre the Giant was the most imposing challenge Hogan had faced in his three years as champion. When Hogan finally slammed Andre and hit him with the legdrop for the win, the fans in the Pontiac Silverdome lost their minds. The final moments of WrestleMania III will forever be burned into my brain.
5. Brock Lesnar vs. Roman Reigns vs. Seth Rollins – WWE Title Match (WrestleMania 31)
Originally scheduled as a one-on-one contest between Reigns and champion Lesnar, most expected the former Shield member to take his place as the top dog in WWE by defeating the company's most dominant monster. Reigns and Lesnar had a surprisingly hard-hitting and well-paced match that could have easily elevated Reigns. But then Seth Rollins ran down to the ring, Money in the Bank briefcase in hand, and inserted himself into the match as the original participants had battled to exhaustion. The final segment of the match, with Rollins included, didn't last long, but the energy that was pumped into the crowd from the cash-in elevated a good match to a great one. Reigns would have to wait for his WrestleMania coronation, as Rollins pinned him to win the title.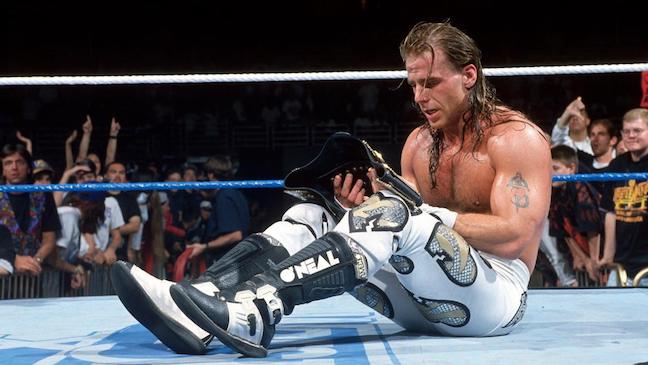 4. Bret "Hitman" Hart vs. Shawn Michaels – WWF Title Iron Man Match (WrestleMania XII)
This is a pretty divisive match among wrestling fans, with some considering the match a slog to get through because of its length. With the stipulation of the winner being the man with the most falls after one hour, some didn't appreciate the 0-0 tie at the end of regulation time. But the match is like two ace pitchers throwing no-hitters against each other, and the nuance both men bring to the match is, in my opinion, a work of art. After matching each other move-for-move for one hour, Hart and Michaels came back to the ring for a sudden death period ordered by WWF President Gorilla Monsoon. Michaels hit a superkick to champion Hart for the win and his first WWF Championship.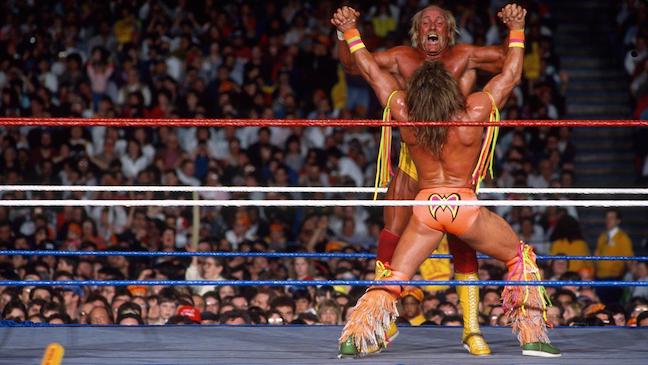 3. Hulk Hogan vs. Ultimate Warrior – WWF Title vs. Intercontinental Title (WrestleMania VI)
By the time 1990 rolled around, there weren't many challenges left for Hogan that he hadn't dispatched. The Warrior, Intercontinental Champion at the time, was starting to rival Hogan in popularity, though, and pitting the two popular champions against each other was the only match that seemed big enough for the biggest show of the year. Neither man is known for their technical prowess, but Hogan and Warrior both seemed to know they had to raise their game to another level for this match. It's easily one of Warrior's best matches as he tried to take down the alpha lion of the WWF. His victory over Hogan shocked everyone watching, and Hogan's graceful (though temporary) exit from the top of the mountain got even heel announcer Jesse Ventura to declare that Hulkamania would live forever.
2. Triple H vs. Shawn Michaels vs. Chris Benoit – World Heavyweight Title Triple Threat (WrestleMania XX)
Another match that could be considered problematic, due to the inclusion of Chris Benoit, who murdered his wife and family before killing himself in 2007. But in 2004, when this match took place, Benoit was the darling of internet wrestling fans, facing two established WWE main eventers. Put in a match with Shawn Michaels and Triple H, expectations were low for Benoit to come out on top. But as the match built to its conclusion, momentum carried toward Benoit and the unthinkable became the inevitable. Benoit locked champion Triple H into his finisher, the Crippler Crossface and forced him to tap out. Benoit celebrated in the ring with his fellow unlikely champion Eddy Guerrero to close the show in what felt like a generational shift in the company.
1. The Rock vs. "Stone Cold" Steve Austin – No DQ WWF Title Match (WrestleMania X-Seven)
Two of the greatest champions in the company's storied history, facing off in their second of three WrestleMania matches in a no-disqualification war. Austin was gunning for the Rock, looking to take back the WWF Title and the champ was looking to avenge his loss to Austin at WrestleMania XV. Rock and Austin knew each other so well, they needed to use everything in their arsenal to put the other down. And when that didn't work, they traded their finishing moves, with Rock using Austin's Stunner and Austin hitting Rocky with a Rock Bottom. Austin was so desperate to win back his championship, he made a deal with the devil – WWF owner Vince McMahon – who interfered in the match and hit Rock with a chair to help Austin take his rival down.
That's all for this edition. I'll be back tomorrow with the best secondary title matches in WrestleMania history!