The final WWE pay-per-view before WrestleMania is here, as the SmackDown! Live-exclusive FASTLANE features AJ Styles defending his title in a six-pack challenge. Who is going to WrestleMania 34 in New Orleans as WWE Champion?
Live on the WWE Network from Columbus, Ohio, it's time for the Blue Brand to show what they've got. Nothing "historic" like the Raw-exclusive ELIMINATION CHAMBER from two weeks ago, or the ROYAL RUMBLE the month before that, unless you count John Cena looking to break Ric Flair's World Title win record. For info on how the SmackDown! Live crew got here, check out the preview and analysis from NJNONCONFORMIST – it's another great read!
Pre-Show
Tye Dillenger, Tyler Breeze and Fandango vs. Mojo Rawley, Shelton Benjamin and Chad Gable – Rawley, Benjamin and Gable all looked like they were in line for a push just a little while back, but they were all sacrificial lambs for the US and tag team champions, so they're filling time with Breezango and my least-favorite superstar on the roster, Tye Dillenger. Breezango may be a comedy duo, but much like the Bushwhackers, they don't really need to win to stay over. Unlike the Bushwhackers, they can help put on a great match. A traditional tag match against Gable and Benjamin would have been great, but we had to include those idiots Dillenger and Rawley, too. Of course, because WWE really doesn't want me sticking around, Dillenger gets the win for his by pinning Rawley in a typically underwhelming pre-show match. Nothing terrible (outside of two of the participants), though. Benjamin and Gable are being wasted, though.
WWE Fastlane 2018
Shinsuke Nakamura vs. Rusev – Nakamura is waiting on the main event to confirm his opponent for WrestleMania and Rusev continues to be wasted as a sacrificial lamb. The guy is just so talented and he hasn't even sniffed the main event yet. Aiden English's introduction for Rusev is fantastic. The crowd was so into this match, which is a testament to how over both Nakamura AND Rusev are. There were a lot of cheers when Rusev got advantage for some false finishes, which tells me WWE needs to do so much more with this guy. But it was clear the Bulgarian Brute was here as an offering for the Royal Rumble winner to give him a match and a win on the card. And, as expected, Nakamura wins the match with the Kinshasa.
United States Title Match – Bobby Roode (c) vs. Randy Orton – Orton going for the final WWE title he's never won, and Roode can cement himself as a big deal by beating one of the greatest superstars of the modern era. Or we can get a run-in from former WWE Champion Jinder Mahal, as the announcers teased as Orton walked to the ring. I continue to cheer on Roode for having the best entrance music in the whole company. You've got two guys who can either bring an amazing match or stretch things out in a chinlock to slow things down. A Roode chinlock, in fact, killed the crowd in the middle of the match, to the point where a segment was chanting for Byron Saxton. They woke up when Roode went to the top, expecting an RKO – OUTTA NOWHERE! – but 'twasn't to be. Despite the entrance, the crowd doesn't seem to care for Roode, which upsets me, as he's really great at putting together an old-school match filled with ring psychology and timing. Orton is a great partner for this kind of match, as the crowd reacts in a Pavlovian fashion for all of Orton's motions to the audience. They erupt when Orton hits the RKO – OUTTA NOWHERE – when Roode jumps off the second rope to get the win and the U.S. Title.
Mahal comes down to attack Orton, but Roode makes the save, hitting both Mahal and the new champ with a DDT, allowing us to here his theme song again and likely setting up a WrestleMania 34 triple threat for the title.
Naomi and Becky Lynch vs. Carmella and Natalya – Carmella is still carrying around that Money in the Bank briefcase, and the announcers tease again that she could cash in later tonight. Either way, I wouldn't expect Carmella to leave Columbus with the SmackDown! Live Women's Title. She does, though, get the pin over Becky Lynch, who always seems to eat the loss in these matches. This match did nothing to keep me interested in what was happening.
SmackDown! Live Tag Team Title Match: The Usos (c) vs. The New Day – The video package before the match calls these two teams the greatest of the current generation. They may also be the only teams anyone on the SmackDown! Live creative team cares about. I can't believe they haven't broken New Day up yet. Big E is right up there with Rusev on the wasted potential scale. Just let Kofi and Xavier run wild in the tag team – as they represented New Day here – and give Big E a singles push. The Kofi-Xavier combination allows for a faster pace in the match, with both teams trading opportunities to steal the others' moves, but the match is cut short when all five guys were on the floor after an Usos dive over the top rope. The Bludgeon Brothers – Rowan and Harper – come out and destroy everyone and the match is thrown out. Interestingly, the ref called for the bell after Big E – who wasn't in the match – got hit. Maybe jumped the gun a little bit. That felt like a waste, but I'm sure we'll see more matches between the two teams in the future.
While EMTs use a spatula to pick The Usos and New Day up on the floor, we get some video packages and interviews. They're spending a lot of time hyping what's happening on the Raw side of things leading to WrestleMania, promoting the Ronda Rousey/Kurt Angle vs. The Authority story earlier and the Reigns-Lesnar feud here. It's a mistake, I think, because the Raw side of things are a lot more interesting than anything SmackDown! Live is doing.
SmackDown! Live Women's Title Match: Charlotte Flair (c) vs. Ruby Riott – I still don't know who Riott is, but she has flunkies, so when they arrive on the scene, Naomi and Becky Lynch show up to counter. But the early distraction to Flair gives Riott the advantage early. The crowd is dead. I really don't think Flair works as a babyface. The ref eventually tosses all the hangers-on away from the ringside area, giving Charlotte some time to recover, leading to Flair reversing a headscissors into an electric chair where Riott was dropped head first into the turnbuckle. Flair followed that up with a spear and the figure-eight for the submission win. This match just seemed actively bad, and Riott looked terrible.
After the match, women's Royal Rumble winner Asuka came out and seems to challenge Flair for WrestleMania 34, which leaves Raw Women's Champ Alexa Bliss without an opponent.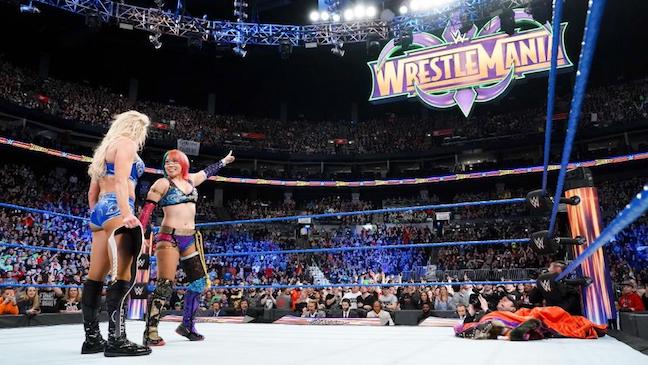 WWE Title Six-Pack Challenge: AJ Styles (c) vs. Kevin Owens vs. Sami Zayn vs. John Cena vs. Baron Corbin vs. Dolph Ziggler – The most interesting part of this match going into things is the disconnect between best buddies Kevin Owens and Sami Zayn. It's a repeat WrestleMania build for Owens, who did the same thing with Chris Jericho. And we've already seen the Zayn-Owens feud in WWE… The feud gets enough of the focus of the match to see Kevin Owens miss a superkick on Zayn and hit Shane McMahon, who later retaliates by making sure the ref doesn't count a pin for Owens or Zayn.
Realistically, the best options to go to WrestleMania 34 as WWE Champion is Styles, so stacking the deck like this is silly. I would rather see a one-on-one challenge between Styles and Cena or Styles and Ziggler or even Styles and Corbin here, since his WM34 opponent is set with Nakamura. After the shenanigans with Shane McMahon (Shane-anigans?), the match sets a frenetic pace of guys hitting high impact moves before AJ Styles comes out of nowhere with a Phenomenal Forearm on Owens for the win. The match felt short despite going more than 20 minutes, so I guess it has that going for it. The post-match focus turned to "Who will Cena face at WrestleMania?" as the 16-time former champ sat in the corner dejected and pushed the camera away. There was, surprisingly, no set-up for a Cena match, though, so I guess we'll need to tune in to SmackDown! Live to see if something surfaces. Or maybe Raw. He's a free agent, so who knows…
Another WWE pay-per-view and another middle-of-the-road event. The main event didn't really deliver and this felt more like WWE Sitting In Gridlock.
That's all for the Road to WrestleMania! We'll be back with a look at WrestleMania 34, which takes place April 8 from New Orleans!