Earlier this week, DC Comics announced six titles under a new imprint that allows for creators to tell out-of-continuity stories we likely would never have seen otherwise. It's a more mature ELSEWORLDS imprint for a new millennium!
The new BLACK LABEL imprint will have some high-profile creators telling original stories that aren't in continuity with any of the other DC Comics stories. The announcement earlier this week included some titles that have previously been laid out mixed with some new stories. All six books have some pretty big names attached to them and there's a lot to be excited about when you read the descriptions (which were first laid out in The Hollywood Reporter piece). But there are also some decisions that leave me wondering what the hell DC Comics is thinking.
The Good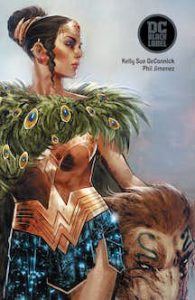 Wonder Woman Historia: The Amazons – A three-issue series written by Kelly Sue DeConnick with art from Phil Jimenez that will focus on the creation of the Amazons and the rise to power of Queen Hippolyta, Wonder Woman's mother. It's a great creative team and I expect not just a fantastic story from DeConnick here, but the artwork should also be top-notch, too, as the preview art for the series shows.
The Other History of the DC Universe – Written by John Ridley, the Academy Award-winning screenwriter of 12 YEARS A SLAVE and the comic book THE AMERICAN WAY for DC Comics, THE OTHER HISTORY OF THE DC UNIVERSE has the potential to be a groundbreaking series. The book will look at minority and female heroes and focus on the "lives of those behind the costumes, and their endeavors to overcome real-world issues." The solicitation text for the series includes Green Lantern John Stewart, Supergirl, Extraño and Rene Montoya, so we have a wide variety of hero. No artist is attached to the project yet, but Ridley told great comic book stories with his two AMERICAN WAY miniseries, so I'm really looking forward to this one.
Batman: Damned – In 2008, writer Brian Azzarello and artist Lee Bermejo put out a well-received original graphic novel called THE JOKER. Now, they're returning to Gotham City with this story, where The Joker is found dead on a bridge and Batman teaming with rogue mage John Constantine to discover who killed his archenemy. I imagine this will be as unnerving as their 10-year-old OGN, and adding Constantine to the mix should make for an interesting tale.
The Bad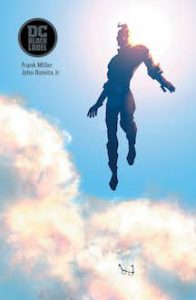 Superman: Year One – Normally, I'd be all in on any and all Superman stories, but something about this just feels off. The three-issue series will kick off this summer, in time to partake with the Man of Steel's 80th birthday, written by Frank Miller with art from John Romita Jr. Miller's most notable Superman work was in his Dark Knight universe and JRJr worked with Geoff Johns on a Superman story at the tail end of the New 52 era. But neither really strikes me as a fit for Superman. The "year one" tale seems to be taking on a bit more than that, as it promises "new revelations that reframe the Man of Steel's most famous milestones—from Kal-El's frantic exile from Krypton, to Clark Kent's childhood in Kansas, to his inevitable rise to become the most powerful and inspiring superhero of all time." Maybe I'll be proven wrong, but my initial impressions of things don't have me excited for this as a kick-off to the new imprint or as a Superman story. Something other than another take on Superman's origin would be nice.
The Indifferent
Wonder Woman: Diana's Daughter – A working title for a new Greg Rucka Wonder Woman story, which will follow a young woman trying to reclaim a way of life long since lost. I know a lot of people love Rucka's runs on Wonder Woman, but he's never really done anything for me. And after the recent Nightwing miniseries A NEW ORDER, which had a similar premise, I think I'm good with future dystopia stories for a while.
Batman: Last Knight On Earth – Speaking of future dystopias, we have this pitch from Scott Snyder and Greg Capullo, who are teaming up for another Batman story. With villains having taken over the world, Batman is stranded in a desert with The Joker's head – still alive in a jar – and left trying to find out what happened and why. I gave up on both Snyder and Capullo's run on Batman during the New 52 and on their Metal miniseries event, so I'll probably just skip this one, too.
***
In theory, the new BLACK LABEL imprint is a good idea, even if it does sound like a brand of alcohol. Hopefully, if the initial six books in the line have a measure of success, we'll see more limited series featuring different characters than the Big Three, but kicking things off with a lot of Batman, Wonder Woman and Superman is a smart way to go. Maybe we'll even get a new Superman story that does something other than rehash his origin.
What do you think about the new imprint? Let us know in the comments!