After being held captive for so long, Tim Drake finally makes his way back to his home. But he's not the only one back from Mr. Oz's prison. He's not even the only Tim Drake back from captivity, and the other one is about to cause some problems.
Detective Comics 967
Written by James Tynion IV
Art by Alvaro Martinez, Raul Fernandez and Tomeu Morey
The last few issues of Detective Comics have been pretty eventful, so it's not a surprise that the pace gets slowed down this issue to bring Tim back into the fold after he escaped his inter-dimensional prison. As we ended last issue, though, the future Tim Drake, Bat-Tim, had shocked his younger self, putting Red Robin into a state of shock that lands him in a hospital.
Thankfully, Batman is a very twisted, very paranoid man and has tracking equipment in everyone's costumes, so he can figure out where he needs to go.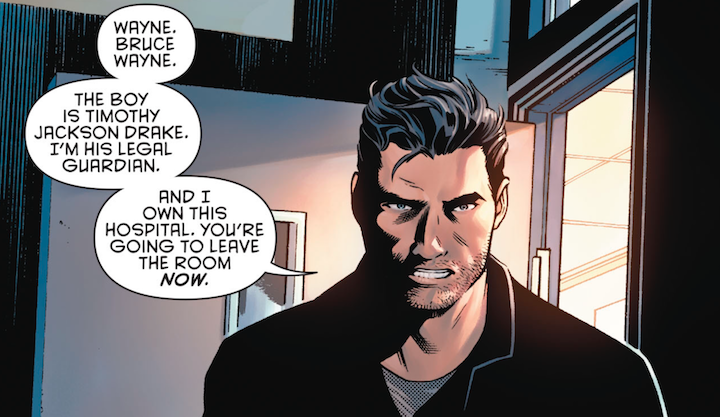 It's rare that Bruce Wayne gets to make as good an entrance as his caped alter ego, but I'm betting that had to be fun to do as he reunites with his missing ward.
Bruce brings Tim back to the Belfry to fill the team in on what happened to him and what's about to happen to them. After all, Bat-Tim is on a search to destroy Batwoman, to prevent our Tim from ever having to put on the cape and cowl of the Dark Knight.
Tim is also still kind of reeling from the cryptic information he received about some friend he doesn't recall.

Meanwhile, at Wayne Manor, Bat-Tim is having a heart-to-heart with Alfred, who is upset to see that an older version of Tim has become Batman, as it seems that no one wanted that for him. Although, Bruce Wayne probably does. Tim is legitimately the best option out of the others – Nightwing is too happy to be Batman, while Jason Todd and Damian Wayne are too psychotic…
The confrontation between Bat-Tim and the Bat-Brothers leads to the revelation that Batman has been working on a secret project, one that Bat-Tim eventually activates. Apparently, that time was this week, so Bat-Tim brings Brother Eye back online.I can't imagine this ending well for anyone.
Even for what would be considered a slower-paced issue, there was a lot going on here. With the quality of this story, A LONELY PLACE OF LIVING should be a modern day classic waiting to happen.