It's a great week with three amazing comics featuring DC Comics characters!
As the publisher continues to roll out its new continuity after the soft reboot of the INFINITE FRONTIER, I've been checking in to decide which comics deserve my hard-earned dollars every month and which comics can wait until they debut on the DC Universe Infinite app in six months. In WEEK ONE, I looked at two new comics. LAST WEEK, I reviewed three more.
I've been a little selective on what I read week-to-week, though DC Comics has also been selective on what they're releasing now. Only four comics fell under the Infinite Frontier banner in week 3, and I picked up three of them. The lone book left out was Catwoman 29, which I will likely read once it hits the DC Universe Infinite app in September. The three Week 3 books I picked up were all clear winners, and I would happily pick these up month-in and month-out instead of waiting.
Let's dive in: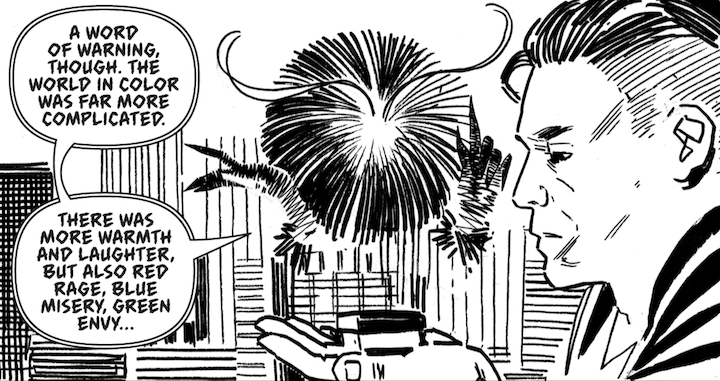 Superman Red & Blue 1
Written by Marguerite Bennett, Wes Craig, Brandon Easton, John Ridley and Dan Watters
Pencils and Inks by Wes Craig, Clayton Henry, Steve Lieber, Dani Strips and Jill Thompson
Colors by Jordie Bellaire, Ron Chan, Wes Craig, Dani Strips and Jill Thompson
Of course I'm going to pick up a SUPERMAN anthology book. While Batman has his Black & White series, wrapping the Dark Knight in the noir he's most comfortable, Superman has to take a different path. This anthology book challenges writers and artists to craft stories that end up being bathed in the colors of Superman's costume, red and blue. The first issue gives us examinations of what it means to be Superman alongside the importance of the two primary colors that compose his uniform.
The story from Dan Watters and Dani Strips, which has the Man of Steel going up against a Fifth Dimensional imp who's stolen all the colors in the world, was a particular standout story in the issue. Not only did the imp steal all the color from the world, but he took the memory of color as well, and hands the colors to Superman in a box to let him decide whether the colors should return. Superman has to decide if the beauty of a sunset outweighs the strife that comes with the differences colors cause.
I love having another outlet for Superman stories from different voices. I'm not sure how long the red and blue gimmick will last, or how well it will work going forward, but the first issue was a beautiful work of art and completely worth picking up if you're a fan of the Man of Steel.

Nightwing 78
Written by Tom Taylor
Pencils and Inks by Bruno Redondo
Colors by Adriano Lucas
Before DC Comics stripped away Dick Grayson's core and made him an amnesiac cab driver who didn't want to be a hero, I was really starting to enjoy the character more. The publisher seemed to be allowing Grayson and Barbara Gordon to move closer to being a couple, which felt like the right direction for both of them, though KGBeast's rifle put that on pause. But then they were married by a Black Lantern Batman toward the end of the DARK NIGHTS DEATH METAL miniseries, and it seemed to open up a world of possibilities. Sure, those versions of the characters are essentially ELSEWORLDS at this point, but it signaled a willingness to acknowledge how closely associated the two have become.
In Tom Taylor's first issue, it looks like they're going to embrace that relationship, as much of the first issue examines their relationship, going back to Dick and Babs standing up to rich bullies when they were younger. In the present, Barbara comes to Blüdhaven as the executor of Alfred's will. Bruce Wayne's butler was apparently a billionaire himself and he left his riches to Grayson to help young master Dick live up to his potential. It's a pretty wild change to the status quo, considering Bruce Wayne is no longer a billionaire, though I suppose it allows for an out if they ever want to return Wayne to his billionaire playboy status.
On top of that, the new mayor of Blüdhaven is the daughter of the man who murdered Grayson's parents, and she's in the pocket of crime boss Blockbuster. There's no shortage of things happening in this book, and I'm pretty interested in seeing where it goes.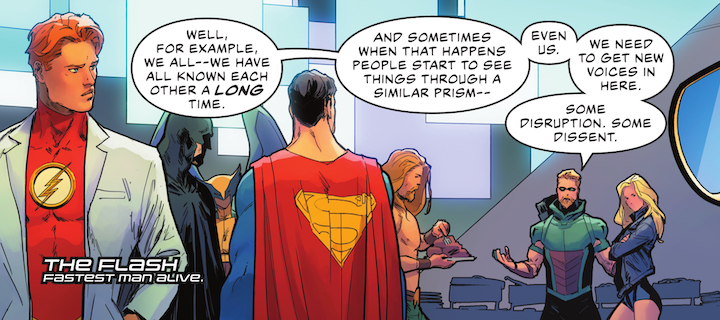 Justice League 59
Written by Brian Michael Bendis and Ram V
Pencils and Inks by David Marquez and Xermanico
Colors by Romulo Fajardo Jr. and Tamra Bonvillain
Brian Bendis gets the reins of DC Comics' premiere superteam and immediately things are shaken up considerably! I am so happy that he added Green Arrow and Black Canary to the team. I would love to see Bendis do a regular Green Arrow/Black Canary book, and maybe this is the first step to getting there. I know Oliver Queen will also be a part of Bendis' Checkmate series, so at least there won't be a dearth of Green Arrow stories this year. It is his 80th anniversary, after all.
The main story has a strange visitor from another Earth coming to the prime Earth in an attempt to take it over, but his first stop is Khandaq and the first person he comes into contact with is Black Adam, so that doesn't really go well for him. And then Superman, Hawkgirl and Batman show up and lend a hand. The redemption of Black Adam continues as we move closer and closer to his upcoming feature film starring Dwayne Johnson.
Batman eventually discovers that the strange visitor comes from the same world as Bendis' new creation, NAOMI, which will set up her involvement in the team. I went through this story so quick, which doesn't happen often with the usually-verbose Bendis. Hopefully upcoming issues feel like they have more substance before handing off the rest of the pages to the Justice League Dark back-up, which felt much more like the issue's main story.
Which Infinite Frontier stories are you reading? Let us know in the comments!