I was really excited about this project when I started it back in 2017. Here I am, three years later, still trying to get through the comic book collection that sits in my hall closet. And they're still covered in a bunch of junk. It's been almost a year since PART 4 came out, so let's take a look at the fifth edition, which was the most valuable longbox yet!
As a reminder, I decided to use Comic Book Realm, a free comics database website to help me organize the books. The service helps me keep track of what I have in my collection and gives me an estimate of what the books are worth, so all values listed here are based on what the site tells me.
More Than Meets The Eye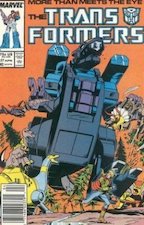 The first comic book series I collected regularly was Marvel's The Transformers, which ran for 80 issues from 1984 to 1991. After picking up an issue one summer from a spinner rack in a pharmacy somewhere, I was hooked and kept reading for several years. At first, I would walk down to the local news stand every month and bought a copy, but I eventually started a mail order subscription.
Marvel's Transformers series started as a 4-issue miniseries to tie in to the megahit cartoon and toy line and managed to run for seven years. By the time I started reading, the storylines running through the comic looked nothing like what I saw in the cartoon. Optimus Prime was dead. Grimlock and then Blaster were leading the Autobots. It was all over the place, but every issue was a lot of fun.
Of the series' 80 issues, I collected 44 issues (13-15, 27 and 31-76). I never managed to get around to completing the collection and looking at the prices at Comic Book Realm, I kind of understand why. The issues I own range in price from $8 to $35. My run of issues is valued at $635, a profit of more than $590.
Strange Days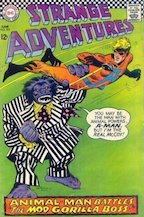 The highest valued comic in this box was Strange Adventures 201 from 1967, which features the fifth appearance of Buddy Baker, better known as ANIMAL MAN. It was also Animal Man's last Silver Age appearance, as he was put on the shelf for more than 4 years. The issue is valued at $75.
The Strange Adventures series ran for 244 issues between 1950 and 1973 and featured fantastical science fiction characters including Rann's champion Adam Strange. The series was revived earlier this year by writer TOM KING, though it's been upended a bit by the coronavirus cancellations of comics these last two months.
Coming in at a close second to Strange Adventures 201 was the first issue of VERTIGO's Fables series, which is listed at $65. Various issues of the series have found their way into other long boxes, but I have the first 18 issues of the series here, which adds a total of $175 to this long box's total.
In Memoriam
Not long after the terrorist attacks of Sept. 11, 2001 the comic book creators began to work through their feelings about the terrible tragedy. While not many ongoing books referenced the attacks directly, there was one notable exception. J. Michael Straczynski's Amazing Spider-Man series directly talked about the events, bringing Marvel's heroes and villains together to react to what happened.
I've WRITTEN about this issue before, which featured an all-black cover and a ridiculous scene of Doctor Doom drawing a lamented tear about all the destruction before him. The news stand edition, which is what I own, has the bar code on the front instead of an all-black, and is listed at $35.
The Collection
Let's take a look at where the totals stand after going through the fourth box in my collection. Totals for all five boxes (and probably a years' worth of value changes) are in parenthesis.
Total Issues: 298 (1,739)
Paid: $842.14 ($4,787.56)
Current Value: $1,900.84 ($7,448.25)
Profit: $1,058.70 ($2,660.69)
Value Per Issue: $6.37 ($4.28)