It's crazy how fast my longboxes filled with comics got covered with random crap in my hallway closet. As a result, it's been almost two years since I LAST did one of these deep dives into my collection.
But I reorganized my closet last week and it gave me a chance to pull out a couple of boxes. The first one had a couple of surprises for me.
As a reminder, I decided to use Comic Book Realm, a free comics database website to help me organize the books. The service helps me keep track of what I have in my collection and gives me an estimate of what the books are worth, so all values listed here are based on what the site tells me.
Second Printing Shocker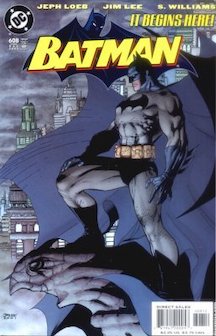 The most valuable comic hidden in this batch of books was, to my surprise and delight, a second printing! Valued at $90 by Comic Book Realm, the second printing of 2002's Batman 608 – the first chapter of Jeph Loeb and Jim Lee's iconic "Hush" story arc – is almost 5 times as valuable as the main first printing cover!
The second printing cover featured a new Jim Lee drawing that has become pretty iconic, and it's the image I think most people relate with the opening of the Loeb/Lee team-up.
The "Hush" story arc was a 12-issue Loeb mystery that had Batman trying to figure out who was tormenting him and making life difficult for him in Gotham City. All 12 issues were drawn by Lee, with stunning covers that were matched by the art on the inside. A coordinated effort by one of Bruce Wayne's oldest friends brought the Caped Crusader to the brink, and forced Batman to question his relationships with several of his supporting cast.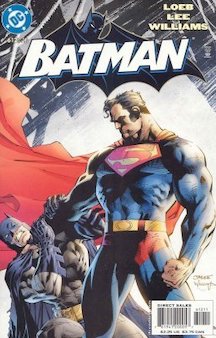 The iconic story, which set the course of many Batman stories for most of the last 16 years, was a big seller, and most of the issues of the story have seen some increases in prices. Issue 612, which featured a confrontation with a Superman mind-controlled by Poison Ivy, is boosted up to $15 for the first printing (which I have) and $20 for the variant, which was a pencil sketch of the original cover, both by Jim Lee. Loeb writing Batman and Superman is always enjoyable, and I love the deference Batman shows his closest ally on the Justice League in this issue.
I had all 12 issues of the "Hush" arc in this box – including two different covers of issue 619, the final chapter of the story (the main cover and a second printing). The 13 "Hush" issues come to a grand total of $157. In comparison, the 12 issues of Crisis on Infinite Earths I own, which I detailed in PART 2, are worth $182 (they seem to have gone down in value by a few dollars in the last 2 years).
The second most expensive book I found in this box was another issue of Batman. Issue 400, which featured an introduction from novelist Stephen King, came in at $35.
Long Live the Queen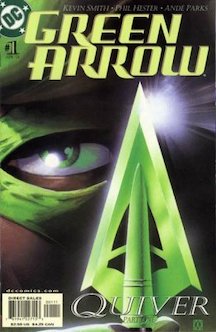 DC Comics killed off Oliver Queen – the Green Arrow – in 1995, allowing his recently-discovered son Connor Hawke to take over as the Emerald Archer. The book ran for another 3 years with Connor as Green Arrow before the book got cancelled in 1998 with issue 137 (currently valued at $15). It was announced that the book would be revamped and that Oliver Queen would come back with a pretty big name attached to the new series, though it took almost three years for that to materialize.
In early 2001, we finally got Oliver Queen back from the dead, with director Kevin Smith writing and Phil Hester and Ande Parks providing the art. Smith did 15 issues of Green Arrow, re-establishing Queen back into a DC Universe that was wholly unfamiliar and that had moved on without him. The first issue made a pretty big impact, and is still worth $18 all these years later. Unfortunately, Smith's run on the book didn't really maintain a high level of value, as the series quickly drops in value to $4-5 within a couple of issues.
Regardless of its value, Smith's "Quiver," the first 10 issues of his run, is a fun read with many memorable moments for Star City's favorite son.
The Collection
Let's take a look at where the totals stand after going through the fourth box in my collection. Totals for all four boxes (and probably a couple of years worth of value changes) are in parenthesis.
Total Issues: 293 (1,441)
Paid: $691.31 ($3,945.42)
Current Value: $1,162.96 ($5,392.41)
Profit: $471.65 ($1,420.60)
Value Per Issue: $3.97 ($3.74)