Some old friends visit in the wake of Bruce Wayne getting taken out by his multiversal father and Bane taking over Gotham City.
Batman 76
Written by Tom King
Pencils by Tony S. Daniel
Inks by Tony S. Daniel, Sandu Florea and Norm Rapmund
Colors by Tomeu Moray
With Tom King's run on Batman cut short – to be continued in a Batman/Catwoman team-up maxiseries planned for next year – the "City of Bane" arc is set to be his coup de grace on the book that he's helmed since the beginning of Rebirth. And with this issue, it definitely feels like the beginning of the end.
I have, at various times, both loved and hated King's run on Batman. I even dropped the book for a while during his "War of Jokes and Riddles" arc because I just did not care for what was essentially filler until he could get to the faux WEDDING between Batman and Catwoman. Also, I couldn't bring myself to care about Kite Man, who also makes an appearance here and is mercifully taken out by the Flashpoint Batman, Thomas Wayne.
Even though the issue is a part of the City of Bane arc, the villain doesn't actually appear, but his presence is felt throughout, as everyone is afraid of what he's managed to do to Gotham. It's full of surprise appearances, including Gotham Girl taking out Captain Atom, who disobeys government orders to steer clear of Gotham.
The interaction between Captain Atom and Gotham Girl is used to show off how powerful she can be, and remind the reader that every time she uses her Superman-level powers, she shortens her life span a little bit. The abuse that she doled out to Captain Atom – no slouch in his own right – should be good for a significant chunk of time.
We also get the return of Catwoman, who shows up to nurse Bruce back to health and promises that, if he manages to get better, she won't run away again.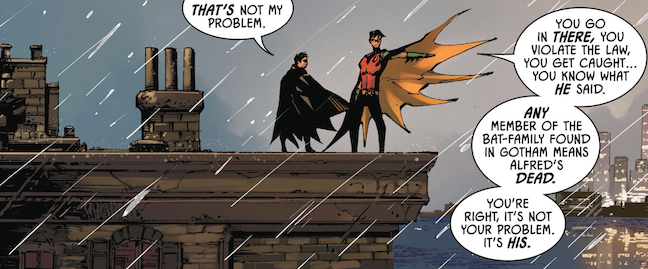 But to me, the most intriguing appearance is from Tim Drake, the former and possibly current Robin who's been absent from Batman's life for a while. We've been following along with his latest adventures in Brian Bendis' YOUNG JUSTICE book, but this is the first time he's interacted with any of the other Bat-family since he left DETECTIVE COMICS. I'm going to try not to think about what the continuity means if Tim Drake is in Gotham here but also bouncing around the multiverse with the Young Justice team. It's probably best to think of this as a universe all to its own (except maybe for the connections to the Year of the Villain).
There's a lot to unpack in this issue, with a lot of set-up to Bane's control of Gotham City and what it means for our heroes. Despite some previous hesitations with King's run, I'm really excited to see where the rest of this is going.