Three years ago today, The Casual Geekery was born!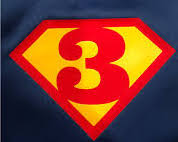 We've been through a lot over the last three years. We've published more than 1,500 posts during that time, talking about comic books, movies, music, TV and anything else that struck our fancy at the time.
The Geekery has had reviews, Best of… lists, polls and various levels of rantings and ravings about anything under the sun. Mostly, I want this to be a fun place where we could geek out about whatever and see what others are geeking out about as well.
The RANKING THE SEASONS feature continues to be the most popular one on the site, with the TWO-PART COMMUNITY season rank topping the charts as the most popular posts on the site.
Another popular rankings was Joe Marvilli's look at the MOFFAT YEARS of Dr. Who.
Speaking of Joe, he's still going strong with his SONG OF THE WEEK feature, with 132 now available for your listening pleasure! His most popular one was from October 2017, when he featured "Honey" from KEHLANI. You can also listen to a curated SPOTIFY playlist of 100 of Joe's Song of the Week selections, if you need something to listen to on a rainy day.
The Geekery has had a number of great contributors posting content here, including Uncle Dave's BIG STEAMING PILE, where he reviews games he finds on Steam, like JALOPY, one of his more popular posts. We also have reviews of HALLMARK Christmas movies from Matt_Indeed and commentary from friends of the site SERENA and ELLA PHUNKY.
Of course, when The Casual Geekery started three years ago, it was a place for me to talk about comics, with new reviews up every day. We're closing in on 350 comic book review posts in SUBWAY SHORTS – named for the place I was most likely to read the comics, on a subway commute to work. I may not review comics every day any more, but it's still the main focus of the site! Well, that and reviews of the CW ARROWVERSE shows.
Thanks for hanging around the last three years!