The biggest comics and pop culture weekend of the year is at a close, and there's a lot of things that we're looking forward to after all the big announcements.
San Diego Comic-Con sets the stage for the next year or more of comics, movies and TV shows, with panels that give fans a peak at what's to come and what they'll be talking about for weeks and months in the future.
But what was announced this weekend that got me really excited?
The CW 'Crisis' Shapes Up
I can't believe I could get even more hyped for the 2019-2020 ARROWVERSE crossover than I already was when it was originally announced last year, but all the news coming out of Comic-Con has been over-the-top amazing. I can honestly probably fill this whole post with five things about the next season of these shows that's filling me with joy, but I'll try and keep it contained.
The biggest news, I think, is that we will be getting not just one Superman in the crossover, but two! Tyler Hoechlin, who's done an amazing job as the Man of Steel on SUPERGIRL, will be back as Big Blue, and he'll be joined as the (not) Last Son of Krypton by Brandon Routh, who donned the big red S in SUPERMAN RETURNS! Routh will also continue his role as Ray Palmer on Legends, but the secondary casting is just phenomenal. To make it more exciting, during the Arrow panel, Routh unbuttoned his shirt to reveal the KINGDOM COME Superman S! I was definitely having a fanboy moment there.
Throw in the casting of Burt Ward, the Robin from the 1966 Batman series, the news that Flash favorite Tom Cavanagh taking on the pivotal role of Pariah in addition to a new version of Harrison Wells, and the latest crossover is easily going to be the best one yet!
View Askew Reboot
I have always been a huge fan of Kevin Smith, and especially his universe of Jersey films. Knowing that his latest film in the series – Jay & Silent Bob Reboot – is just around the corner is making me giddy with excitement.
The plot finds the two stoners on yet another trip to Hollywood as they discover that the Bluntman and Chronic property is getting a big studio reboot, naturally, so they head to Hollywood to once again try and stop it from happening. I can't imagine they'll be successful, but they're going to see some old friends along the way, as we can see in the trailer that dropped this week.
Jay & Silent Bob Reboot will hit theaters on October 15.
We'll Be Watching The Watchmen
HBO released a new trailer for its upcoming reimagining of Alan Moore and Dave Gibbons classic WATCHMEN, showing off just how different this interpretation of the story will be from anything that has come before – and it looks really great.
The new clips make it seem like the series will be something of a sequel to the original, although taking it in a different direction than the DC Comics maxiseries DOOMSDAY CLOCK, which still has two issues to go.
The series will debut on HBO this fall.
An Early Trip To Neptune
When the fourth season of Veronica Mars was announced, the original date for its premiere on Hulu was July 26, but as a Comic-Con surprise, the streaming service gave fans a little present, debuting the new season a week early! I haven't had a chance to dive in to the new season, but I'm looking forward to reuniting with old friends.
Oh Yeah, Marvel Studios Made An Announcement, Too!
This is probably the big one from this year's Comic-Con. Saturday night's presentation set the course for the next two years of Marvel properties on both the big and the small screens.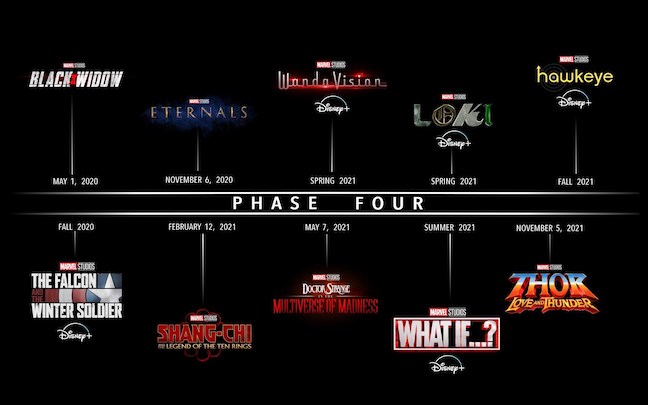 I've been asking for a series following Falcon and the Winter Soldier since their interactions in CAPTAIN AMERICA: CIVIL WAR, so getting an idea of when the new Disney+ series will be released is great fun. Anthony Mackie and Sebastian Stan had such great chemistry together, I imagine this series is going to be a lot of fun, and it will be the main reason I subscribe to Disney's new streaming service.
But the most tantalizing parts of the presentation was what else was coming – the properties that don't yet have release dates. The news that Mahershala Ali will be taking over the character of Blade in a new film is amazing. Blade was the Marvel character that kicked off the company's string of hit movies back in 1998, and should be lots of fun under studio head Kevin Feige.
In addition, Feige teased new films for BLACK PANTHER, GUARDIANS OF THE GALAXY and… FANTASTIC FOUR. We don't have information on those, but finally putting Marvel's First Family on the screen with the care that the studio has given Iron Man, Dr. Strange and others is something everyone has wanted.