Since today is the 13th anniversary of the day that PSYCH premiered on the USA Network, giving the world the amazing team of James Roday and Dulé Hill as fake psychic detective Shawn Spencer and his best friend Gus, I thought I would celebrate this great day with a list of my 13 favorite episodes of my favorite show.
So I went through the show's 120 episodes over 8 seasons and created a list of episodes that I loved. There were A LOT more than 13. So I looked over the list I made and culled it down to what I thought was the best of the best, the episodes I watched over and over again and could recite from memory. I managed to get the list down to around 28.
I was never able to get my list of favorite episodes down to just 13, but what we have here is a much more manageable collection of less than 20 episodes that shows off the best of PSYCH and highlights why it became my favorite series of all time.
Cloudy… With A Chance of Murder (S1x08)
Shawn and Gus manage to get hired as consultants on a murder case by a hard-luck lawyer looking for a big win. Shawn's hyper-observance, which he uses to pass himself off as a psychic, comes in handy as he discovers the case isn't as open-and-shut as the prosecution may believe.
American Duos (S2x1)
When an American Idol ripoff comes to Santa Barbara, the detectives are called in to investigate a series of attacks on set. The always-amazing Tim Curry guest stars as a Simon Cowell wanna be and Shawn and Gus get schooled in the art of performance by Detective Juliet O'Hara (Maggie Lawson).
And Down the Stretch Comes Murder (S2x5)
I love episodes that focus on the relationship between Shawn and his father, Henry (Corbin Bernson) . There's no better place to put a grumpy retired cop than a horserace track, as Shawn and Gus are hired by an old classmate to investigate why his horse has been losing so many races.
The Old and the Restless (S2x12)
Another amazing Henry episode, where he pretends to be an old man moving into a retirement community where a potential client has gone missing. Henry works the case from the inside while Shawn and Gus search for the missing resident. For the comic book inclined, many of the residents of the retirement home are named after Batman villains.
Murder?… Anyone?… Anyone?… Bueller? (S3x2)
The introduction of Shawn's high school crush, Abigail Lytar, played by Rachael Leigh Cook. Shawn and Gus go to their 10-year high school reunion, where Shawn believes a murder happened. But, "no body, no crime" becomes a mantra for everyone else. We also see the first real indications of attraction between Shawn and Juliet.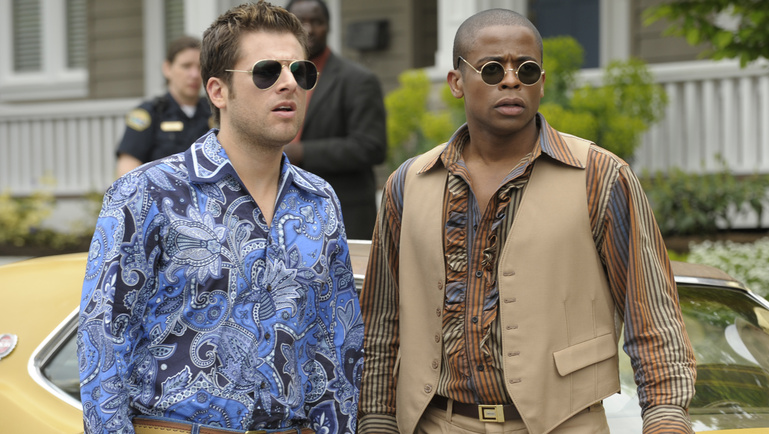 Disco Didn't Die. It Was Murdered (S3x5)
New information on an old case calls Henry's biggest bust into question, and police chief Karen Vick (Kristen Nelson) asks Shawn and Gus to investigate discreetly. But Shawn and Gus never do anything discreetly. And when Henry gets wind of it, he tags along to make sure he didn't screw up the case that made his career.
Tuesday the 17th (S3x15)
An old summer camp friend invites Shawn and Gus back to the camp after purchasing it because one of the counselors went missing. But the mystery of the camp is more than just a missing person, and the episode spoofs several classic 1980s horror movies.
An Evening With Mr. Yang (S3x16) / Mr. Yin Presents (S4x16) / Yang 3 In 2D (S5x16)
A trilogy of season finales pits Shawn up against not only the most dangerous serial killer Santa Barbara has ever known, but also the killer's more devious mentor. Shawn's friends and family are all put in danger by Mr. Yin and Mr. Yang as the killers put Shawn's detective abilities through the wringer. The three episodes to close out seasons 3, 4 and 5 feature guest spots from Cybill Shepherd, Rachael Leigh Cook, Jimmi Simpson, Ally Sheedy, Mena Suvari and Peter Weller.
Bollywood Homicide (S4x6)
After another of his girlfriends end up attacked, the brother of a Bollywood dance director calls on Shawn and Gus to exorcise whatever curse he thinks he's affected with. Shawn and Gus investigates the latest attack while Juliet goes undercover as the man's girlfriend, which raises Shawn's jealously despite working the case with girlfriend Abigail tagging along.
Let's Get Hairy (S4x8)
Joshua Malina plays a man who thinks he may be a werewolf and Shawn and Gus get sucked into Santa Barbara's Wiccan underground to prove that werewolves don't actually exist. The episode also features guest spots from Thomas Wilson (Biff from the BACK TO THE FUTURE movies) and Larisa Oleynik.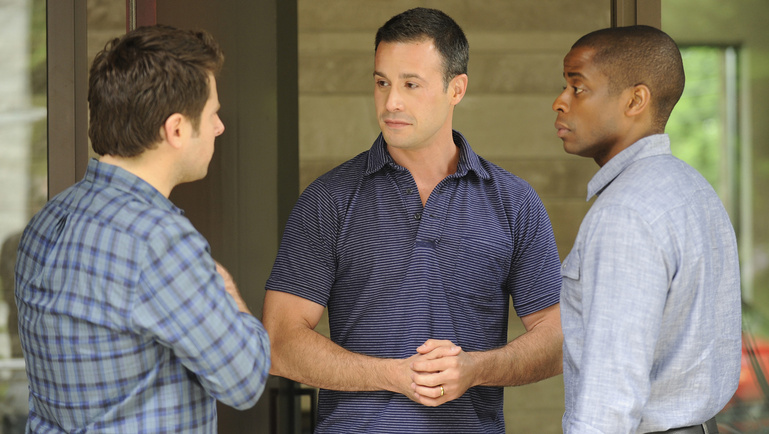 Not Even Close… Encounters (S5x3)
This episode features my favorite guest spot of the whole series, as Freddie Prinze Jr. plays a former classmate who is obsessed with aliens and other tales of the unknown. Shawn and Gus consult with their friend when a prominent attorney claims he was abducted.
Viagra Falls (S5x6)
Guest stars Carl Weathers and William Devane play retired detectives hired by the Santa Barbara police to investigate the death of a former police chief, which raises the competitive hackles of Shawn and Gus. The two duos compete to solve the case first, but realize they need to work together before they blow it.
Extradition II: The Actual Extridition Part (S5x10)
After almost five seasons of flirtation, Shawn and Juliet finally become a couple after Shawn, Gus, Juliet and Detective Carlton Lassiter (Timothy Omundson) have to track down master thief Pierre Despereaux (Cary Elwes), who's escaped from his prison cell in British Columbia.
Dual Spires (S5x12)
Psych is known for its homages to classic movies and television series, and this episode may be its crowning achievement. A spoof of classic series Twin Peaks, the episode features guest spots from a number of the show's stars and manages to condense the plot into one 40-minute episode.
Last Night Gus (S6x2)
Another spoof episode, this time throwing an homage to the Hangover movie series. Shawn, Gus, Henry, Carlton and coroner Woody Strode (Kurt Fuller) try to piece together the events of the previous evening, which started at a cop's retirement party. With no memory of what happened, the group work their way through the clues, starting with a murdered man wearing Shawn's sneakers.
There are so many great episodes of PSYCH, featuring funny moments, amazing guest stars and a cast of characters with great chemistry. I could have included pretty much every episode on the list. What are your favorite PSYCH moments? Let us know in the comments!