The final issue of DC Comics' first Black Label miniseries pits the Dark Knight against other dark creatures as he nears his final fate.
Batman: Damned 3
Written by Brian Azzarello
Art by Lee Bermejo
While the FIRST ISSUE of Batman: Damned got a lot of attention thanks to the print copies of the book featuring a rendition of Batman's Bat-a-wang, the miniseries really lost a lot of steam once the fervor died down.
DAMNED certainly wasn't a bad series, it just fell a little flat in the face of all the hype. The third and final issue was good – and Lee Bermejo's art was beautiful as always – but it just felt like it was trying too hard to be dark and mysterious with an ending that felt like it was a little too predictable.
In the miniseries, Batman has been working his way through a very gothic Gotham City, encountering all manner of mystical characters, using rogue mage John Constantine as his guide. I loved Azzarello's work on HELLBLAZER, but Constantine here never felt like he hit the mark, serving only as a snarky guide to the Caped Crusader as he tried to find his way. As we wrap up the miniseries, Constantine's main role seemed to be getting insulted by either Batman or Swamp Thing.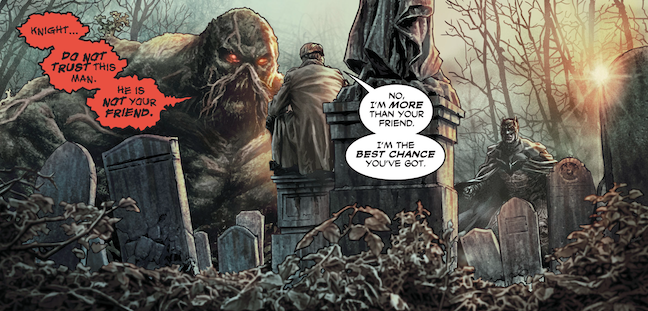 Bermejo's Swamp Thing may have been the best part of the issue. The protector of the Green appears as a hulking being and never fully in the frame. He is a larger-than-life character and his artistic representation here is just perfect.
The ending of the issue – and the story – honestly felt a little rushed after more build to weirdness and another cameo from Zatanna and Deadman, and it felt like the book could have been extended another issue, or at least had a few more pages added in. Considering it's been almost seven months since the last issue came out, it's a shame this didn't feel more cohesive.