For decades after the debut of Superman, comic books were all about men and women in tights fighting to save the world or the universe from the forces of evil. When DC Comics debuted its VERTIGO imprint in 1993, it completely changed the shape of the comic book industry.
On my shelf of graphic novels and collected editions, Vertigo takes up a good chunk of the comic books I own. Many of the amazing stories that have come out of the imprint have proven to be iconic and eminently re-readable. The art is frequently groundbreaking and the words on the page are nothing short of extraordinary. With Halloween on the horizon, I'll be spending the next few days looking at some of my favorite series from Vertigo.
In the second edition of VISIONS OF VERTIGO, I've decided to look at one of the iconic characters that became associated with the brand, though his creation also predates the imprint by almost a decade.
The mage John Constatine made his first appearance in 1984's SWAMP THING (Vol. 2) No. 25, created by the legendary Alan Moore and artists Steve Bissette and John Totleben, though he wasn't officially named for about a year. Moore once noted that Constantine's creation was drawn from many "really good ideas… about serial killers, the Winchester House, and… want[ing] to draw Sting in a story."
Constantine served as an advisor to Swamp Thing for a time, until he was given his own series, JOHN CONSTANTINE: HELLBLAZER, in 1988. Much like ANIMAL MAN, the book was incorporated in the Vertigo line when the imprint was founded in 1993. The Hellblazer series had an uninterrupted run of 300 issues over 25 years, finally ending in February 2013, when the character was reincorporated into the DC Universe proper in the New 52 era.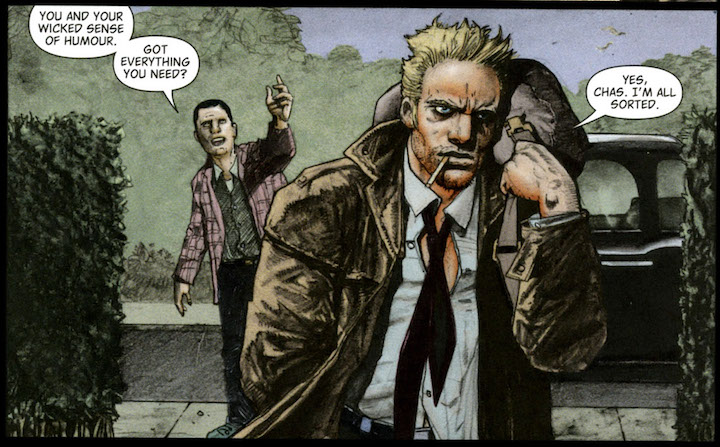 The lore of Hellblazer was very much steeped in the occult and John Constantine an untrustworthy rogue who looked after himself first and foremost and everyone else be damned. Pretty much literally, as the series had a running theme of people who John was friends with either dying or being sent to hell. It was never a good idea to get close too close to him. At various points, Constantine crossed angels, demons, ghosts, goblins, the law and everything in between. Hellblazer was likely the longest-running comic book featuring an occult detective/magician/whatever he decided to be, and it set the standard for a lot of tropes that are seen in the genre today.
While Moore created Constantine, he was never a writer for the Hellblazer series. Even without Moore, the series featured a number of prominent writers, both British and American, over its 25 years of publication. Look at this partial list of writers who have worked on the book: Jamie Delano, Garth Ennis, Warren Ellis, Brian Azzarello, Mike Carey, Peter Milligan and Denise Mina, just to name a few. Each writer has put their own unique stamp on the character, while retaining Constantine's general character.

The most iconic Hellblazer story, in my opinion, is Ennis' DANGEROUS HABITS, where Constantine is diagnosed with terminal lung cancer. The mage does everything in his power to avoid dying, because his soul would get sent to Hell and tortured for eternity. So he manipulates the three kings of Hell, each with a claim on his soul, and the Triumvirate are forced to restore Constantine's body to health lest Hell be engulfed in a war over his soul.
Constantine's stories are generally located in London – The Smoke, which is appropriate for someone who goes through 40 Silk Cuts a day – but Brian Azzarello on his 28-issue run transplanted him into America. There, Constantine went up against neo-Nazis, uncovered a pornography ring and spent some time in prison. The mage was re-established in London after Mike Carey took over.
Hellblazer is, I think, one of the five most important Vertigo books in the imprint's history, and many of the 18-plus trade collections that have been released should be considered must-reads for any fans of the medium and the genre.
What are your memories of Hellblazer? Which Vertigo properties did you enjoy? Let me know in the comments and join us for our next installment.