How did Tim Drake come upon Metropolis when the rest of this new Young Justice team got sent to Gemworld? We start to get some answers to the questions Brian Bendis has been forcing us to ask.
Young Justice 5
Written by Brian Michael Bendis
Pencils and Inks by John Timms, Kris Anka, Evan Shaner and Patrick Gleason
Colors by Gabe Eltaeb and Alejandro Sanchez
Since this new Young Justice series began, writer Brian Bendis has been swearing up and down on Twitter (and in the solicitation text for each issue) that the book is totally "in-continuity," and that we needed to read the series to see how. After four issues of world- and character-building, it seems like we're finally starting to see his plans for bringing everyone back into the fold of the current DC Universe.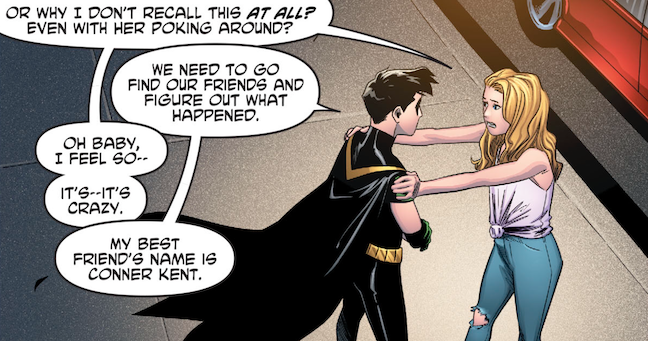 The fifth issue of the new series focuses on Tim Drake, the former Batman sidekick who skipped town with girlfriend Stephanie Brown after a particularly emotional case (as seen in DETECTIVE COMICS). Tim was supposed to go off to college, but instead he and Stephanie have been off in the world. Bendis plays off the James Tynion IV Detective Comics arc, where Tim battled a future self and learns about the existence of Connor Kent.
But why didn't he remember? Who was playing with Tim's memories (and, by extension, Stephanie's) and making him forget about Superboy and Impulse and Young Justice?
Was it the machinations of DOCTOR MANHATTAN? Or was it maybe something else, maybe less blue and from this corner of the Multiverse? Alright, we don't get all the answers here. We need to head Bendis' advice and keep reading.
Thankfully, everything about this book is fun and has me looking forward to the next issue. The original YOUNG JUSTICE introduced me to so many wonderful characters and being reintroduced to them now has been just as satisfying.