With the whole Buffyverse being reimagined for the 21st Century, it wasn't going to be long before the Slayer's main squeeze made his debut. And he's got a fantastic writer scripting his every word.
Angel 0
Written by Bryan Edward Hill and Jordie Bellaire
Pencils and Inks by Gleb Meinikov and Dan Mora
Colors by Gabriel Cassata and Raul Angulo
With the work Bryan Edward Hill has done with DC Comics over the last couple of years, including THE WILD STORM: MICHAEL CRAY and AMERICAN CARNAGE, he's become one of my favorite writers. Every time his name appears in the credits of a comic book, I'm interested. His name here is a bonus, though. I have been really digging the new BUFFY series from BOOM! Studios and adding ANGEL into the mix was a no-brainer.
We got our first glimpse of the vampire with a soul in the fourth issue of BUFFY. He was watching on as Drusilla tempted Xander over to the dark side. This introductory issue begins with a recap of that scene from the Buffy creative team, before leading into the new history for Angel himself.
Things are a little different, just like they are in the book's sister series. Instead of a demon named Whistler leading Angel on his path, he has a seer named Fee-Fee giving him vague direction, along with a woman he saved that he's training to help him take down demons.
It doesn't go so well for her.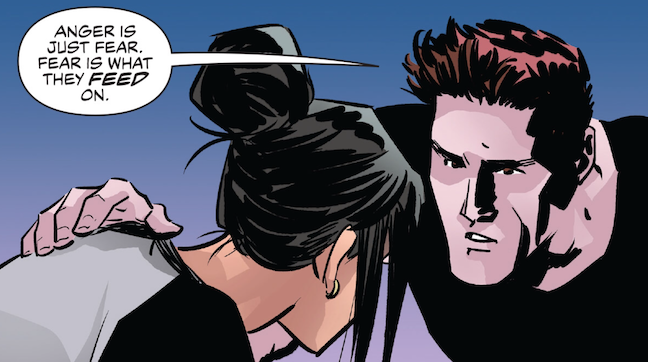 Despite the changes, the important thing for those of us who loved the Buffyverse in its first incarnation is the tone. Much like Jordie Bellaire's work on BUFFY, Hill matches the darker tone that the ANGEL series had. This issue would have fit right in as a flashback episode from the spinoff series, and I can hear David Boreanaz speaking with every line.
This may not be the ANGEL we're used to, but if this introduction is anything to go by, I may have a new favorite version of the character.