Tom King decides to revisit the night of Bruce Wayne's and Selina Kyle's pre-wedding parties as the Batman continues to suffer through his "Knightmares."
Batman 68
Written by Tom King
Pencils and Inks by Amanda Conner, Mikel Janin and Dan Panosian
Colors by Elizabeth Breitweiser and Paul Mounts
Right before the big fiftieth issue of BATMAN, which was hyped as the wedding of Batman and Catwoman, DC Comics published a series of issues to lead up to the big event. The issues were highlighted by glimpses of Batman's bachelor party and Catwoman's bachelorette party. I feel like, with this issue, everyone just kind of wants us to forget those happened.
Yes, I understand the conceit of the "Knightmares" story arc in BATMAN is that Bruce is being psychologically tortured as we lead up to an eventual confrontation with Bane. But honestly, an issue like this is a little weird when so much focus was put on the night in question that it got several issues to cover it.
On the positive side, we get another issue where Tom King gets to write the Lois Lane-Selina Kyle team-up. Much like the last two-parter where Lane and Kyle interacted, this issue is so much fun. If DC Comics doesn't have King write a Catwoman-Lois Lane team-up miniseries sometime soon, they seriously have no idea what they're doing.
In Bruce's really twisted brain, the better halves of our two heroes get Supergirl to take them to the Fortress of Solitude and they proceed to get drunk on intergalactic booze and watch Superman robots strip before sitting in an orgasm-inducing jacuzzi. Bruce Wayne has some serious problems. But we knew that.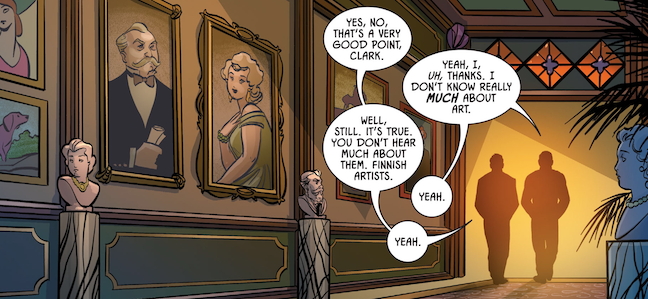 Meanwhile, at Stately Wayne Manor, Bruce is playing chess and discussing Finnish artists with Clark Kent. That sounds about right.
I really haven't cared about these "Knightmare" issues. They've mostly been an unnecessary distraction from the main story that King is trying to draw out. I don't think it's as bad as the War of Jokes and Riddles thus far, but it was approaching that level before this issue. Any time we get more Lois Lane-Selina Kyle team-ups written like this, I'm all in.