A miniseries set on Earth-X brings us a new generation of heroes fighting the Nazis – after they won World War II
Freedom Fighters 1
Written by Robert Venditti
Pencils by Eddy Barrows
Inks by Eber Ferreira
Colors by Adriano Lucas
The FREEDOM FIGHTERS is one of those concepts that I wish got more love from the comic book universe. In an industry built on "what ifs" and imaginary stories, the idea behind the characters is a massive alternate history that gives creators so much freedom to build a new world from the ground up. What would the nations of Earth look like if the Nazis had been successful in World War II?
There is no Justice League, no Justice Society and no Teen Titans. The only people at war to bring Earth X's America out from under Adolf Hitler's thumb are the members of the Freedom Fighters. And as we open this new 12-issue story, they have finally been defeated in Dallas, on November 22, 1963. With his team of insurgents defeated, Uncle Sam, the spirit of America, fades away, and the Nazis face no resistance for another 55 years, when a new group of Freedom Fighters rise up. Their mission: to find Uncle Sam and continue to battle the Nazis and drive them out of America.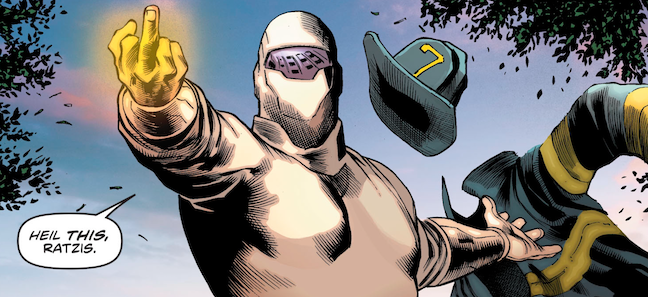 Writer Robert Venditti's first issue brings us right in to the conflict, and even if your only knowledge of Earth X is from last year's ARROWVERSE crossover, there should be no issue understanding the gravity of the situation. And the art, from Barrows, Ferreira and Lucas, looks amazing.
Over the last 15 years or so, the FREEDOM FIGHTERS have been brought back in a number of different limited series. It would be great to have an ongoing story with these characters. Hopefully, this can be the catalyst.