We may be geeks, but that doesn't mean we don't know how to create great things in the kitchen. Some of the best dishes can be made quickly and easily as long as you know what you're doing. Let's get cooking!
Living in New York City, I've got a few dozen pizza places within delivery distance, but sometimes, you just want to make one of your own. While the pizzas we order are always very good, there's something about making a pizza in your own kitchen that makes it that much better. I've already detailed one of my favorites – the BUFFALO CHICKEN pizza – but here's something with a bit more of a subtle taste.
It may seem like September or October is a better month to highlight a pumpkin pizza – since that's the height of pumpkin spice season – but really, this is a great dinner to make year-round.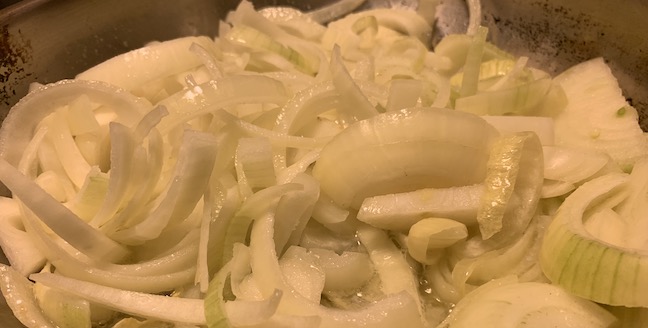 Once you get your oven preheated to about 425 degrees, melt about a third of a stick of butter in a pan, slice up 3-4 onions (depending on size) and cook them until they are nice and soft. While the onions are cooking, it's time to mix the purée.
Take a can of pumpkin purée and pour it into a bowl (if you want a sweeter taste, use a can of pumpkin pie mix – it still works pretty well). Mince three cloves of garlic into the pumpkin and add salt, pepper, crushed red pepper, sage, thyme and nutmeg to get a nice taste to the otherwise bland pumpkin. Of course, your mileage may vary with your spices and feel free to experiment with whatever you enjoy.
Once the purée is done, you can spread it on the pizza crust and top it with the cooked onions. Over top of that, add some grated parmesan cheese and some crushed walnuts and toss it in the oven.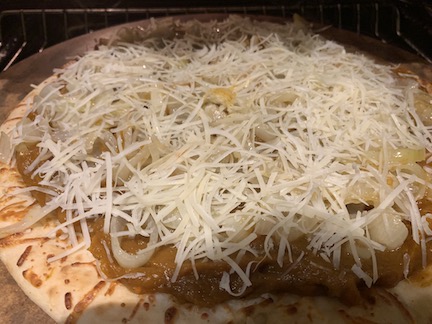 Leave the pizza in the oven until the cheese is melted. Once you take it out, let it sit for a minute or two to settle and cool, then slice it up and enjoy!