We may be geeks, but that doesn't mean we don't know how to create great things in the kitchen. Some of the best dishes – and snacks – can be made quickly and easily as long as you know what you're doing. Let's get cooking!
I love putting together a batch of fresh oatmeal chocolate chip cookies during the Christmas season. I can make many more than I ever need and bring them to work and let my coworkers enjoy them. Though, more often than not, they stay in my kitchen and wait for my wife and me to eat them. I'm OK with that, especially this time of year. 
My mom used to make the best oatmeal chocolate chip cookies. She would send them to me at college. My friends would ask her to do the same. They were always delicious. As is the motivation for a lot of things I make in the kitchen, I just wanted to try and recreate the deliciousness she was able to make with these cookies. I'm not sure I ever achieved her level of talent here, but people seem to like the cookies the way I make them. 
I never got a recipe from my mother, so I had to take one from the web. I like using THIS ONE from Betty Crocker, while making some tweaks to their recipe. All the measurements are there, so I'll avoid getting too exact.
Right off the bat, I only use one stick of butter instead of the two Ms. Crocker recommends. You don't need two sticks of butter. Just mix the one stick with the brown sugar. That's another tweak! I use the light brown sugar instead. It just makes me feel better, you know?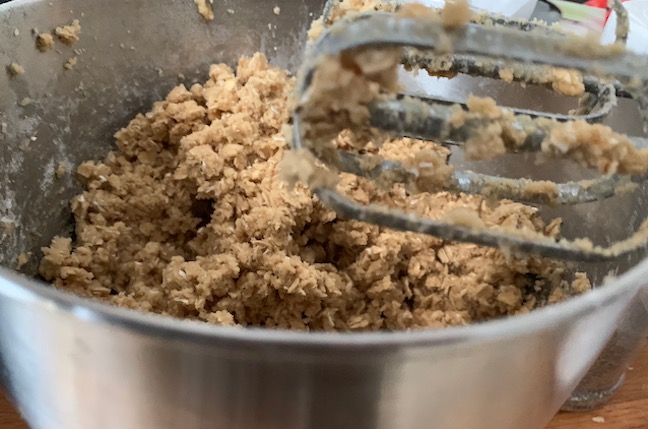 Once the butter and the brown sugar are blended, start adding in the other ingredients. The vanilla, the egg, the oats, the flour, the baking soda and the salt. I usually make sure the mixer does a round after the egg, the oats, the flour and the salt. 
And now for tweak three. Before you put the chocolate chip cookies in, douse the dough with some ground cinnamon. It helps so much. Then throw in the chips and mix everything up for the final time before you put the cookies on a sheet. 
Twelve minutes later (or so, depending on your oven, of course), you'll have a great batch of cookies!