In possibly the best news I've heard all week, Superman writer Brian Michael Bendis has announced a new in-continuity imprint of teen-focused comics that will bring YOUNG JUSTICE back to the DC Universe. 
No, he's not talking about the animated series that's set to return to the DC UNIVERSE streaming app sometime soon. The Young Justice we're getting is based on the late-1990s Peter David comic book – one of my favorite series ever. 
The book started as a team-up between Robin (Tim Drake), Superboy and Impulse (Bart Allen), but soon added Wonder Girl (Cassie Sandsmark), Arrowette (Cissie King-Jones) and Secret, following the team on wacky adventures with their mentor, the android Red Tornado.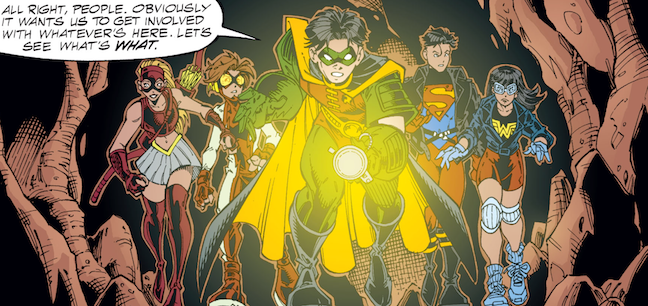 Running for 53 issues, the series eventually gave way to a Geoff Johns-written Teen Titans book, but eventually this generation of heroes has faded away. With the exception of Tim Drake, none of the stars of the Young Justice book have been seen in the Rebirth era (the less said about the New 52 versions of these characters, the better). And even Drake rode off into the sunset earlier this year, after a time traveling older version of himself tried to kill everyone. 
(Although, we did get the return of IMPULSE in the Flash a couple of months ago, teasing something else in the works for Bart Allen.)
The new YOUNG JUSTICE book will be written by Bendis, with art by Patrick Gleason and is set to star Robin, Superboy, Wonder Girl and Impulse. The announcement noted that the book, set to debut sometime in 2019, will be in-continuity, so it raises a couple of questions, of course. Namely, how does this particular version of Superboy come back, and what's going to happen to the current Superboy, Clark and Lois' son, Jon? Since Jon has been off in space with Jor-El for all of Bendis' run, could this spell the end for the Son of Steel? I hope not, I think there's room for both characters. 
The series will be the anchor of Bendis' new imprint, Wonder Comics. In addition to YOUNG JUSTICE, we'll also be getting a WONDER TWINS book written by Mark Russell and a Dial H For Hero book by Sam Humphries.