The Cell runs red with… paint?
WWE's most demonic structure returns for the 10th Hell in a Cell event! Two matches are set to take place in the Cell tonight – though there are probably a couple of matches that could have also been Cell matches. I'll never understand WWE's booking.
This WWE Network Special is coming to you live from the AT&T Center in San Antonio, Texas – is there a Shawn Michaels appearance coming? I guess we'll have to watch and see… 
Pre-Show
SmackDown! Live Tag Team Title Match: New Day vs. Aiden English and Rusev (with Lana) – Kofi Kingston and Big E are representing the tag champs tonight. I wonder if Big E ever gets tired of being in the ring. Have Kofi and Xavier Woods ever been the guys to defend the titles? Fun match with two teams that know how to work the crowd. I would have thought the Rusev Day thing would have gotten old by now, but it still works. The ending sequence – with English putting on Rusev's Accolade finisher on Kofi, leading to a reversal and a Trouble in Paradise from Kofi – was well-done and shows that tag team matches can still work in the modern era. Good way to get the crowd pumped for the show.
Hell in a Cell 2018
Hey, the cell is… red? Why would WWE do that? That looks ridiculous. 
Hell In A Cell Match: Randy Orton vs. Jeff Hardy – The wide shots with the red cell are highly distracting in a way that the steel gray wasn't. I bet that looks even worse to the guys watching live. In maybe one of the more disgusting attacks in any WWE wrestling match, Orton pushed a screwdriver through the hole in Hardy's ear lobe. That was kind of disturbing. Hardy hangs to the top of the cell to attempt a splash on Orton, laying on a table and misses, leading to the ref trying to get EMTs to stop the match… in a Hell in a Cell match… before Orton convinces him to do his job and count a pin.
Not exactly as bad as Mick Foley getting thrown from the top of the cell through the announce table 20 years ago… whatever. This was the 39th Hell in a Cell match since it debuted in 1997 and… meh. Orton and Hardy did nothing to make this one special in any way.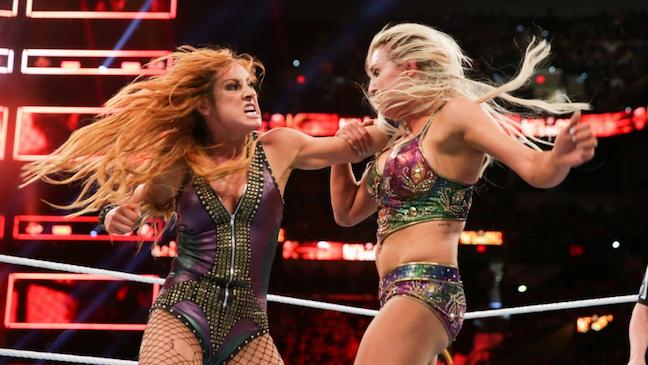 SmackDown! Live Women's Championship Match: Charlotte Flair (c) vs. Becky Lynch – A match between two former friends who are now blood enemies probably could have been inside a Cell. Maybe they just save those moments for Sasha Banks, who is not on this show. Flair and Lynch had a good back and forth that never got boring, with Lynch coming out on top and winning the title. Flair should be eclipsing her dad's title win record pretty soon. Charlotte goes to congratulate Becky, who disses her friend and leaves the ring. More Flair-Lynch matches on Network Specials would be welcome.
Raw Tag Team Title Match: Dolph Ziggler and Drew McIntyre (c) vs. Seth Rollins and Dean Ambrose – All four men are associated with people in our expected main event tonight. Rollins and Ambrose are Roman Reigns' lackeys and former Shield-mates, while the tag champs have been hangin' and bangin' with the Monster Among Men. These four guys put on a completely different style match than the pre-match tag title match, which is expected since all four guys have spent some time in the main event (as far as McIntyre goes, it wasn't on the main WWE roster, but it still counts). The champs retain in a good match, and I see good things coming for McIntyre. He should be fighting for the Universal Title by year's end.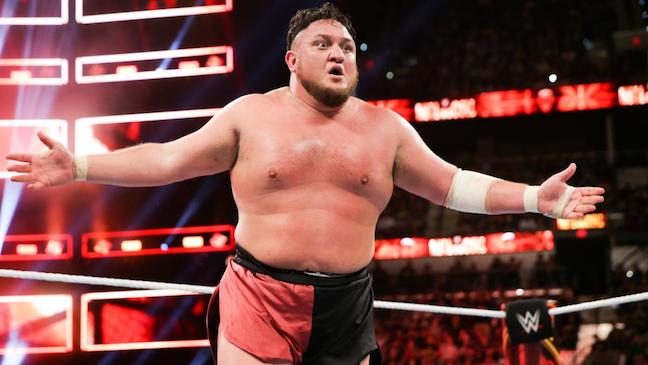 WWE Title Match: AJ Styles (c) vs. Samoa Joe – HOW IS THIS MATCH NOT IN THE CELL?!?! After their match at SUMMERSLAM last month, they had the perfect set up for a brutal grudge match within the confines of WWE's most demonic structure. This is another moment where WWE booking baffles me. Joe and Styles should be having a down-and-dirty, no-holds-barred fight as Styles defends his family's honor. Instead, they're having a wrestling match. It's a good wrestling match, sure, but it's out of place with the storyline they've built. AJ uses a Bret Hart reversal out of a coquina clutch to get the pin to retain the title. Good stuff that SHOULD have been more impactful. But there's controversy! The replay shows AJ tapped before the final three count! THIS FEUD MUST CONTINUE!
The Miz and Maryse vs. Daniel Bryan and Brie Bella – The battle of WWE's top married couples and reality TV stars continues with a mixed tag team match. Despite generally enjoying both Miz and Bryan, this feud has been going on for a really long time, and I'm pretty much over it. Miz and Maryse win, I have no idea why. Again, meh.
Raw Women's Championship Match: Ronda Rousey (c) vs. Alexa Bliss – I really do like Alexa's character, but there's no reason any match she's in against the "Baddest Woman on the Planet" should last more than a couple of minutes. Especially since Rousey is still transitioning from the Octogon to the squared circle. Let her have some quick matches and establish herself as a dominant monster. Bliss and her cronies, Alicia Fox and Mickie James, worked over Rousey's ribs and Bliss spent WAY TOO LONG on offense until the champ Hulked up and put Bliss away with an armbar.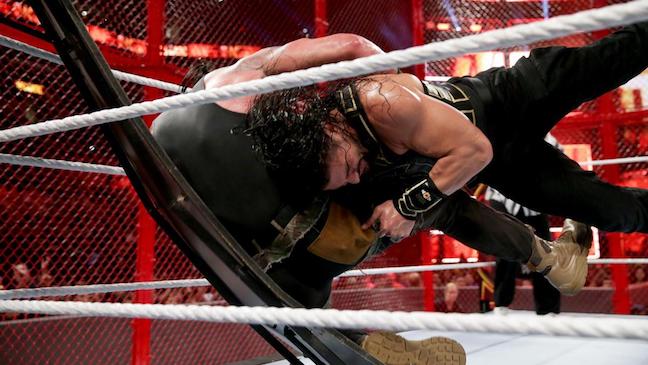 Universal Championship Hell In A Cell Match: Roman Reigns (c) vs. Braun Strowman with Special Referee Mick Foley – Of all the MONEY IN THE BANK contract winners since 2005, Braun is just the third (I think?) to announce his intentions to set up a match down the line. We get a standard main event big man match, as Braun beats the hell out of the champ until Reigns fights for the comeback, eventually spearing Strowman through a table set up in the corner. As Roman gets his contractually-obligated mid-match nap, Dean Ambrose, Seth Rollins, Dolph Ziggler and Drew McIntyre start to brawl, first at ringside and then on the top of the cage. When THEY all knock each other out (including Ziggler and Rollins going through the announce tables from the side of the cage), former Universal Champion Brock Lesnar comes down, rips the cage door off its hinges and lays a beating on Reigns and Strowman, as Paul Heyman sprays Foley in the eyes. Foley, it seems, was just there to plug his WWE Network special focusing on the 20th anniversary (plus three months) of his Hell In A Cell match against the Undertaker. He didn't really add anything to the match otherwise. A substitute ref runs in and declares the competitors unfit to continue and giving us a pretty unsatisfying ending to the show.
But what can you do? WWE booked themselves into a corner there. Either they take the belt off Roman – which would be silly considering all the effort they put into building him up – or hand Strowman an unnecessary loss. Maybe just don't lead the booking in such a convoluted direction next time. 
Once again, there was nothing terrible about the show, despite some odd booking decisions, but I wouldn't say anything was that amazing, either. Just another middle of the road WWE show. 
We may be back in three weeks with the WWE Super Show-Down from Melbourne, Australia, and then WWE will be back in the states for an all-women's show, WWE Evolution, three weeks after that! 
What did you think of the show? Let us know in the comments!