"Now, Harry you must know all about Muggles, tell me, what exactly is the function of a rubber duck?"
The "Boy Who Lived" is off to his second year at Hogwarts School for Wizards – and his second year knowing that he even is a wizard – and things don't seem to be getting any easier for him, since all adult wizards are either evil or incompetent. 
Harry Potter and the Chamber of Secrets 
Directed by Chris Columbus 
Screenplay by Steve Kloves, adapted from the novel by J.K. Rowling
I enjoy the Harry Potter movies, but watching the first two movies feels more like a chore than anything else, getting little bits of information here and there that informs the rest of the narrative. And at 2 hours and 40 minutes, CHAMBER OF SECRETS is stuffed with those bits. 
But it's really not worth spending too much time on. This is why, when Freeform has their Harry Potter weekends, I usually wait until the third movie, PRISONER OF AZKABAN, before I start to tune in. 
The movie is not without its charms, of course. We get copious amounts of magic and Quidditch. Harry learns that he can talk to snakes. Hermione screws up a transmutation spell by accidentally grabbing a cat hair off a Slytherin student. And a house elf is going out of his way to keep Harry away from Hogwarts by trying to harm Harry as a means of protecting him. OK, that last part isn't charming. Dobby is one of the more annoying parts of both the books and the movies. At least his role in the films was a bit more watered down.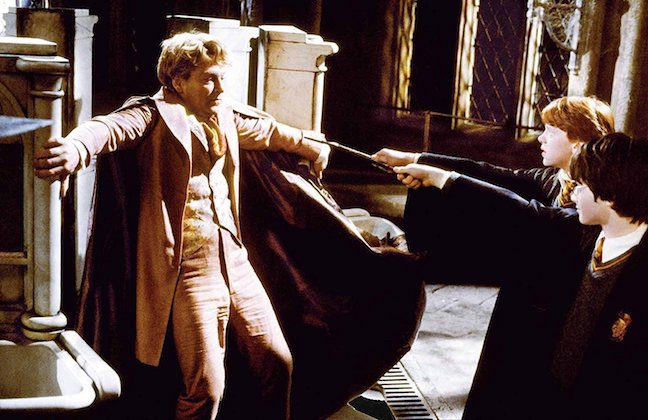 My favorite part of the second HARRY POTTER movie, though, is Kenneth Branagh's Gilderoy Lockheart. This film's Defense Against the Dark Arts teacher is a famed wizarding celebrity, who tells tales of his conquests and wins the hearts of everyone who hears his stories. But when put into situations where he needs to prove his valor, he's either a coward or an idiot. Branagh plays the role beautifully – as he usually does – and with a charm that makes him hard to hate, even though it's clear Harry does. And deservedly so, since Gilderoy magicked out the bone in Harry arm while trying to heal the boy after a Quidditch mishap. 
Obviously, with the popularity of the books, the series was going to continue no matter what, but I'm glad Chris Columbus was replaced for the third movie. The films really started to improve without him at the helm, giving the director's chair over to people who had a better feel for the world writer J.K. Rowling created with her books. 
That's not to say that CHAMBER OF SECRETS is a bad movie, but it's largely forgettable in the grander scheme of the Potter film universe.