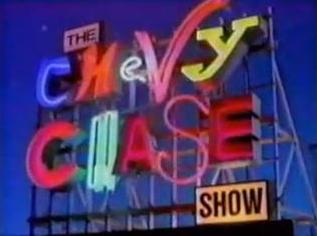 Since we started our look at my favorite episodes of COMMUNITY yesterday – which is a great example of Chevy Chase on television – I thought it would be fun to take a look at the man at his worst on TV. 
On Sept. 6, 1993, during the opening salvo of the Late Night Wars between Jay Leno's Tonight Show (on NBC) and David Letterman's The Late Show (on CBS), the still-fledgling Fox Network decided to get in the game. After country singer Dolly Parton turned them down, the network went to her suggestion for a host: Chevy Chase. 
The result was a 29-episode debacle that TV Guide called one of the worst TV shows of all time and one of the "Biggest TV Blunders." Let's take a look at a clip from the first episode, where Chase interviews Goldie Hawn. 
The Chevy Chase show certainly didn't suffer from a lack of good guests. The comedian sat down and talk to stars like Kathleen Turner, Jamie Lee Curtis, Dan Aykroyd, Garrett Morris, Queen Latifah and other Fox Network notables like Jason Priestley and Jennie Garth. 
Midway through the show's run, Chase brought on Robert DeNiro to promote his latest release, A Bronx Tale. 
Chase may be hysterical in movies and TV shows, but his talk show was just uncomfortable and Chase seemed overall nervous. He would later say that he felt "constrained" by the show's format and was forced by the network to do a different show than what he wanted. 
Fox cancelled the show after 29 episodes, running the show for a week after the announcement. In the fine tradition of cancelled shows everywhere, the crew of the show spent its remaining week having a bit more fun and touting the show's "successes." 
The experience scarred Fox pretty badly. It's been 25 years since the Chase debacle, and Fox has never made a serious attempt at a late night talk show, despite broadcast networks and cable channels all getting in on the fun.