DC's Vertigo imprint returns to the place that put them on the map – the world of The Sandman and his realm, the Dreaming, in a new special setting up four new books!
The Sandman Universe 1
Written by Nalo Hopkinson, Kat Howard, Simon Spurrier and Dan Watters 
Pencils and Inks by Bilquis Evely, Max Fiumara, Sebastian Fiumara, Tom Fowler and Dominike "Domo" Stanton
Colors by Mat Lopes
In a note to readers included at the end of this issue, author and comic book legend Neil Gaiman noted that, when he finished the final issue of THE SANDMAN's original run, he left a lot of potential stories untold. Not only was there a new Dream King at the end of The Sandman 75, but there was also the dozens of characters that were either created under Gaiman's care or had connections to what he had done during his eight years on the book.
There have been other attempts to continue on the stories that were started there. Some of them were legendary – like Mike Carey's run on LUCIFER – while others were largely forgettable.
With a new line of books based on Gaiman's creations launching next month, DC Comics is surely hoping the four new series being launched out of this week's THE SANDMAN UNIVERSE will land closer to the former than the latter.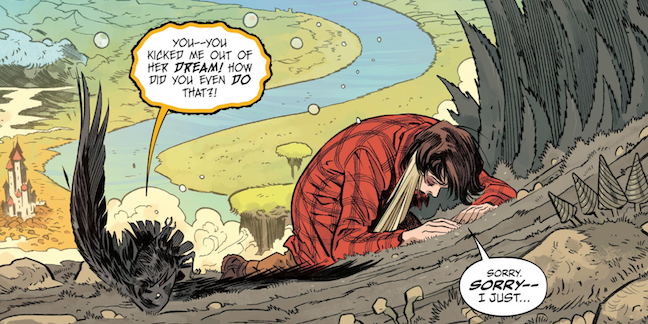 The special introductory issue gives readers a tour of the state of The Dreaming and the types of stories we can expect starting in September with Matthew the raven as our tour guide. Lucien, the caretaker of the library of stories never told, sends the Raven on a mission to the waking world to find Daniel, Dream's successor. The problems within THE DREAMING will take up one of the four new series next month, and on his search for Daniel, Matthew glances in on the stars of the other three: a fortune-teller named Ezrulie, who runs the HOUSE OF WHISPERS; LUCIFER, who is on a search for his son; and young mage Tim Hunter, the star of BOOKS OF MAGIC.
All four books carry interesting premises, though I'm not sure how HOUSE OF WHISPERS, the only real new property of the bunch, will fare.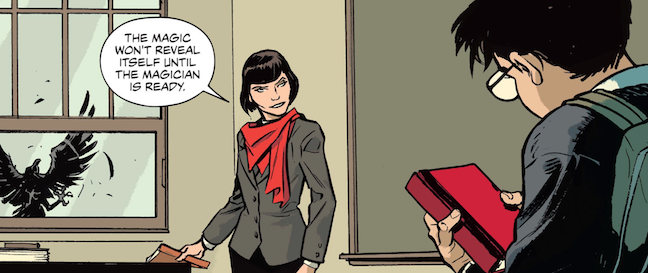 The book I'm really looking forward to is BOOKS OF MAGIC, as the concept of a boy wizard who could become a great champion or a great terror is something that I think really resonates, though I can't quite put my finger on why. If we're lucky, we'll get good long runs out of both Tim Hunter's story and THE DREAMING. Any and all Merv Pumpkinhead is always appreciated.
THE DREAMING and HOUSE OF WHISPERS kick off in September, while LUCIFER and BOOKS OF MAGIC will debut in October.