The conclusion of Enrico Marini's two-part Batman tale pits the Dark Knight against the Joker, who kidnapped a little girl with a surprising connection to Bruce Wayne.
Batman: The Dark Prince Charming 2
Written and Drawn by Enrico Marini
I was so blown away by the FIRST HALF of Marini's inaugural foray into American comics, which was released as a 64-page hardcover volume last fall. The talented European artist was given the opportunity to craft his own version of Gotham City, his own Batman and his own Joker for his debut. The results were stunning. Marini's art is gorgeously detailed and expressive and his character designs are different enough to put his own stamp on them without turning them into completely new characters.
Part two picks up where the first part left off – the Joker has a little girl kidnapped and Batman is desperately trying to find her. The added wrinkle is that the girl is Bruce Wayne's illegitimate daughter from a tryst with a bartender/waitress during his first days as the Caped Crusader. Armed with this information, the Joker is trying to blackmail Wayne into buying an expensive diamond – the Blue Cat diamond – so he can give it to his main squeeze, Harley Quinn, as a birthday present.
Harley has other ideas for her birthday, though.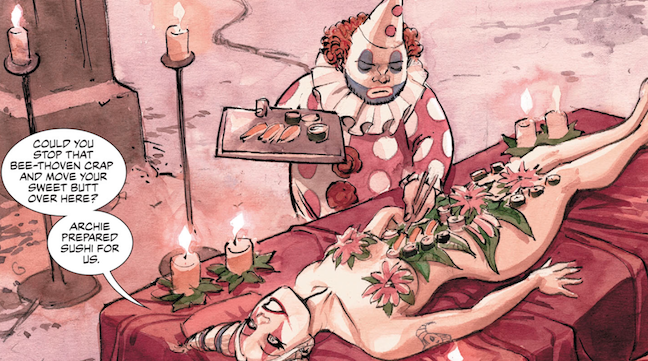 The Joker, of course, has become obsessed with his own plot and isn't really interested in what Harley wants, despite supposedly trying to give her a happy birthday. She already seems pretty happy to me.
Of course, since the diamond is called the Blue Cat, it brings out Catwoman, who steals the diamond for herself, kicking off a game of cat and bat. While Batman and Catwoman are planning for their wedding in the main DC Comics continuity, Marini's version is free of the constraints of what others are doing, though Bruce and Selina still seem pretty close here.
The best part of the issue are two of the new characters created for DARK PRINCE CHARMING – Bruce's daughter Alina and Joker's henchman, Archie, who serves as the Clown Prince's right hand man here. The sad clown has what is probably my favorite panel in the book.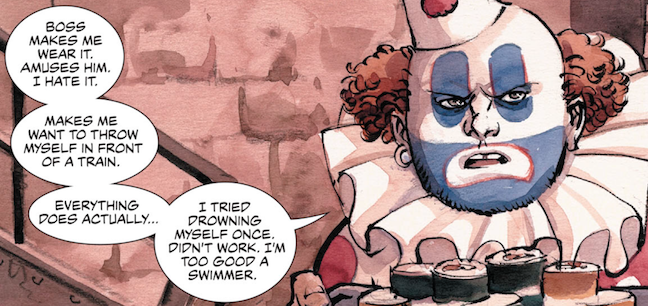 Telling his tales of woe doesn't garner him any sympathy from the Joker's hostage, though.

Alina is mostly a bratty little kid, raging against her captors while holding on to the belief that the Batman will rescue her in the end. Her fighting Joker and Harley and showing no fear in the face of possible death is a bit of common trope, but the character makes up for it with her scenes with Archie.
The price tag for this 70-page issue is a little steep at $12.99, and I have a feeling that the price of the combined story will be more reasonable when it's eventually collected. I hope the price wasn't too much of a deterrent for readers, because Marini is a great talent whose work should be put in front of as many eyes as possible. Hopefully, DC Comics brings him on more regularly. Marini would be a great fit for the new BLACK LABEL imprint that DC Comics is launching.