With the final round of downloadable content for INJUSTICE 2 out last week, which of the characters stand out? And which characters do I spend the most time with? Let's take a look!
It's been just about 9 months since NetherRealm Studios and Warner Bros. Interactive Entertainment released the DC Comics-based fighting game sequel INJUSTICE 2. Anyone who purchased the season pass for the game has also been treated to three sets of DLC packs, which added nine new characters – plus some premiere skins which altered existing characters into new ones – to the impressive lineup.
The final DLC player was actually 4-in-1 – The Teenage Mutant Ninja Turtles – giving players more than 40 choices to play as and fight with to defend the Multiverse. Some of these characters I avoid like the plague, and all this time later they're still at level one. But I've definitely developed some favorites. Let's take a look at some of the characters I've played as the most often over the last nine months.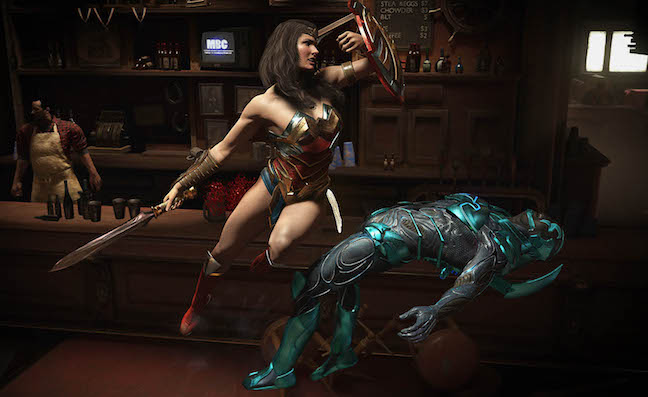 Wonder Woman – When the WONDER WOMAN movie was released in theaters, the game offered up premium gear for the character based on the film in the Multiverse – the game's replacement for the ladders of fights, offering different experiences for each battle. In order to get the gear, I played with Diana a lot, making sure she was built up enough to defeat her Multiverse boss so I could complete the movie costume, and I got used to the nuances of the character. While I liked her fighting style in INJUSTICE: GODS AMONG US more than in the sequel, she's still a strong, versatile character who's easy to get the hang of.
Superman – Sure, he may be the Big Bad of the Injustice universe, but the Man of Steel is still the most well-rounded, easiest-to-use character in the whole game, much like he was in the original. Superman can take you out at close range or from a distance with his heat vision, and I've never felt like I needed to button mash when I was trying to get a special move out of the way. Yes, Superman is my favorite character ever, and maybe that helps his inclusion on this list, but he's also the standard bearer for how a fighting game character should be built.
Black Canary – I've become a huge Black Canary fan over the last few years. From the solo comic book written by Brendan Fletcher with art from Annie Wu to her more recent appearances both in Green Arrow and Batgirl and the Birds of Prey, I've gained a huge appreciation for Dinah Lance. With her inclusion in INJUSTICE 2, that appreciation grows. I'm a big fan of close-quarters fighters, and Dinah is a perfect example, with a mix of street fighting and martial arts creating a smooth move set that can take down anyone. And if you need some distance to take advantage of the environmental weapons strewn around the stage, you can always use her canary cry to knock an opponent halfway across the screen.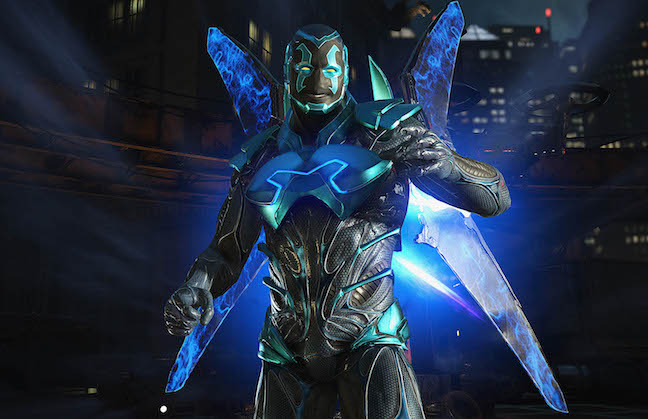 Blue Beetle – Here's one character I wasn't expecting to enjoy playing when his turn in the story mode, but he quickly became one of my go-to guys. Based on the newest Blue Beetle, Jamie Reyes, the alien suit Beetle wears is another great combo of close-range beatings and long-range assaults. Beetle's special ability can turn his fists into swords for a little bit extra oomph when he attacks an opponent.
Michelangelo (TMNT) – All four Teenage Mutant Ninja Turtles took the final DLC spot when they were released last week. Players can choose which Turtle to use depending on which weapon they give the character in its customizable slot. The switches aren't just cosmetic. Each Turtle has its own moves and taunts (though the special super move remains the same for all four Heroes in a Halfshell). The most fun – for me – has been Michelangelo, spinning his nunchucks and beating on his opponents with his skateboard. With a number of non-DC Comics characters in the game (including Raiden and Sub-Zero from Mortal Kombat and Dark Horse Comics property Hell Boy), the Turtles were the ones I was looking forward to the most when their inclusion was announced, and they haven't disappointed.
What are your favorite Injustice 2 characters to play? Talk about it in the comments!