Let's finish off the comics week with a look at a handful of books that really have nothing to do with each other, except that I enjoyed them!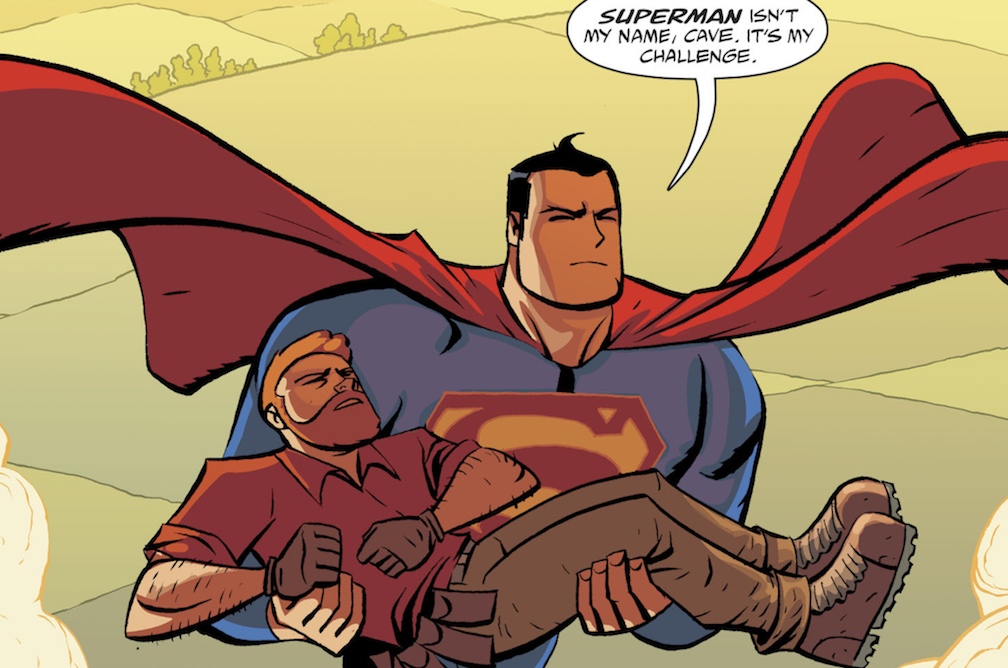 Cave Carson Has A Cybernetic Eye 7
Written by Tom Scioli
Art by Michael Avon Oeming, Brandon Bird, Nick Filardi and Tom Scioli
Of all the Young Animal books, Cave Carson Has A Cybernetic Eye has been the most consistently enjoyable for me. With the seventh issue, as Cave's cybernetic eye has been ripped from his head, we take a bit of an interlude from the ongoing story to hear about the time that Cave and his team got to save Superman. Yes, Superman makes ANOTHER guest appearance, and this time it's not even a Rebirth-related book.
The story is fun and a bit wonky, like a Young Animal book is apparently supposed to be, and works as a break from the main narrative, a palette cleanser before the next arc kicks off. But it's really the art that makes this stand out.
I am so happy to see Superman drawn by one of my favorite artists, Michael Avon Oeming. Best known for his distinctive work on POWERS, his art style is such a great match for Cave Carson.
While Cave was thinking about his meeting with the Man of Steel, writer Tom Scioli was building to the next arc, with Cave looking to regain control of that cybernetic eye the title is always talking about. I'm looking forward to seeing what the team has in store.
Black Hammer 8
Written by Jeff Lemire 
Art by Dean Ormston and Dave Stewart
Jeff Lemire continues to build the mystery of the town where the heroes have been trapped, as the daughter of deceased hero Black Hammer continues to investigate the town where everyone has been trapped. Stopping by the library, she checks the local history section to see that all the books are blank. We're starting to chip away a bit at the façade that is Rockwood. I just wonder how long we'll have to chip away before we find out what's really going on.
The mystery is compounded by the appearance of Col. Weird, who shows up after Hammer's daughter gives robot Talky Walky an idea for his next investigative probe out of the town limits. I'm sure the team will investigate why Weird did what he did as we go forward.
The heart of the issue, though, focused on Golden Gail, the book's Shazam analog, who flashed back to when she decided to give up the life of a superhero and chose love (or maybe just lust) with her arch nemesis. That was when she could transform back into an adult from her superhero form of a powered-up child. She's stuck as a little girl on the farm, and no amount of screaming ZAFRAM! is helping her.
Lemire has focused issues on Gail before, and they are always heart-breaking. The mind of an adult stuck in the body of a child, unable to take part in activities she enjoyed in another life has always been shown to take its toll on the hero, but it seems to be getting worse.
Another fantastic issue from Lemire, as Black Hammer continues to be one of my favorite books.
Also out from Lemire this week – and also highly recommended – is the second issue of Royal City, the Image Comic series about a family that's fallen apart, forced together again after the death of their patriarch. It's sad, it's relatable and it's really a must-read for fans of Lemire's work.
Super Sons 3
Written by Peter J. Tomasi
Art by Jorge Jimenez and Alejandro Sanchez 
Taking place on the outskirts of the other Super-books, but keeping in fairly close continuity with Tomasi's work on Superman, the series that focuses on the sons of the Man of Steel and the Dark Knight continues to be a pleasure.
As Jon Kent and Damian Wayne figure out what they need to do to beat their new enemy, Kid Amazo, they learn that the villain can replicate into robot versions of any hero it comes into contact with. So the boys have to face android versions of their fathers, in addition to a legion of Robins and Superboys. And sometimes, the two polar opposites can't help but argue amongst themselves, but they do manage to get the upper hand. Temporarily, at least.
Over in Superman, Jon seems to be having a spot of bad luck with his friend and neighbor, Cathy, who as it turns out is kind of evil. That bad luck with girls his age continues with Kid Amazo's sister in this book. I wonder if this will end up being a running theme for the kid…