Previously on LEGENDS OF TOMORROW…
There's been a heaping helping of magic throughout the course of this show, but it all seems to be a little bit more fun with Matt Ryan's John Constantine as a regular character. Episodes that focus around him – much like this season's THE EX-FACTOR – get a little bit more love from me, because I enjoy both Constantine as a character and Ryan's portrayal.
We get double the Ryan fun with the latest episode, as he takes on the added role of John Constantine possessed by noted occultist and alien enthusiast Aleister Crowley. Constantine had Crowley's soul trapped in a painting in the attic of his house. Knowing that Constantine trapped Crowley in the painting makes me wonder either just how old Constantine is or how much time travel is actually going on in the DC Universe, considering Crowley is reported to have died in 1947.
Crowley was released when former demon Astra finds life as a human harder than expected, harder still with Constantine bouncing around time trying to track down aliens and having trysts with Zari. In a fit of frustration, Astra is easily manipulated by Crowley in the painting, who convinces Astra to swap him into Constantine's body so he can teach Astra to use magic.
Of course, the offer was just a feint to get revenge on Constantine and make Crowley corporeal again, tricking Astra into turning the Legends into household items and then turning Astra and Constantine's house into an animated feature, complete with singing and dancing.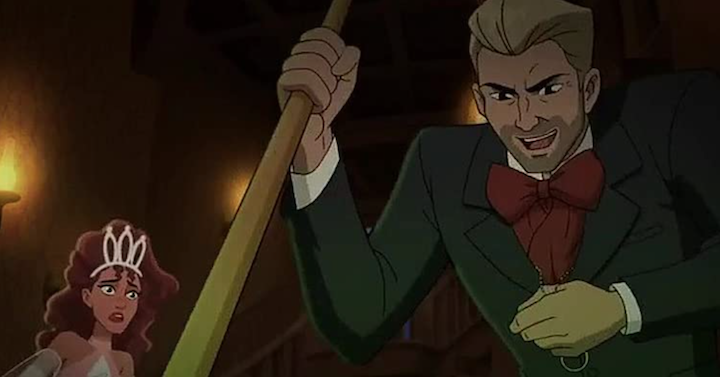 It's a little bit BEAUTY AND THE BEAST and a little bit Princess and the Frog, and it was one of the more surprisingly fun sequences of television to air this year.
On the other side of the galaxy, Captain Sara Lance finally had the opportunity to confront the man who kidnapped her from Earth back at the start of the season. We even learn his name – Bishop – though he acknowledges that the name would mean nothing to Sara. The captain gets imprisoned with nothing but episodes of Wynona Earp to watch.
We get a lot of info about our new antagonist here: Bishop has a plan to save humanity by turning people into monsters like the Amelia Earhart Sara encountered earlier this season. Bishop also wants Sara to rule at his side, and he was the creator of the AVA clones that produced Sara's girlfriend. None of this sits well with Sara, who tries to convince Nurse Ava to help her escape, but this Ava is pretty well committed to Bishop, so she sets Sara up and betrays her.
Legends continues to be campy fun this season, and they're doing a good job of keeping the show interesting with Sara separated from the rest of the group. With Mick Rory – who wasn't in this episode – on the Waverider with alien Gary's alien fiancée, Kayla, heading towards Bishop's planet, I imagine we'll get a reunion soon, but I think we can trust the Legends crew to keep things interesting until then.