The world's greatest detectives have a suspect in their sites, but are they on the right track to discover the identity of Leviathan?
Event Leviathan 2
Written by Brian Michael Bendis
Art by Alex Maleev
It's probably a little early in a "6-issue mystery thriller" to have a suspect in hand, but writer Brian Bendis, through Batman, does a pretty good job of explaining why the group of detectives on the trail of Leviathan think they have their man. And when you have the collected minds of Batman, Lois Lane, Robin, The Question and… uh, Green Arrow, Manhunter and Plastic Man… you would think that they would get pretty close to the mark.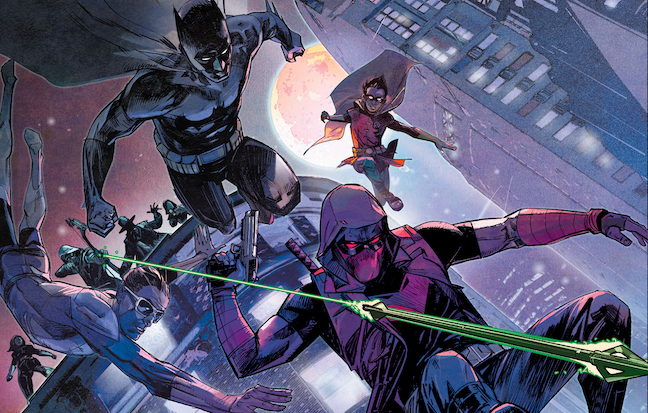 I haven't really kept up on what's going on with Jason Todd, other than he's been on the outs with Batman for a bit, but I never really got the vibe that he was capable of taking over a super secret spy organization and take out the world's super-intelligence community. But then again, I wouldn't think Plastic Man would be on a team of the world's greatest detectives when Ralph Dibny is off not doing anything.
(Full Disclosure: My love of the Elongated Man may be pushed forward a bit from the character's inclusion on THE FLASH television show.)
The second issue is a bit of a recap to place where everyone is as the story gets into the heart of the matter. Or maybe Jason Todd will lead them closer to the actual Leviathan.
So far, EVENT LEVIATHAN may be taking a slow path to whatever story Bendis is planning to tell, but the ride so far has been great. The character interactions have been so well done and the art from Alex Maleev is beautiful, perfectly fitting the story.
This is going to stay at the top of my pile of books I won't be able to hold off reading once I have it. I'm really looking forward to seeing where Bendis takes this.