With WrestleMania just days away, it's time to go back and revisit the cream of the crop. Since next week's show is the 35th annual event, I'll spend the week listing my favorite 35 matches in the show's history.
** NOTE – The lists being published this week were compiled from the larger list of WrestleMania match rankings done for Scott's Blog of Doom and Place To Be Nation. Check out those sites for more great WrestleMania content. All rankings are, of course, just my opinion and are not meant to be a definitive list **
Every day this week will feature another list of 5 standout matches. The complete list of 35 favorite matches draws from 23 different WrestleMania events over the years.
Don't forget to check out PART 1, covering matches 35-31, PART 2 for matches 30-26, PART 3 for 25-21, PART 4 for 20-16 and PART 5 for 15-11. Let's get to today's edition!
10 – Brock Lesnar vs. Roman Reigns vs. Seth Rollins – WWE Title Match with Money in the Bank cash-in (WrestleMania 31)
From LAST YEAR's World Title Match List: Originally scheduled as a one-on-one contest between Reigns and champion Lesnar, most expected the former Shield member to take his place as the top dog in WWE by defeating the company's most dominant monster. Reigns and Lesnar had a surprisingly hard-hitting and well-paced match that could have easily elevated Reigns. But then Seth Rollins ran down to the ring, Money in the Bank briefcase in hand, and inserted himself into the match as the original participants had battled to exhaustion. The final segment of the match, with Rollins included, didn't last long, but the energy that was pumped into the crowd from the cash-in elevated a good match to a great one. Reigns would have to wait for his WrestleMania coronation, as Rollins pinned him to win the title.
9 – Edge & Christian vs. Hardy Boyz vs. Dudley Boyz – Tag Team Title TLC Match (WrestleMania X-Seven)
From LAST YEAR's Tag Team Turmoil List: How do you improve upon the classic they had the year before? Add tables and chairs and give all three teams a third person who could interfere on their behalf. The six men involved had their working boots on, not content to rest on their laurels from the match they had at WrestleMania 2000. In one of the craziest spots I've ever seen, Edge hit Jeff Hardy with a spear while Hardy was hanging from the titles high above the ring. It was an absolutely insane move to try and I will never forget the site of it. With the help of Rhyno, Edge and Christian managed to grab the titles for the second year in a row.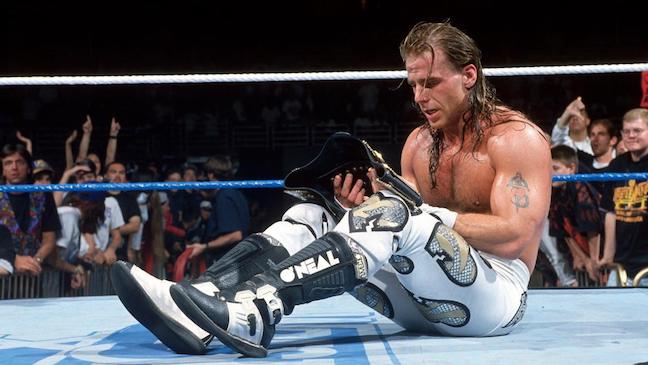 8 – Bret "Hitman" Hart vs. Shawn Michaels – WWF Title Iron Man Match (WrestleMania XII)
Back to last year's World Title Match List: This is a pretty divisive match among wrestling fans, with some considering the match a slog to get through because of its length. With the stipulation of the winner being the man with the most falls after one hour, some didn't appreciate the 0-0 tie at the end of regulation time. But the match is like two ace pitchers throwing no-hitters against each other, and the nuance both men bring to the match is, in my opinion, a work of art. After matching each other move-for-move for one hour, Hart and Michaels came back to the ring for a sudden death period ordered by WWF President Gorilla Monsoon. Michaels hit a superkick to champion Hart for the win and his first WWF Championship.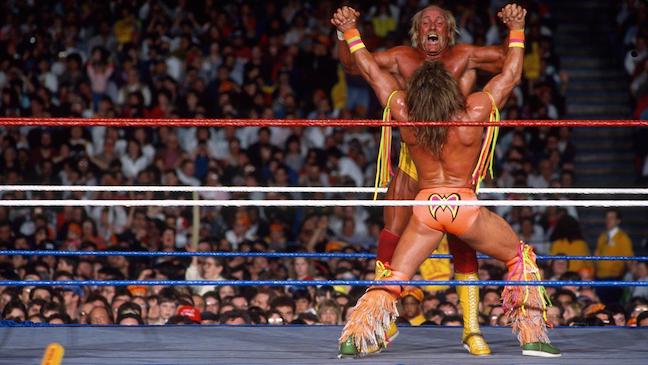 7 – Hulk Hogan vs. Ultimate Warrior – WWF Title vs. Intercontinental Title (WrestleMania VI)
And again, from the World Title Match List: By the time 1990 rolled around, there weren't many challenges left for Hogan that he hadn't dispatched. The Warrior, Intercontinental Champion at the time, was starting to rival Hogan in popularity, though, and pitting the two popular champions against each other was the only match that seemed big enough for the biggest show of the year. Neither man is known for their technical prowess, but Hogan and Warrior both seemed to know they had to raise their game to another level for this match. It's easily one of Warrior's best matches as he tried to take down the alpha lion of the WWF. His victory over Hogan shocked everyone watching, and Hogan's graceful (though temporary) exit from the top of the mountain got even heel announcer Jesse Ventura to declare that Hulkamania would live forever.
6 – Triple H vs. Daniel Bryan (WrestleMania XXX)
From LAST YEAR's Best Opening Matches List:Bryan had been working to prove himself as more than just a "B-Plus Player" – the chiding monicker given to him by Triple H and his wife Stephanie McMahon – for close to a year, and every time he touched the main event, the Authority found a way to screw with him. Fans had gotten behind the "YES! Movement" and were chomping at the bit for Bryan to have his opportunity to win the WWE Title, and he had to get through Triple H to earn a shot at the evening's main event. The tension in the match was palpable, and both men were game to give it their best. When Bryan finally hit Triple H with a running knee to put down the WWE chief operating officer and former champion, the reaction rivaled the one when Bryan won the title later in the evening.
That's all for this time. We've got one more installment left, where I go over my Top 5 favorite WrestleMania matches ever!