After spending about 16 months as a testing station called Pinwheel, Nickelodeon made its debut today in 1979. It was certainly no April Fools joke – the station would quickly become a standard bearer for kids programming.
As a kid growing up in the 1980s and 1990s, my TV was frequently on Nickelodeon, both for the younger-focused shows during the days and reruns of classic sitcoms on Nick @ Nite, the channel's identity during the evening hours.
The channel has aired hundreds of different series over the last 40 years, from original live action and animated series to shows the channel picked up from other providers. I may not know a lot of the newer programming – I assume that will eventually change as my daughter gets older – but I have some definite favorites that aired on Nickelodeon over the years.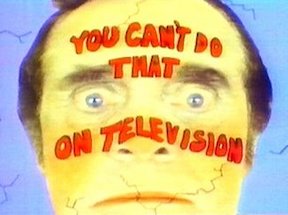 You Can't Do That On Television – The show I associated most with early Nickelodeon wasn't an original program for the channel. The sketch comedy show originated in Canada before going international in 1981. When Nick picked the show up, they started co-producing new episodes, though. In between the sketches, You Can't Do That On Television would feature segments where the kids on the show would interact, and when one of them said "I don't know," they'd get dumped with slime, which has become a patented bit for Nickelodeon, since they still promote slimings today during the Kids Choice Awards. You Can't Do That On Television also introduced the world to Alanis Morrisette, though she only appeared in five episodes.
Double Dare – Another early standard-bearer for the channel was the game show where kids could win prizes by answering trivia questions and competing in physical challenges – stunts that generally involved the kids getting really messy. Noted neat freak Marc Summers must have hated that… or maybe that's where the condition really started. He probably got hit with a lot of slime and goo over the years as collateral damage.
Clarissa Explains It All – The main attraction for The SNICK (Saturday Night Nick) programming block was Melissa Joan Hart's breakout role. Before she became a teenage witch on TGIF, she was just a regular kid figuring out how to get through life with her best friend, Sam, who would climb into her window via a ladder.
The Ren & Stimpy Show – The 1990s was a pretty popular time for dark-humored animated series, and Ren & Stimpy were just as responsible for that as their MTV counterparts, Beavis & Butthead. The cartoon about the angry chihuahua and his dumb cat friend was frequently controversial for a show that aired on a network aimed at kids, and Nickelodeon censored several episodes. But what did make air were lots of memorable gags that inspired a legacy of spin-offs, reboots and homages.
Mr. Wizard's World – Maybe one of my favorite educational programs ever. Mr. Wizard's World was the third incarnation of the show starring Don Herbert as the titular Mr. Wizard. Herbert would teach science to local kids by doing fun experiments with them in his lab. Mr. Wizard made science accessible for young kids and probably helped to inspire a whole generation of scientists.
There are so many great shows that have aired on Nickelodeon over the years, including a bunch of stuff I loved like Salute Your Shorts, Nick Arcade, Danger Mouse, Bananaman and Are You Afraid of the Dark. But the shows listed above were some of my favorites.
What were your favorite Nickelodeon series? Let us know in the comments.