GLOW 1
Written by Tini Howard
Art by Hannah Templer
I have no idea what possessed anyone to create a comic book based on the NETFLIX hit show that's loosely-based on the 1980s cult classic women's wrestling show. It feels like such a weird idea, but I guess if WWE can have their own comic line, there's certainly a market for more stories about this crazy group of ladies.
The series kicked off with an unexpected weekend off for the ladies, but it quickly gets turned upside down. With a lost sponsor, director Sam Sylvia has the girls booked for a big wrestling event in Reseda. And since they've lost the sponsor, no one is getting paid unless they find other ways to bring in some money. That's probably the most accurate thing about the whole GLOW series, I think.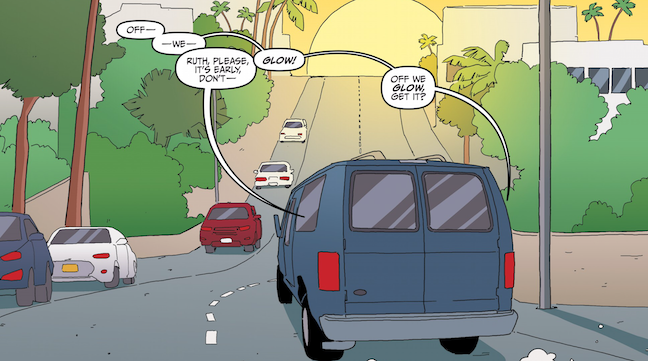 Unfortunately for the GLOW girls, the bookers of this WrestleFest show managed to book two different women's groups for the event. Since no one thinks they'd manage to attract a crowd for two separate women's events, the promoter combines the two. The bigger problem? The other women's promotion – the Star Primas – are actual wrestlers and not actors pretending to be wrestlers.
That could get messy.
This first issue, I thought, perfectly captured the feel of the series, and that should lead to some pretty fun comic book moments going forward.