It was a cold January night in New York City's Madison Square Garden – the world's most famous arena – when the Iron Sheik returned to defend his WWF Championship. The villainous former amateur wrestler had ended Bob Backlund's nearly 6-year reign just one month prior, and Backlund was scheduled to have his rematch. Instead, an injured Backlund was replaced by an up-and-coming wrestler fresh from Verne Gagne's American Wrestling Alliance.
Billed at 6'8 and 300 pounds, Hulk Hogan looked and talked like a heroic cartoon character. Despite Sheik's early dominance of Hogan on January 23, 1984, the Hulkster powered out of the Sheik's feared Camel Clutch, hit the champion with a leg drop and won the match and the championship.
And on that day, 35 years ago, HULKAMANIA was born.
With Hulk Hogan as the face of the company, the World Wrestling Federation's popularity grew and Vince McMahon took his company nationwide. Soon, the WWF and Hulk Hogan would be featured prominently on MTV, Saturday Night Live and countless other pop culture staples.
I don't remember the first time I saw Hulk Hogan, but I'm sure it must have been watching wrestling with my grandfather as a kid. He was larger-than-life and had an unmatchable charisma, making it easy to see why he was so popular. Hulk Hogan helped me – and millions of others – become wrestling fans in the mid-1980s.
The power of Hulkamania waxed and waned over the next decade-plus, but the half-life of the phenomenon lasted much longer than most fads, thanks to the amazing moments Hogan gave his fans. Let's take a look at some of my favorites: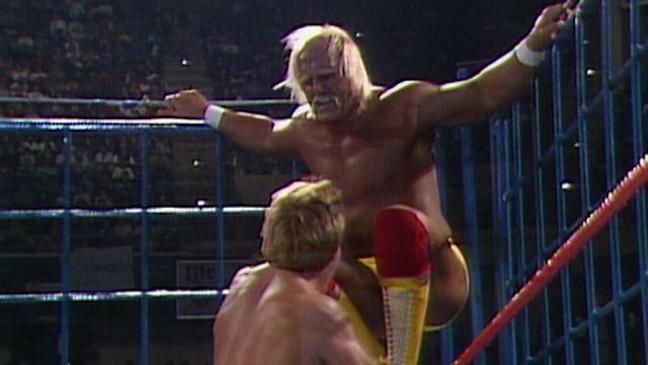 Saturday Night's Main Event – January 3, 1987
Hogan's relationship with "Mr. Wonderful" Paul Orndorff was a complicated one. From enemies at the first WrestleMania, Orndorff and Hogan became allies after "Rowdy" Roddy Piper and "Cowboy" Bob Orton turned on him. But in the summer of 1986, after Hogan wouldn't take Orndorff's call while the champ was hanging and banging at the gym, "Mr. Wonderful" turned on Hogan and set up one of the biggest feuds of the year. The feud culminated in a steel cage championship match on SATURDAY NIGHT'S MAIN EVENT, the WWF's irregular NBC special. The match was an epic one for free television at the time, and featured a controversial moment where both men escaped the cage and hit the floor at the same time, leading to the match being restarted. Had the plans for Hogan-Andre at WrestleMania III not already been set, this could have easily been the main event instead.
Madison Square Garden – March 18, 1989
Living in Northern New Jersey, I had the chance to go to the Mecca of Sports Entertainment many times as a kid. Getting to see Hogan wrestle live, in that place, was always an amazing experience. And when Hogan puts on an amazing match to go along with his unmatchable presence, it's a bonus. On this matinee card, just weeks before he regained his WWF Championship at WrestleMania V, Hogan continued his feud with the Big Boss Man. The third MSG match between the two, this one was also contested inside a steel cage. Two months later, it would be featured on SATURDAY NIGHT'S MAIN EVENT, but when it aired there, I had already seen it two months prior, only without the added shenanigans from Zeus, Hogan's antagonist in his feature film NO HOLDS BARRED.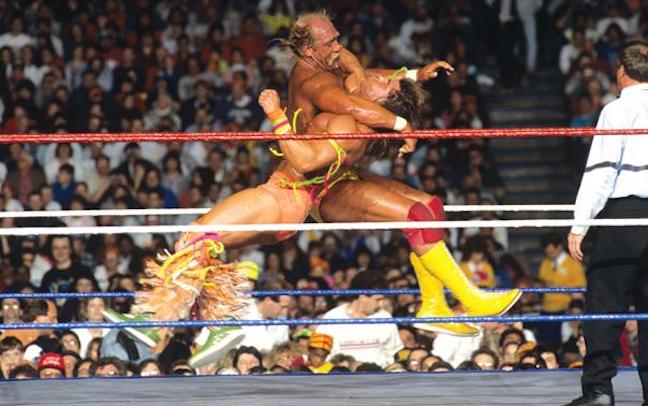 WrestleMania VI – April 1, 1990
When Hogan lost his first WWF Championship back in February 1988, it took a giant, a millionaire, his bodyguard and a crooked referee to get the job done. But when Hogan faced the Ultimate Warrior in the main event of WrestleMania VI, it was the first time where it seemed possible that Hogan could be defeated by just one man. Physically, they were evenly matched, and Warrior may have had the edge in intensity. Hogan would never be confused with a ring technician, but he led the Warrior to his best match ever and elevated the number two face in the company to the top stop – Hogan's spot – for a short while. After Warrior won the match, color commentator Jesse "The Body" Ventura acknowledged that even he – a staunch Hogan critic – believed that Hulkamania would live forever. As a 10-year-old kid, that moment gave me goosebumps.
Madison Square Garden – June 3, 1991
Another amazing live event experience, as I sat in the cheap seats and watched Hogan defend his third WWF Championship against the former champion, Sgt. Slaughter, in a "Desert Storm" match. The first U.S. war against Iraq may have lasted only days, but the battles continued in WWF rings for months afterwards, even though Hogan had beaten Slaughter in the main event of WrestleMania VII. This was supposed to be the final one-on-one match in their feud. I remember cheering so loud I lost my voice for a day or so after the match, which Hogan won when Slaughter's second, Gen. Adnan, threw in the towel as Hogan had Slaughter in his own finishing move. To this day, it's one of my favorite live event memories.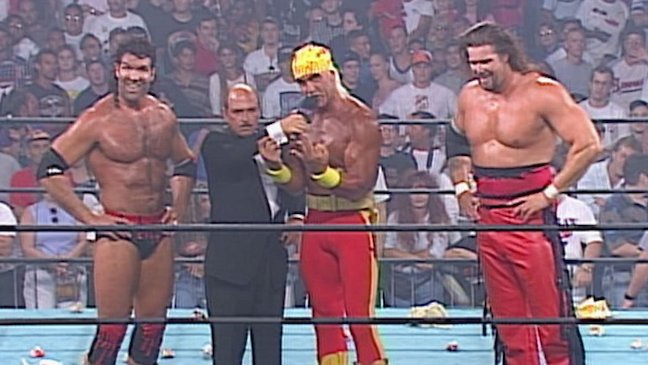 Bash at the Beach – July 7, 1996
Hogan's popularity began to wane in the early 1990s, and he finally left the WWF and signed with rival promotion WCW in 1994. He didn't get any more popular working for the enemy. Finally, in the summer of 1996, he conceded the moral high ground and told his fans to "stick it" when he turned against Randy Savage, Sting and Lex Luger and joined the New World Order. Two days before the pay-per-view, an issue of the PWI Weekly newsletter speculated that Hogan was the nWo's "third man." I never found out if they actually knew it was happening or if they were kayfabing and just kind of got lucky, but I watched the show at a friend's house, waiting for Hogan to come down to the ring and join up with the new big bads on the block. He may have killed Hulkamania that night, but he cemented his legacy as one of the biggest draws of all time.
What are your favorite Hulkamania moments? Let us know in the comments!