Concerts: providing solace for uncertain times.
Here we are at the tail-end of 2018, finally. It's felt like this year has lasted forever, with one crisis after another weighing everyone down. But despite all the negativity, or perhaps in reaction to it, live music has felt like a balm to the daily drudgery. From long-time music veterans to those just starting out, from stunning visuals to powerful collaborations, music has helped keep the world spinning.
I saw nearly 100 separate shows this year, but these 10 acts stand above the rest. Here are my favorite concerts of 2018.
boygenius at Brooklyn Steel – 11/7
This is one of those collaborations that sounded magical and inspiring as soon as it was announced. In each of their own projects, Julien Baker, Phoebe Bridgers and Lucy Dacus tackle depression, broken relationships, addictions, and loss. They do this behind cathartic, subtle tunes. The three artists came together to form boygenius, releasing an EP and going on tour. The EP was fantastic and the concert even better.
To start, all three artists did a solo set of their own materials. Then, the trio joined forces onstage to play the entirety of the boygenius EP. Not only do Baker, Bridgers and Dacus complement each other immensely well, with wonderful harmonies, and interwoven melodies. They also push their friends to greater heights. Bridgers ended "Me & My Dog" with a powerful shout, her best vocal yet. On "Salt In The Wound," Baker's bandmates encouraged her to cut loose with a shredding guitar solo, with Bridgers and Dacus bowed down in awe. The greatest part of the show though is the pure joy and positivity all three artists feel for each other, and that the audience felt for them. In such a heavy world, that catharsis is priceless.
David Bowie's "Heroes" at Brookfield Place – 10/18
Brookfield Place in Lower Manhattan has stood out in recent years from other malls through its artists endeavors in its Winter Garden. For the most part, their programming has centered around free classical or experimental music. But in this year's "New Sounds" series, they went back to the artist who brought the avant-garde and ambient sounds on the fringes to the mainstream: David Bowie.
Over three nights in October, the Winter Garden played host to an all-star indie rock lineup led by Shearwater's Jonathan Meiburg to pay tribute to Bowie's Berlin Trilogy: Low, "Heroes" and Lodger. These albums are among the most exploratory and celebrated in his catalog. To do them justice, especially with their endless layers and odd time signatures, is no easy task. But Meiburg and his fellow musicians made it look easy. The "Heroes" set was the best out of the three, both in terms of performance and the punky surrealism of bringing these screeching, squalling tunes to a shopping mall.
David Byrne at Forest Hills Stadium – 9/15
There is no such thing as a normal David Byrne concert. Whether with the Talking Heads or on his own, he's always used his music and live performances to try and push the envelope and expand what's possible. His projects have ranged from a rock musical with Fatboy Slim to a brass section tour with St. Vincent. For his tour behind his new album, American Utopia, he claimed it would be his most ambitious since the legendary Stop Making Sense. I thought that was a bold claim, until I saw the show.
Somehow, Byrne managed to break down and reinvent the concert format even more than that Talking Heads performance. At the start, the stage is empty outside of a table Byrne sits behind. No amps, no wires, no drum riser. Then, his band walks out one by one, all wearing their instruments. What followed was a two-hour dance, as Byrne and his band weaved between each other, playing a smattering of songs from throughout his career. He staggered through "Once In A Lifetime," faced off against his band on "I Should Watch TV" and turned the backdrop into a shadow play with "Blind." Each track had its own unique choreography and style. And they did this all without missing a beat.
Haley Heynderickx at Rough Trade – 6/20
Every year, there's at least one new artist who winds up on my best of lists. For 2018, that's Haley Heynderickx. The Portland-based artist crafted a near-flawless debut with I Need To Start A Garden, an album of lush folk arrangements. While centered around her expressive voice and guitar, a few of the record's tracks her enhanced with touches of percussion and brass. While I saw her in February performing alone, it was her set with her band that really stood out.
What impressed me the most about her set was how Heynderickx translated all the intricacies of her record into a live setting. With her bandmates on synths, drums and trombone, they used their instruments sparingly to keep the delicate feeling in the air. It helped to have an enraptured audience hanging onto every note. But when she wanted to ramp things up, such as during "Worth It" and "Oom Sha La La," they created a lovely cacophony of sound.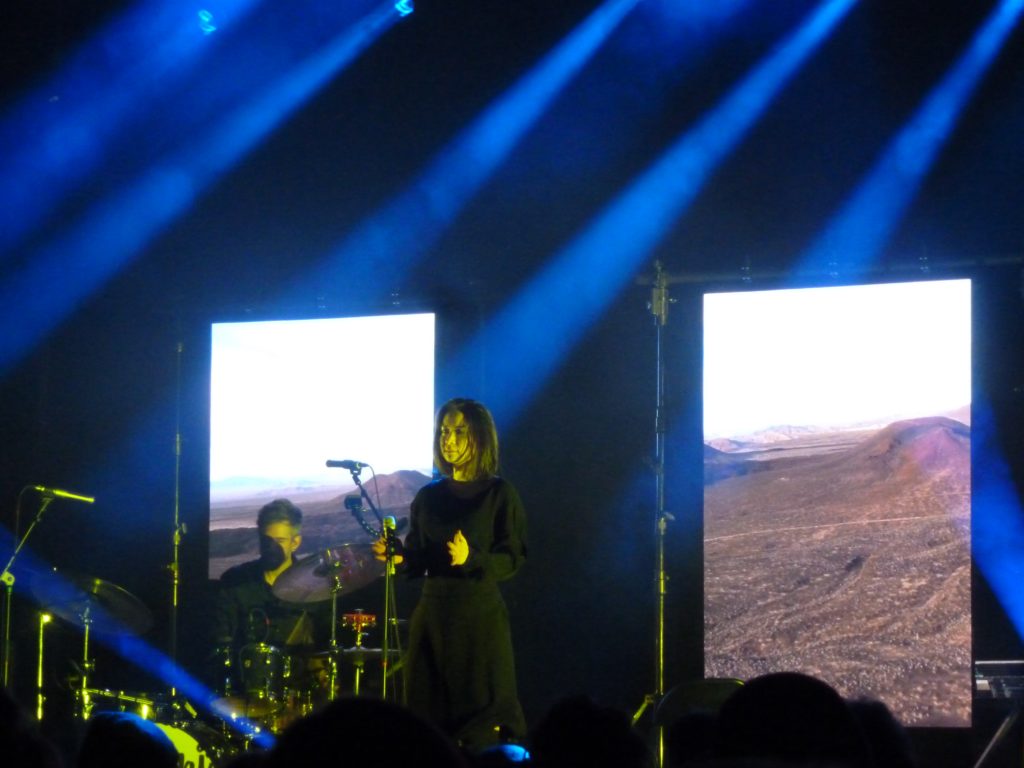 Mitski at Brooklyn Steel – 12/1
Sometimes, a musician reaches a moment in their career where you can feel something change in the air. They've ascended to an entire other level of success and artistry. They move from up-and-comer to an act in their prime. That's the type of year Mitski has had. With the release of Be The Cowboy, she greatly expanded her sound in multiple directions, while retaining her singular voice. And with an excellent album comes an equally great tour.
At Brooklyn Steel, Mitski brought a realm of performance art that was new to her live show. While her band ran through songs old and new, she danced with an inspired choreography, bringing out the passion, loneliness and push against the mundane that her music emits. Three small video screens projected images of nature, industry and static all to great effect. But it's really the songs that make the show work. Nearly every number she played was a crowd-pleaser, no matter what record it was on. That's the type of power you can find at a Mitski concert.
Nick Cave and the Bad Seeds at Barclays Center – 10/26
Is there a more consistently great musical artist working today than Nick Cave? Over the last 40 years, he's built up a remarkable catalog of powerful, haunting songs that wade through the dark underbelly of the world. Pick virtually any of his albums with the Bad Seeds and you'll find some outstanding, dark melodies and some of the best lyrics in music today. All the intensity of his albums goes double for his live show.
Even playing in an arena, not Cave's natural environment, did not hinder the performance. In fact, often he turned the Barclays Center into a church, with tunes like "The Ship Song," "Into My Arms" and "Rings of Saturn" transforming into communal hymns. But when they did kick loose, the Bad Seeds tore the house down. "Jubilee Street" moved from its gentle intro to an explosive rock finale. "Loverman," "The Mercy Seat" and "Tupelo" were chaotic masterpieces. But the best moments came at the end of the main set, as Cave let a couple dozen fans onto the stage, first to shake along to the furious "Stagger Lee," then to serenely join Cave and an arena full of fans sing "Push the Sky Away."
Radiohead at Madison Square Garden – 7/9
It's Radiohead. What more is there to say? Every show they put on is bursting with possibilities. You never know what songs the band may play from their masterful repertoire. But no matter what they pick, it's guaranteed that they'll perform the song with a flawless professionalism that in no way dilutes its emotional resonance. Returning to New York for the second time in two years, Radiohead proved again why they're still one of the best, 25 years into their career.
In the last two years, the band has gotten a better feel for how to translate their latest record, A Moon Shaped Pool, to the live setting. "Ful Stop" now hits with a heavy propulsive blast. "Present Tense" gently floats into the upper decks of MSG. "Decks Dark" lets a similar lightness grow with weight as it moves on. Outside of the new songs, there was something for every Radiohead fan. "Paranoid Android" was a blistering freak-out. "How to Disappear Completely" left us awash in melancholy. "Myxomatosis" was a chance to dance crazily. And to close, they went back to their rock days with a shredding version of "The Bends." With such a diverse discography, you think it'd be impossible to please everyone. But Radiohead managed to do so.
Paramore at Boston Calling – 5/25
Playing a festival set is always challenging, especially for non-headliners. You have to craft a show that highlights your new work, while also sticking to the big hits the casual fans will know. And you have a constrained amount of time to do all of this. Well, Paramore's never been one to play by the rules. Their set at Boston Calling focused mainly on their latest album, After Laughter, and it paid off big time.
Opening with "Hard Times" got everyone on the field dancing, and the band smartly followed it up with crowd-pleasers "Ignorance" and "Still Into You." But from there, Paramore mainly played through most of their new record, its 80s-tinged vibe focusing on synth-rock without losing their distinct personality. A big part of that comes from Haley Williams herself. Onstage, she danced, kicked and jumped around through every upbeat track. Her energy was infectious and kept the audience moving as well. And when Paramore dove back into their early days with "That's What You Get," a nostalgic joy took over. This wasn't a pining for the past of the band though, but a crowd reflecting on how far they all had come.
Steven Wilson at Capitol Theatre – 12/2
Steven Wilson always makes sure his audience gets his money's worth out of his concerts. He doesn't do so by playing to their tastes or preferences. He does it by following his own muse, no matter where it may lead. For To The Bone, his most-recent album, his inspiration led in a poppier direction, much to the chagrin of some prog-rock purists. But this pop is closer to Peter Gabriel or ABBA than Katy Perry. His songs are direct and to-the-point, with enough unique flourishes to keep you off-balance. His concert did the same.
Wilson's show stood out this year due to three points. First was the setlist, a fantastically flowing selection of songs written under his own name and under his previous band, Porcupine Tree. He showed the full breadth of his work, whether the acoustic build-up of "Pariah," the splintering metal of "The Creator Has A Mastertape" or the industrial bubble of "Sleep Together." Second was Wilson's audience banter, whether talking about the overboard reaction of some "fans" to his disco tune "Permanating" or honoring Prince. In every case, he spoke his charm and a dry wit. Third were of course the performances. Especially on epics like "Detonation," "Vermillioncore" or "The Raven That Refused To Sing," Wilson and his band's skills were a wonder to behold. They elevated the temperature of the room from beginning to end.
There's No Leaving New York – 9/30
In last year's list of my top concerts, I highlighted The National's performance at Forest Hills Stadium. I said that show stood out above the other times I've seen the band live. The National must've agreed with that sentiment. This year, they returned to Forest Hills Stadium with their own mini music festival called "There's No Leaving New York." The National headlined both Saturday and Sunday night as a bunch of their favorite artists played before them. While both nights were great, the second was one of best concert experiences I've ever had.
Bully kicked the day off with some rip-roaring punk. U.S. Girls brought their political, feminist funk to the stage. A simmering, passionate set by Cat Power was perfect for the sunset hours. Future Islands life-affirming pop put everyone in high spirits. Each artist was excellent in their own regards, but this was The National's night. From the moment the band stepped onstage, they had the audience captivated. Whether it was well-known tunes like "Sea of Love," "Fake Empire" or "Terrible Love" or rarities like "All the Wine" or "So Far Around The Bend," the crowd roared for each track. The National were clearly having a great time as well, with Matt Berninger sharing his cups of wine with the front row. Once they closed with an unplugged "Vanderlyle Crybaby Geeks," everyone onstage and in the audience had shared an experience they would never forget.