It's a landmark issue for Archie and everything changes! Well, maybe not everything, but it's a whole new Riverdale. 
Archie 700
Written by Nick Spencer 
Art by Marguerite Sauvage
Letters by Jack Morelli 
With the end of Mark Waid's run on ARCHIE, the publisher has taken the original book's numbering, added it to Waid's numbering and gave us an anniversary issue that very few books have reached over the years. And it's not the classic Archie that has endured for decades that's featured in this big issue. 
Nick Spencer picks up months after the end of the previous run, bringing the kids back from summer vacation and giving everyone a chance to offer up some great comic book exposition. And it's all very modern Archie. Jughead has a new job as a hit columnist for Reggie's father's newspaper. Betty and Veronica were off doing internships for the summer and have reconsidered their feelings on a certain redhead.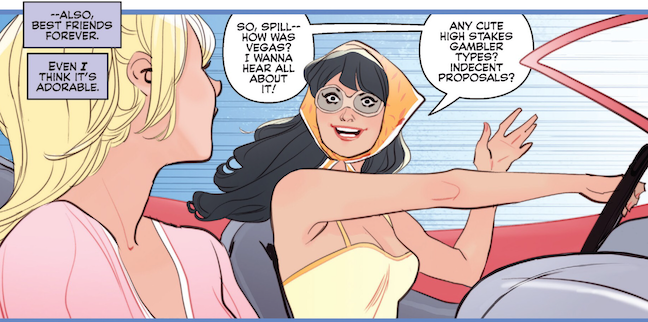 And Archie? While he offers up little to no information about what he did over the summer to his bestest bud Jughead, he's got a secret. Veronica picks up on the salient points, but only the readers get to know what's actually going on: Archie has been dating Sabrina the Teenage Witch. 
It's a pretty fun shake-up and turns the classic romantic triangle between Betty, Archie and Veronica into a square. If you thought there was some teenage angst in the last few issues of Waid's run, Spencer seems like he's determined to top it, and I am very intrigued about what he's planning.