It's the first-ever all-women's wrestling event from the country's biggest sports entertainment promotion!
Coming to us live on the WWE Network from the Nassau Veterans Memorial Coliseum in Uniondale, N.Y., it's WWE Evolution, and now the opening line of the entrance music for heel group Evolution makes complete sense. Evolution is a mystery, much like women. I am sitting 25 miles away from the show, and I'm wondering if the company manages close to a sell-out for an all-women's wrestling event.
The show is packed with competitors from the past and present, and is headlined by Raw Women's Champ Ronda Rousey taking on former female face of the company Nikki Bella.
Right off the bat, this show is having problems as Michael Cole's mic isn't working. Or maybe that was a feature and not a bug? After an opening song, Cole is back with Renee Young and Beth Phoenix. I guess it was a bug.
Hey, it's Lillian Garcia! And we're kicking the show off (live on Twitter, apparently) with the big guns!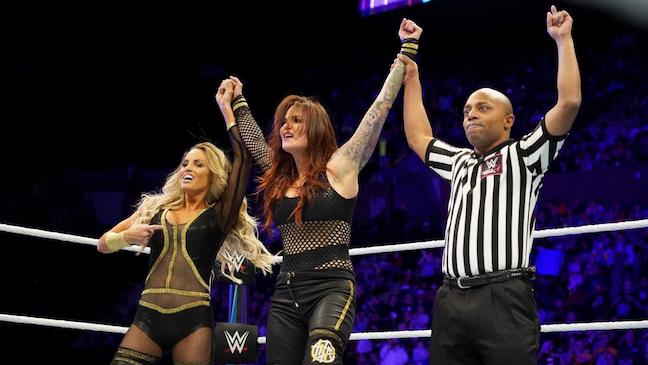 Trish Stratus and Lita vs. Mickie James and Alicia Fox – Foxy, the longest-tenured woman on the roster, is subbing for Alexa Bliss, who is injured. So, this is an all-legends match to kick off the show. James and Stratus had probably one of the best women's feuds of all time in the mid-2000s, so the Coliseum fans go nuts when they face off. The top-rope hurricanrana doesn't hurt, either. The legends do a great job of keeping the crowd energized, with an outside assist from Bliss, leading to Trish and Lita getting the win after they nail their finishers. Not the worst way to start.
20-Woman Battle Royal For A Future Title Shot – We're throwing all the women who don't have a match, plus some legends, into this. Thankfully WWE didn't try to name this one after Moolah either. Can't understand why they wouldn't try and honor Sherri Martel, but whatever. Trying to understand WWE logic will give you a migraine. Seeing Medusa… sorry, I mean Alundra Blayze in the same ring as Kelly Kelly and Ember Moon is pretty weird. Obviously, the legends in the ring aren't going to win, and this should showcase either Nia Jax or Asuka. But Asuka gets eliminated by Ember Moon in the final four, leading to a one-on-one face-off with Nia Jax at the end of the match, with a brief interlude from Zelina Vega. The former champ Nia Jax throws Vega and Moon out to earn the future shot.
Mae Young Classic Tournament Final: Toni Storm vs. Io Shirai – I haven't been watching the MYC on the WWE Network, but the pre-match video package gives us a nice recap of who these women are. The two finalists of last year's tournament will be featured in an NXT Women's title match later tonight. The two women give a good performance, with Storm coming out on top, but I had no connection to the match at all.
Ruby Riott, Liv Morgan and Sarah Logan vs. Bayley, Sasha Banks and Natalya – This is a great position for the Riott Squad, getting a 6-woman tag on this show against three former champions, but I can't help but think it's a downgrade for Banks and Bayley. A lot of the groundwork for the new women's division was done on the backs of those two, and having them in a throw-away match teaming with the division's cat lady is really disappointing. A non sequitur: Sarah Logan seems kind of out of place with the rest of the Riott Squad. Sasha botches an over-the-top-rope flip onto her opponents that leads to a heat segment on Banks where Bayley covers Sasha to protect her from a shot from Riott. This match is weird. Despite the Squad having a 3-on-1 advantage for most of the match, the heroes come alive for a 3-part finale ending with Banks hitting a 5-Star Frog Splash for the win. Good match, but whatever.
All of the self-congratulatory video packages between matches is getting grating. I expected it, sure, because it's WWE, but still. It's overkill. We get it. Stephanie McMahon is a visionary who deserves a spot on the Mount Rushmore of Mount Rushmore conversations.
NXT Women's Championship: Kairi Sane (c) vs. Shayna Baszler – Our first title match of the evening. I'm so far behind on my NXT, I've been stuck on the New Orleans Takeover for way too long, so this match may pose the same problem for me as the MYC final. Baszler is a monster who systematically takes Sane apart with MMA wear-down holds. Sane did a great job with the comebacks and high-flying attacks. Baszler's MMA Four Horsewomen friends seem to unnecessarily attack Sane – and the ref basically ignores it, leading to Baszler choking Sane out. The ref's facial expressions waiting to see if Sane taps were hysterical. Baszler wins her second NXT Women's Title.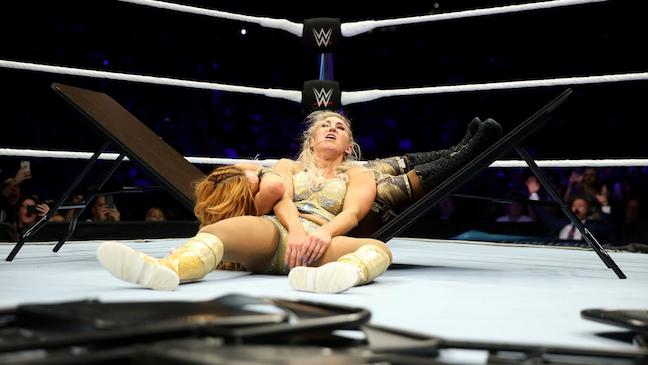 Last Woman Standing SmakDown! Live Women's Championship Match: Becky Lynch (c) vs. Charlotte Flair – I know Ronda Rousey is the big name in the women's division for WWE, but with the build and the heat in this feud – and the ability of both women in the match – THIS should have been the main event. Flair and Lynch have both earned it. However, I'm not a fan of the Last Man/Woman Standing stipulation, because trying to get the 10 count always kills the momentum of the match. The Nassau Coliseum crown is into this match, though, which helps a lot. Lynch is the first to go to the plethora of weapons under the ring by attacking Flair with a kendo stick. At some point, someone will have to try and explain why there are kendo sticks under the ring. The chairs (and a lot of them were thrown into the ring), the tables and the ladders I get. They're all usable items. But the kendo stick? Might as well have a sledge hammer.
The weapons have the women out on their feet, including Flair hitting a moonsault and a senton to put Lynch through a table, and then both women using a ladder. The ring, mid-match, looks like a hardware store after a twister. Or the underside of a WWE ring, I guess.
Like every Last Man/Woman Standing match WWE has produced, Lynch and Flair put each other through an escalating series of spots to get nine counts and build drama. Lynch finally builds a fort with announce tables and chairs to keep her down, but even THAT gets a nine count as Flair powers out of the pile. Finally – FINALLY – Flair sets Lynch on a table on the outside and starts to climb the ropes. Lynch, though, gets up and power bombs Flair through the table and Flair tries and almost makes the 10 count but just can't do it. Definitely a fun match – which was expected from these two – and they did everything they could to work past the hindrances of the match stipulations. It's good to see Lynch retain, too. Passing the belt back and forth – like Flair did with Banks – gets annoying. This match definitely should've been the main event.
Raw Women's Championship: Ronda Rousey (c) vs. Nikki Bella – Set up by a Bellas attack on Rousey on the Raw after SUPER SHOW-DOWN, this looks like a ridiculous mismatch, even with Nikki's sister Brie in Nikki's corner. But looking at the time remaining on this show (watching on a bit of a delay), there's 25 minutes left as Nikki makes her way down to the ring. I'm scared. The Bellas look so out of place in the same ring with Rousey.
As if to enforce my thoughts here, Rousey toys with Bella to open the match, countering, throwing and taunting. But what happens? Brie distracts the champ and Nikki shoves Ronda into the post outside and it's time for the Bella heat segment just a few minutes into the match. Oh. Joy. This is seriously interminable. I know you want to try and have an epic main event in your first-ever all-women show, but this is not the match for it.
Rousey finally wakes up, puts both Bellas on her shoulders to drop them on their heads and proceeds to take Nikki apart slowly. She even knocks Brie down for good measure. After a brief comeback from Nikki, Rousey small packages her from the top rope – which looked like it could've broken something somewhere – and Rousey locks in the armbar for the tap out victory. And then she makes out with her husband in the front row. Dear God why.
Overall, it was a night filled with good action and a good effort that falls just short of "historic."