The crazy life of the Scooby gang gets a little crazier as Daphne discovers that the dead Fred may not be so dead. 
Scooby Apocalypse 30
Written by Keith Giffen and JM DeMatteis
Pencils by Patrick Olliffe and Gus Vazquez 
Inks by Tom Palmer and Gus Vazquez 
Colors by Hi-Fi
Five months ago, the evil duo of Giffen and DeMatteis killed FRED JONES, one of the original members of the Scooby gang. It was just after he had finally broken through to Daphne as she accepted his millionth proposal of marriage. She hasn't taken Fred's death well, becoming a killing machine, teaming up with the psychotic Scrappy to take out as many monsters as they can.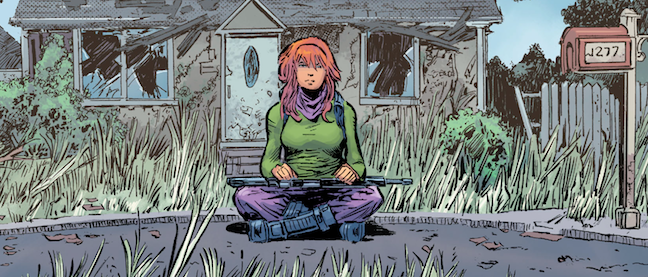 But because Giffen and DeMatteis are an evil duo of the highest order, Fred has returned – or at least, something that looks like Fred is walking around the Albany, N.Y. area and gathering up an army of monsters. And up until this issue, Daphne had no idea. Velma and Shaggy decided not to tell her to protect her. Or to keep her from doing what she does this issue: go out on a hunt and have a bit of a nutty where she considers shooting herself. 
Thankfully, maybe, Fred shows up just in time to stop her and the next issue is likely going to be insane.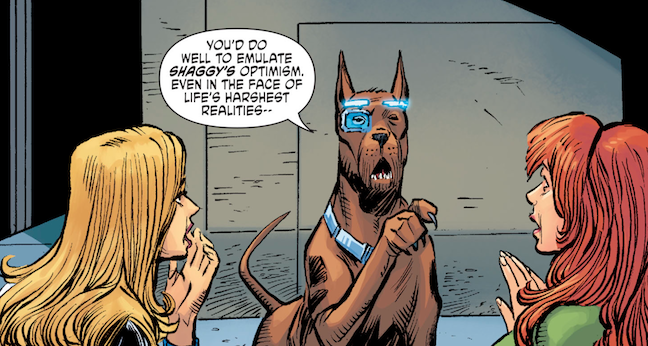 Also insane is the changes to Scooby-Doo that happen this issue. Normally a pretty dense talking puppy, Scooby gets shocked by a loose wire that ends up boosting his intelligence levels. I'm sure it's a temporary measure to reduce the number of Rs the letterer has to put on any page Scooby is on. They even tease that Scooby will be getting a bit of a FLOWERS FOR ALGERNON arc. Because Giffen and DeMatteis are evil. 
I'm still pretty shocked this book is still going, 30 issues in, when all the other books that made up the first wave of Hanna-Barbera books lasted no more than 12, but I'm glad it is. The story keeps getting more and more interesting.