Students are getting ready to return to the classroom as fall looms, and what better way to celebrate than to look at my favorite episodes from COMMUNITY, Dan Harmon's half-hour comedy about a group of misfits who come together at a Colorado community college? 
Admittedly, I got on the COMMUNITY bandwagon a little late. I didn't discover the show until after the fourth season had ended. I was on a trip to Mexico and found the show on Netflix down there. It's not available on the streaming service up here in the United States, so I made a point of watching a few episodes while I was south of the border. 
I got hooked pretty quick. When I discovered the show was on Hulu, 
I've picked out 25 of my favorite episodes from the six seasons of COMMUNITY. In each edition, I'll look at 5, picked at random (we like RANDOM here at the Geekery). Will any episodes from season 4 make the list? Tune in to find out!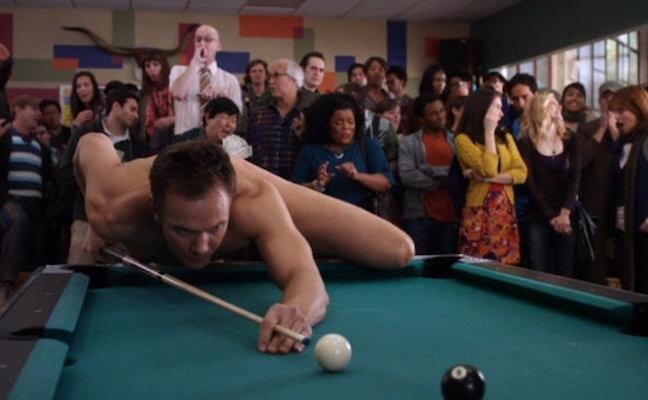 Physical Education 
Season 1, Episode 17 
As I mentioned in the COMMUNITY SEASON RANKINGS, the show had one of the best first seasons of any comedy I've ever seen, with great, fully-formed characters. As the first season went on, the show just continued to get better. 
One of my favorite parts of the show was how it wasn't afraid to mix the formula up from time to time. In Physical Education, ex-lawyer Jeff Winger (Joel McHale) is off on his own plot, arguing with a gym teacher over wearing shorts to play billiards. Meanwhile, the rest of the study group is trying to get Abed (Danny Pudi) to ask out a girl who sketched someone who looked like Abed in a Spanish book. Winger's pool feud is clearly the A-plot, but Abed is the standout here. As the group gives him advice on how to act around women, his over-the-top reactions are amazing. From Vampire Abed to Don Draper Abed to his Jeff Winger (10 % Dick Van Dyke, 20 % Sam Malone, 40 % Zach Braff in Scrubs, and 30 % Hilary Swank in Boys Don't Cry) and even white Abed, Pudi was gold here. 
Even though Abed stole the show, Winger still has his moments. His final showdown in a game of 8-ball against gym teacher Coach Bogner (Blake Clark), with "Werewolves of London" playing, is hysterical.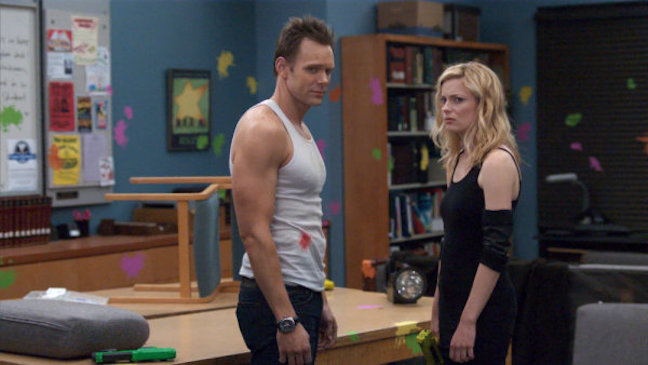 Modern Warfare
Season 1, Episode 23
I always forget this wasn't the first season finale. There were actually two episodes after this one, but Modern Warfare is the most memorable episode of the season's back half and was responsible for setting the tone for a lot of what was to come. Most importantly, it introduced paintball into the show's mythology, a setting to which it frequently returned. 
Again, Winger is the centerpiece here, as he wakes up from a nap to find the campus in total disarray. The game of Paintball Assassin – for a chance to win priority registration – was already underway and without the rest of his study group, he had a target on his back. Once the group reunites, they have to fight off the chess team, the Glee club and others, with the study group slowly getting picked off until just Jeff and Britta (Gillian Jacobs) remain against a demented Señor Chang (Ken Jeong), the Spanish teacher. 
I love seeing the group work together towards a common goal and the show is at its best when the full ensemble is playing off each other. The paintball destruction doesn't hurt, either.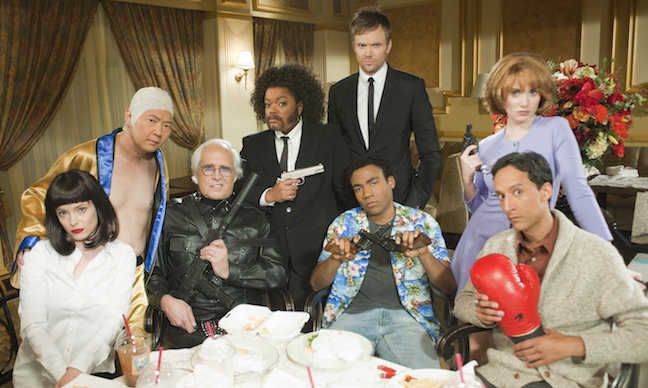 Critical Film Studies
Season 2, Episode 19 
Jeff and Abed take point here again, as the pair have dinner at a fancy restaurant at Abed's request for his birthday. Jeff, though, has also planned a Pulp Fiction-themed party at the diner where Britta works, and he tries to rush Abed out. But Abed, for his birthday, wants a "real conversation" with Jeff, shocking his friend with his maturity and getting Jeff to tell some embarrassing stories about himself. 
As the rest of the study group gets increasingly agitated by Jeff not showing up with the guest of honor, Jeff and Abed's conversation gets more intense. When the waiter slips up and reveals that Abed, who frequently talks in pop culture references, has set up an homage to the Wallace Shawn film "My Dinner With Andre," Jeff flips out. 
Joel McHale and Danny Pudi put in such a great performance here, and the rest of the group – all decked out in Pulp Fiction costumes – are still great even in their diminished roles.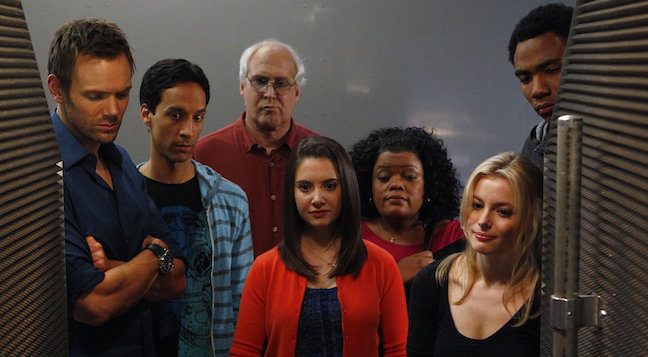 Digital Estate Planning 
Season 3, Episode 20 
The final episodes of the third season are some of my least-favorite finale stories of the series, with the study group battling Señor Chang after he managed to take over the school, but this episode gives us a break from that story to focus on sanitary wipe heir Pierce Hawthorne (Chevy Chase). Pierce brought the group along for the reading of his father's will, after Jeff caused him to have a heart attack earlier in the season. 
Pierce's father has set up a co-operative RPG video game competition between Pierce and his friends to give them all an opportunity at his fortune, to prove to Pierce that anyone he calls a friend will actually stab him in the back. The bulk of the episode is presented as an early 1990s video game, with each member of the group getting an avatar. The group battles through the game, styled after a FINAL FANTASY or ZELDA game, and try to beat Pierce's half-brother Gilbert (Giancarlo Esposito). 
I'm a sucker for NES and SNES games, and a whole episode that mimics that style is always going to make me happy. That it gives me a reprieve from a story arc that I just didn't care for is just a bonus.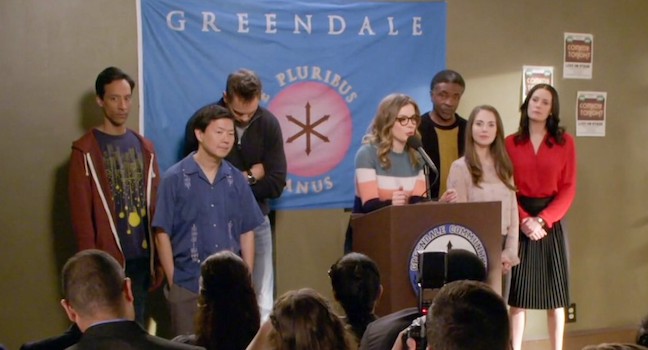 Basic Email Security 
Season 6, Episode 6 
Despite having half of the original core group gone, the sixth and final season of COMMUNITY still managed to have some fun episodes. No longer a study group, the Committee to Save Greendale spent the show's last two seasons solving problems on campus. In this episode, a hacker tries to get the school to cancel an appearance from a racist comic (Jay Chandrasekhar) on campus.
While the group efforts to fight against the attempted censorship, tensions rise when the – very humorously banal – contents of the emails begin to get released. Making matters worse, comic Gupta Gupti Gupta, is a bit of a dick and doesn't endear himself to anyone. 
The series was clearly on its last legs, but episodes like this one prove that the core group was still talented and capable of producing a funny story. 
That's it for our first bunch of my favorite COMMUNITY episodes. We'll be back later this week for more, and the final three installments will come once a week til the end of September. 
For more COMMUNITY goodness, check out PART 1 and PART 2 of the show's season rankings.